Posted June 29th at 5:00pm.
The best national teams in the world have converged on Russia this summer to compete for the sport's biggest trophy, and you can do the same in the 2018 FIFA World Cup update for FIFA 18. World Cup Ultimate Team, a mode exclusive to the update, allows you to recruit the top players from every qualified national team to create your own international dream squad.
Since all World Cup Ultimate Team player items are live items, they can get ratings upgrades whenever the player receives a Man of the Match award for their performance in the real-life tournament. Now that every team has played the last of their group stage matches, check out which players are being receiving MOTM honors and how much of an upgrade their World Cup FUT items will get. If you already have the player items in your squad, you'll see that those have also changed to the new, upgraded ratings. See the next set of Man of the Match items below.
If you want to find out every MOTM item from the tournament thus far, visit our MOTM hub.
All World Cup FUT items can only be found in the version of Ultimate Team that is in the World Cup update, not in the regular FIFA 18 Ultimate Team mode.
matchday 12
Many of the final group stage matches had no reason to be entertaining, as a handful of countries were already qualified going in. But even though they could have been boring, few teams allowed themselves to not play at a high level. Uruguay came flying at Russia; goals from Luis Suarez and Edinson Cavani capped the 3-0 win and thrusted Uruguay to the top of the group. Cavani gets the MOTM spoils for his excellent late goal and overall attacking performance. Salem Al-Dawsari notched a late, late goal to earn MOTM and a win against Egypt in the final match of the tournament for both teams.
Both Group B matches were draws: Portugal drew 1-1 with Iran, while Spain earned a 2-2 result against Morocco. Ricardo Quaresma earned his MOTM award because of his stunning trivela goal, while Alireza Beiranvand picked up his own after holding the reigning European champions to their lone goal. Spain striker Iago Aspas gets the nod in the second match because of his cheeky backheel goal in injury time against Saudi Arabia.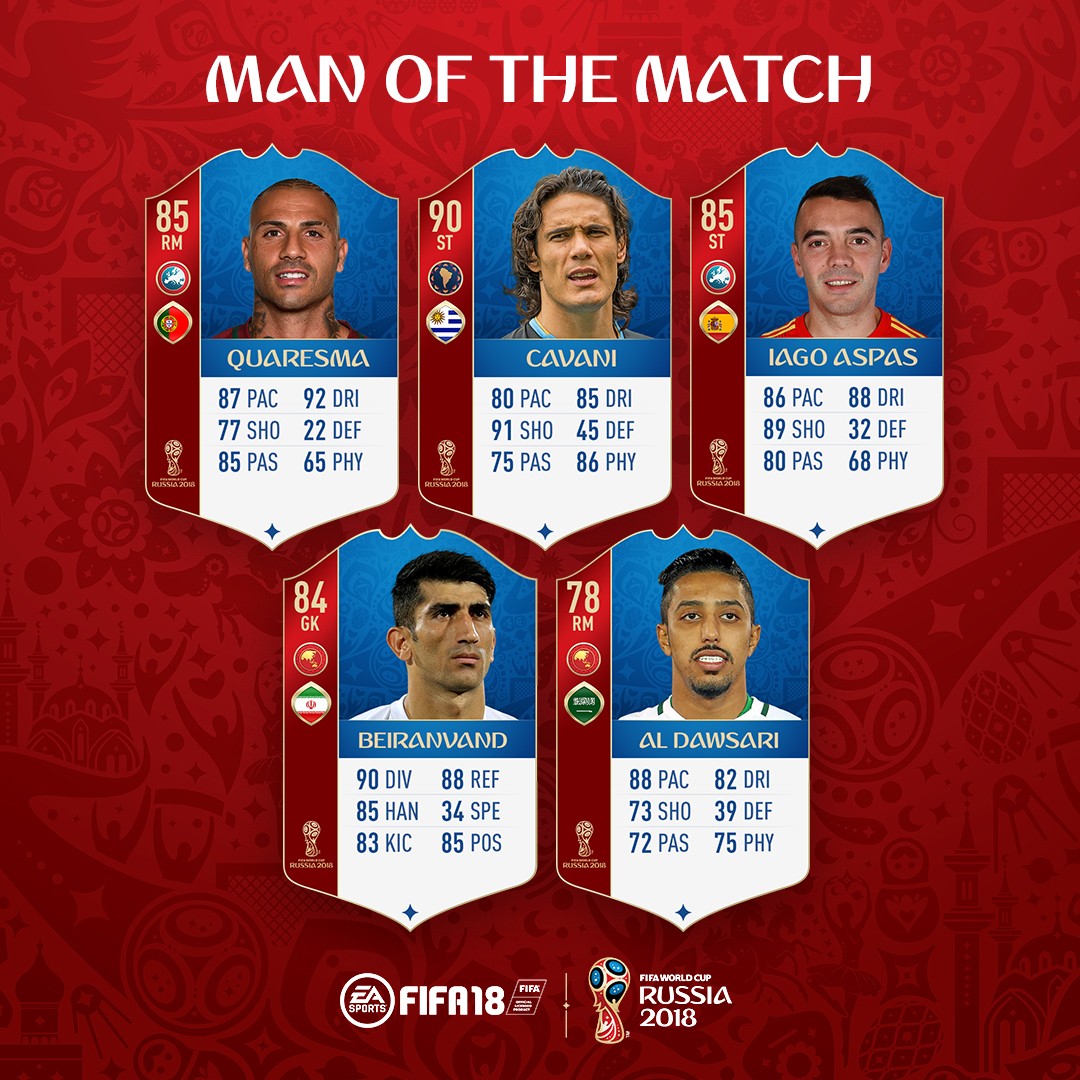 Matchday 13
Group C was also mostly decided going into the final round, and it was obvious in both matches. France and Denmark went to a 0-0 draw, thanks in part to MOTM Simon Kjaer's defensive performance. Peru downed Australia 2-0, including an excellent strike by Andre Carrillo, but both nations were still knocked out of the tournament.
The second slate was far more exciting as the final standings literally went down to the wire. Argentina secured advancement with a 2-1 win over Nigeria, thanks to a last-gasp goal by Marcos Rojo and an early stunner from Lionel Messi. Croatia's advancement was concrete going into their match with Iceland, but their plucky underdog opponents pushed and pushed for a result of their own that would have allowed them to pip Argentina for second place. But goals from Milan Badelj and Ivan Perisic kept Croatia perfect in the group stage and sent Iceland home early.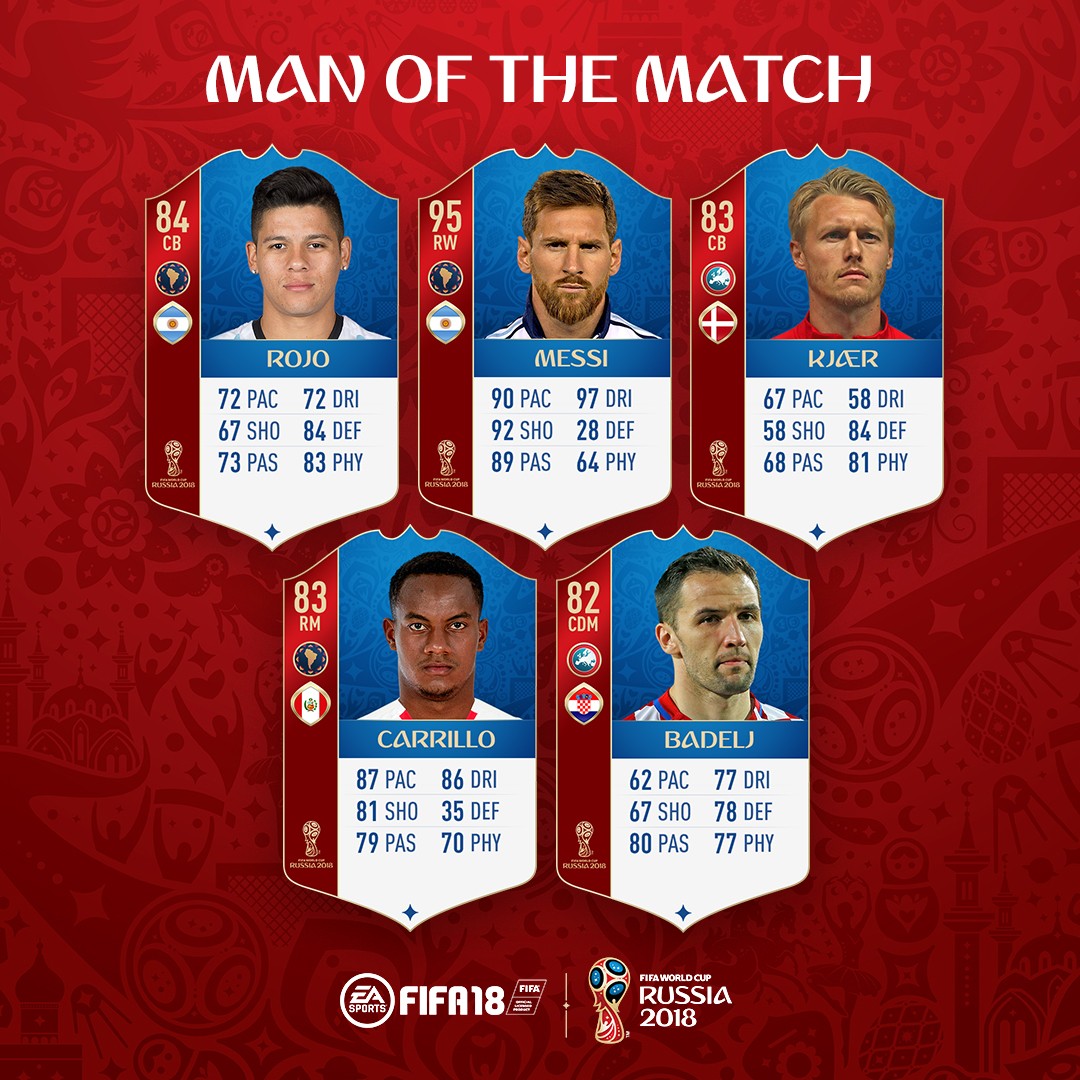 matchday 14
Group E was the second group to truly come down to the wire, but Brazil finally confirmed their spot in the knockout round with a 2-0 win over Serbia courtesy of goals from Thiago Silva and Paulinho. Switzerland also barely squeaked through with the help of Brazil's result and a 2-2 draw with Costa Rica, who battled bravely to earn their first point of the tournament despite previously-assured elimination. Joel Campbell assisted Costa Rica's first goal via a corner kick and earned the penalty that produced the comedic own goal that drew the match level in the dying minutes.
Despite all of that, these weren't even the most exciting matches of the day. The final standings of Group F were nothing short of historic and incredible. Sweden dominated in-form Mexico 3-0 to lead the group and South Korea left fans around the world awestruck as they scored two injury-time goals to send the reigning world champions packing. Sweden's result was led by left-back Ludwig Augustinsson, who opened the scoring with a spectacular volley. Kim Young-gwon and Heung-Min Son led South Korea to their historic result; the former scored just into injury time and the latter took advantage of German goalkeeper Manuel Neuer's attempt to advance up the pitch by latching onto a long ball over the top and rolling it into an empty net.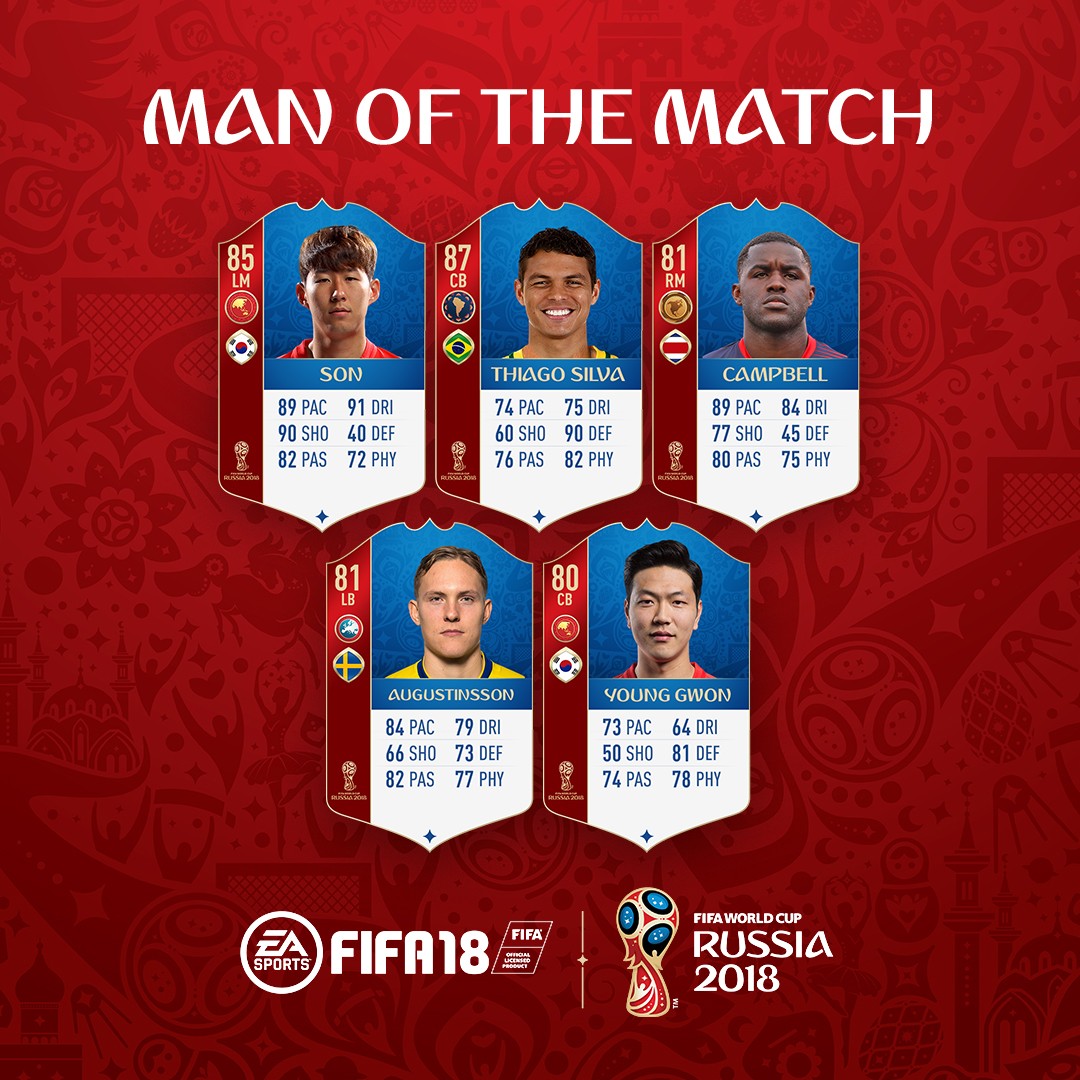 matchday 15
The contrast between the last two sets of 2018 FIFA World Cup group stage matches couldn't be more stark. Both Group G matches were virtually inconsequential, as Belgium and England had already secured qualification. They faced each other with very weakened squads, since the only thing at stake was first place and a potentially better round of 16 matchup. Belgium came out on top to guarantee their top spot, and rare starter Marouane Fellaini earned the MOTM with his solid performance in midfield. Tunisia and Panama played an even more meaningless match in which Tunisia won 2-1 on the back of a second-half winner from Wahbi Khazri.
Group H wrapped up the stage, but the manner was anything but tidy as the final standings couldn't be determined until the whistle was blown for both matches. Colombia charged to the top of the standings with their 1-0 win over Senegal, courtesy of a goal from center back Yerry Mina. Jan Bednarek scored to give Poland a 1-0 result over Japan, who were still able to move on after passing Senegal in the table via the fourth tiebreaker: yellow card accumulation.