Posted June 28th at 9:00am.
The world's best have converged on Russia this summer to compete for the ultimate trophy, and you can do the same in the 2018 FIFA World Cup update for FIFA 18. World Cup Ultimate Team, a mode exclusive to the update, allows you to recruit the top players from every qualified national team to create your own international dream squad.
Since all World Cup Ultimate Team player items are live items, they can get ratings upgrades whenever the player receives a Man of the Match award for their performance in the real-life tournament. Now that every team has played two of their three group stage matches, find out which players were given Man of the Match awards and what their new ratings in World Cup FUT are. If you already have the player items in your squad, you'll see that those have also changed to the new, upgraded ratings. See the next set of Man of the Match items below.
All World Cup FUT items can only be found in the version of Ultimate Team that is in the World Cup update, not in the regular FIFA 18 Ultimate Team mode.
day 1
As the group stage wrapped around from the first set of matches to the second, the final day overlapped as Russia took on Egypt after the Group H matches were finished. Russian forward Denis Cheryshev showed off with a goal in front of a packed home crowd in the hosts' 3-1 win to pick up his MOTM award.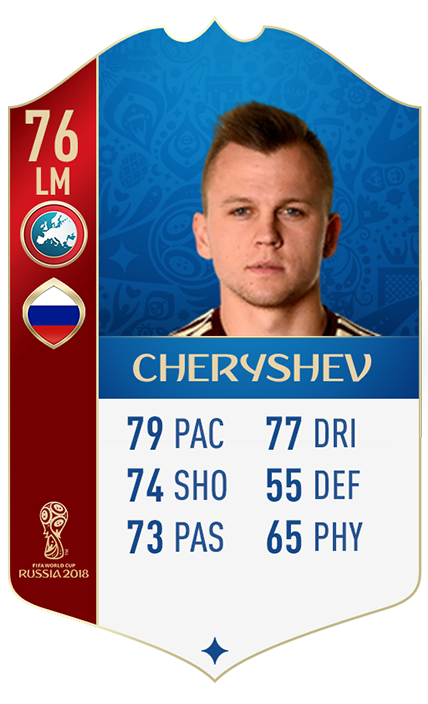 Day 2
Even though nobody was surprised by the result, the scoreline of Uruguay's 1-0 win over Saudi Arabia actually flattered the South Americans a bit. Their lone goal came courtesy of Luis Suarez, who pounced on an error by Saudi goalkeeper Mohammed al-Owais to fire his country ahead and secure them a more comfortable position in the group. Portugal also managed just a narrow 1-0 win over Morocco thanks to a Cristiano Ronaldo goal, but it was his teammate Joao Moutinho who picked up the award for his impressive midfield display. To complete the day's trend, Spain also picked up a 1-0 result against Iran, with Diego Costa's second-half strike finally breaching what seemed like an impenetrable Iran defense. Isco picked up Spain's MOTM nod for that game, after popping up all over the field with his creativity and slick passing.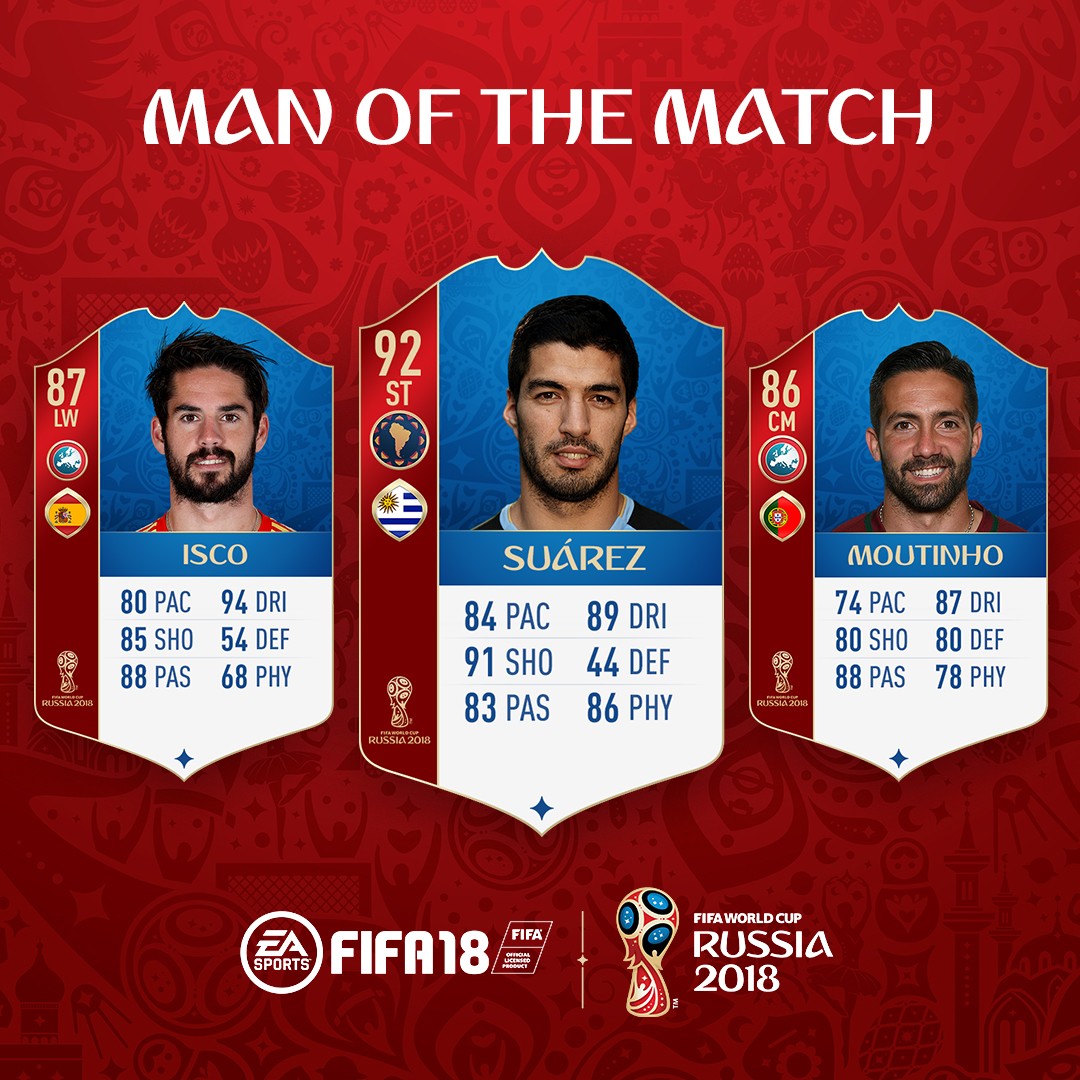 day 3
France continued their strong start in the tournament in their second match, notching a 1-0 win over Peru with a goal from Kylian Mbappé, who tapped in from close range after MOTM Olivier Giroud's brilliant shot was parried into his path by the goalkeeper. Denmark and Australia battled to a 1-1 draw in which Christian Eriksen scored an excellent early goal that was cancelled out by an Australia penalty just before halftime. Aaron Mooy bossed the midfield for the Socceroos to help his team earn a valuable point and pick up his own MOTM nod. The most interesting and exciting match of the day was Croatia's 3-0 win over Argentina, which saw a masterful performance by Ivan Rakitic in midfield capped off with a late goal.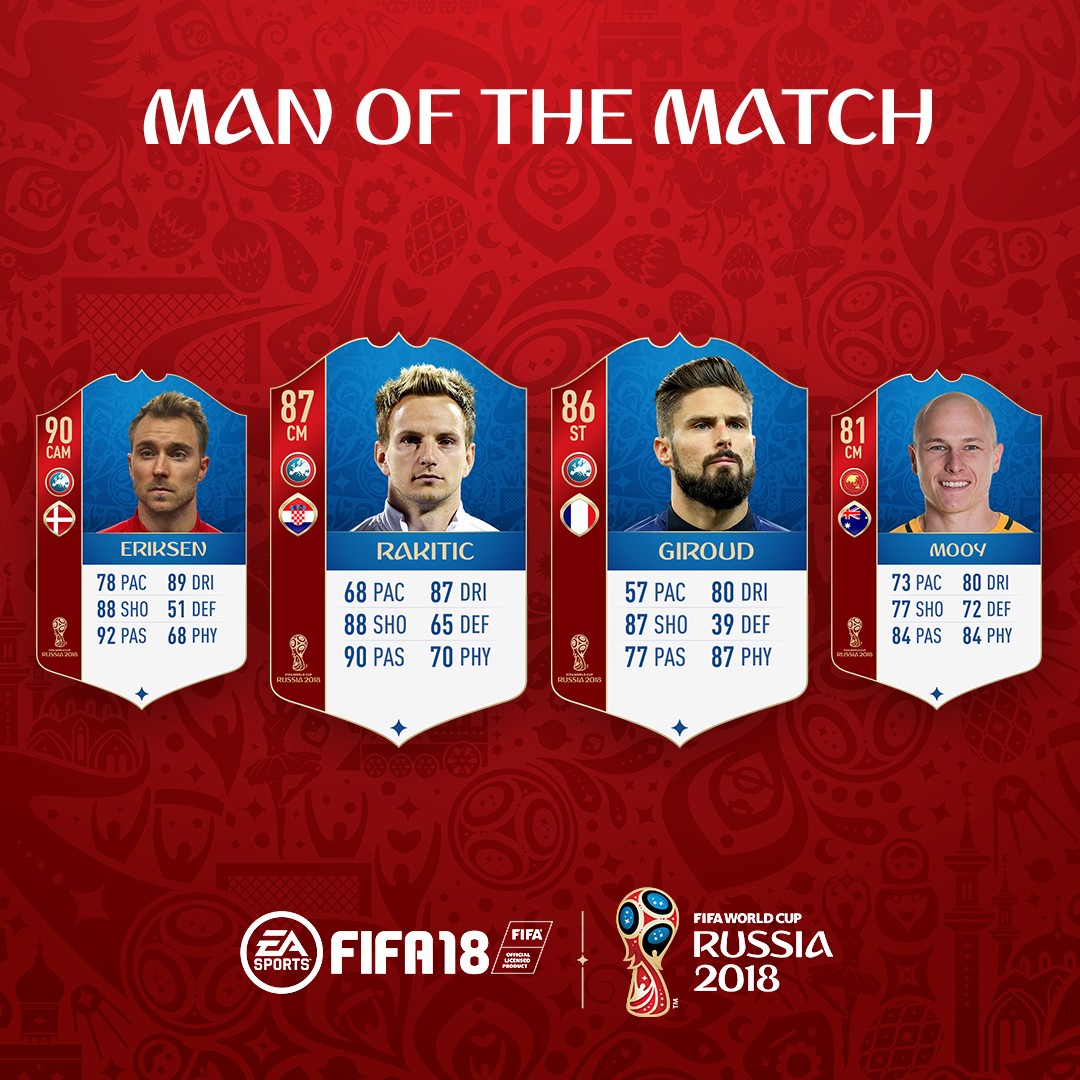 day 4
In a clash between two fan favorites, Nigeria rocked Iceland with a 2-0 win to charge up the Group D standings. Ahmed Musa made the most of his chances, scoring an excellent brace against an Iceland team that struggled at both ends of the pitch. Later, Brazil needed the full 90 minutes (and then some) to finally score against Costa Rica, with both Philippe Coutinho and Neymar finding the net in injury time. Douglas Costa earned the MOTM for Brazil, thanks to an energetic performance topped off with an assist for Neymar's strike. Speaking of late goals — Xherdan Shaqiri became an instant hero for Switzerland after his 90th minute goal put his country up 2-1 against Serbia.
day 5
Mexico continued to ride the momentum wave that followed their win over Germany with a more decisive 2-1 win over South Korea. Carlos Vela notched an early goal from the penalty spot, but Javier Hernandez earned his MOTM award for his excellent second half goal. Germany bounced back from their defeat to Mexico with an epic 2-1 defeat of Sweden, thanks to a world-class free kick in injury time by Toni Kroos. Belgium ended the day by making an emphatic statement about their attacking prowess, scoring five goals against Tunisia while conceding two. Eden Hazard and Romelu Lukaku scored two goals apiece, but it was the latter who impressed the most over 90 minutes to get the MOTM nod.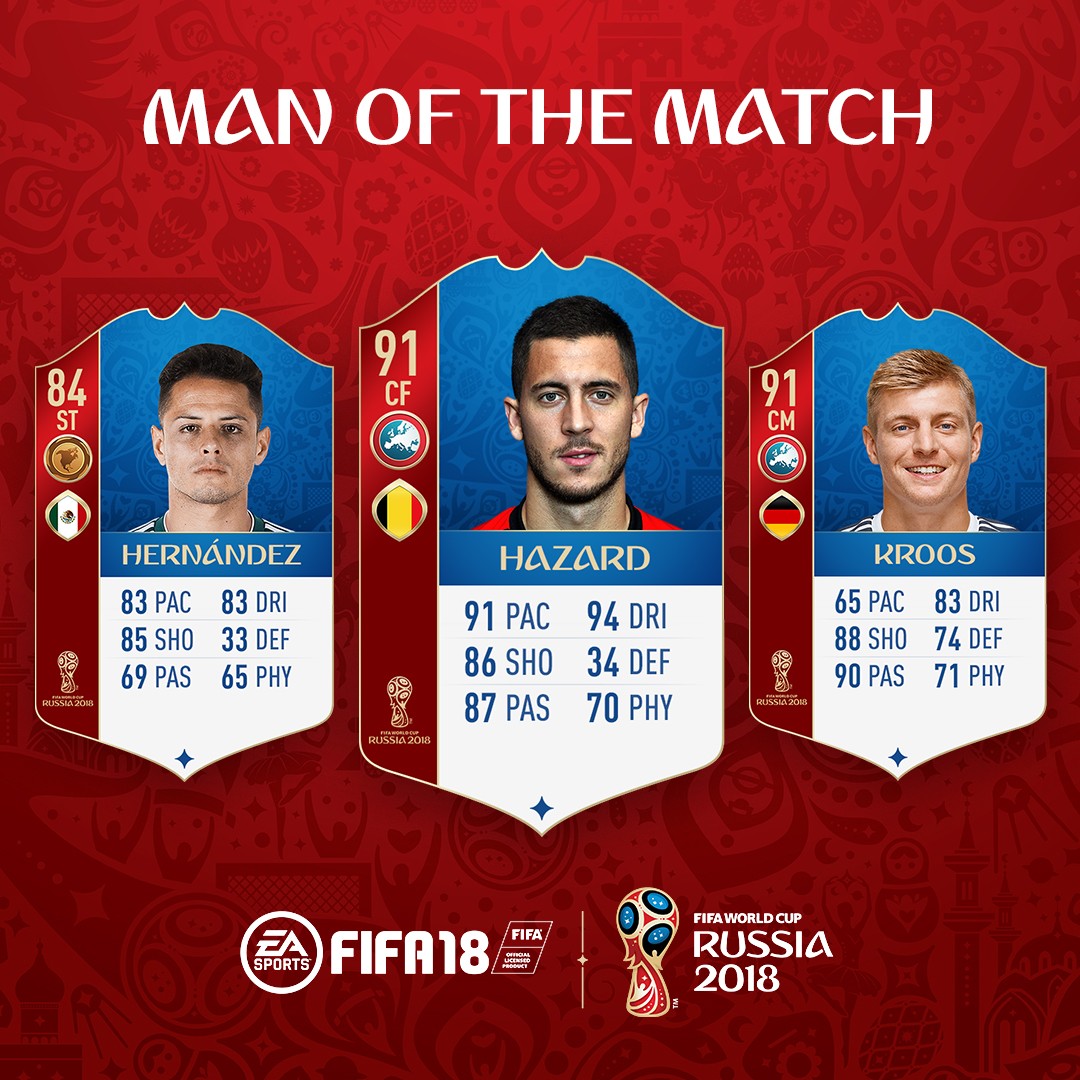 day 6
Group G's other match was also a goal-fest as England waltzed to a 6-1 victory over Panama, whose consolation goal was also the country's first-ever in the World Cup. While John Stones picked up a brace and Harry Kane notched a hat trick, Jesse Lingard stood out with his beautiful goal and overall match performance. Japan and Senegal earned a valuable point each in their 2-2 draw, making the final day crucial for the outcome of Group H. Takashi Inui scored Japan's first goal and assisted the second to almost single-handedly keep Japan in the tournament. Colombia also bounced back from their defeat to Japan to blaze past Poland with a 3-0 win in which Juan Cuadrado scored the third goal on top of a solid creative performance.