Posted May 2nd at 12:00am.
This week EA SPORTS released their Team of the Season for the Barclays Premier League and so have asked me who would make my Team of the Season: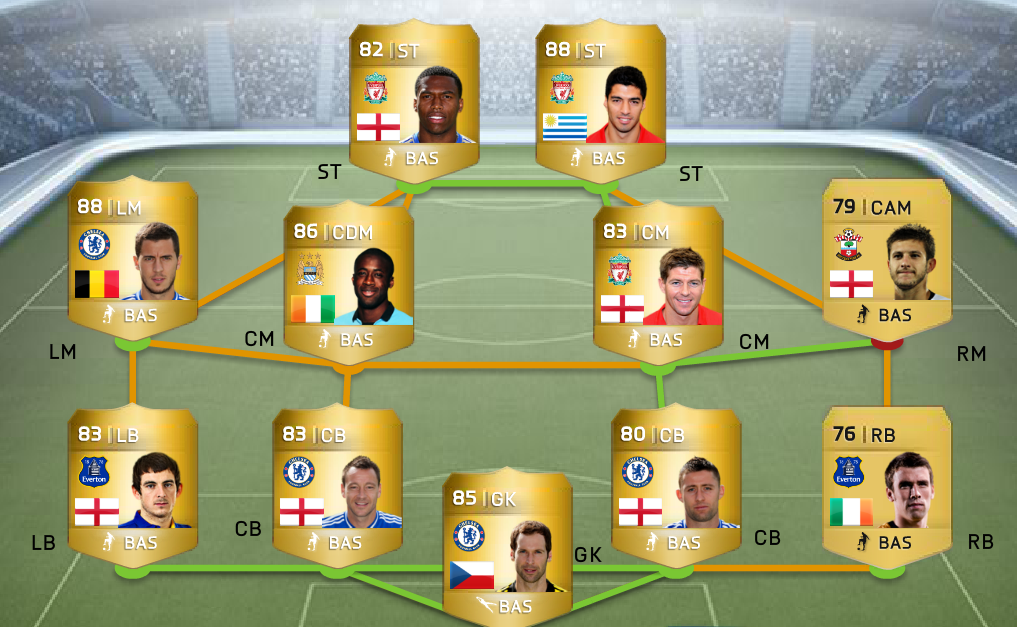 We always judge Petr Čech against the standards he set in 2005 and those early Mourinho years when he was absolutely outstanding. He's been part of the best defensive unit this season and for me he's been the best of the 'keepers in the league.
Seamus Coleman has progressed this season in to a top-class attacking full back. He's effecting games so much in an attacking sense. When I watched him as a young defender, he had issues at the back post when the ball was on the other side of the pitch as he'd often lose sight of his position a little bit. But this season he's improved enormously and we're starting to see him become a really top full back.
It was a toss-up between Leighton Baines and Luke Shaw for the left back slot, plus César Azpilicueta has been really good in that position too. But Baines is just so consistent going forward and defensively. He just edges out Shaw who's had an excellent season.
John Terry knows the game inside out and his experience is vital to Chelsea. In terms of consistency and performances this season, along with Gary Cahill, he's been the best centre back in the league. Together they've been the best centre back pair this season. They're the meanest defence in the league. They both play off each other really well and have benefitted from the return of Mourinho. You sense now that they're a really difficult side to breakdown and Terry and Cahill have been at the heart of it.
The centre of midfield is an absolute no brainer for me, Yaya Touré and Steven Gerrard. Touré has been the best attacking central midfielder in the league. His goals have been fantastic and he's just getting back at the right time now. He had a massive game at Crystal Palace on Sunday. His power and drive really make a huge impact on City and everything they are trying to do.
Gerrard has had a fantastic season for Liverpool and over the entire season he's been the best central midfield player with Touré. He's played in a slightly withdrawn role which is different for him. He's had to adapt and amend his game. His passing from deep positions is fantastic and when he's been getting involved with the back four he has that ability to spot a killer pass from distance and execute it.
I still think there's more to come from Eden Hazard but he's a world class player we've got in our league. This season he's progressed from where he was last year. I still think he can add more and do more, but you'd have to say he's a genuine top-class winger and there aren't many of them around anymore.
Daniel Sturridge and Luis Suárez have one of the best strike partnerships in Europe. Suárez is probably the best striker in the world at this moment in time. I love Sergio Agüero at Manchester City and it's tough for me to not put him in this team as I've got a lot of time for him, but his injuries this season have prevented me from picking him even though I think he is absolutely world class. Keeping Agüero out does show where Sturridge and Suárez are though. They've had a brilliant season, with Liverpool scoring a mountain of goals. They've been prolific through the whole season and play so well together. Suárez has everything in his game – aggression, goals, dribbles, workrate to defend, he really is the complete player. The easy thing to say would be that Sturridge has benefited from playing alongside Suárez, which is absolutely true, but it's also vice versa in that Suárez has improved greatly since Sturridge arrived at the club. They both work really well together even though they are more individuals and not what you'd call a classic strike partnership.
The EA SPORTS Team of the Season - Barclays Premier League is now available to play against in FIFA 14 Ultimate Team. Team of the Season – Barclays Premier League player items are available by chance when opening FIFA Ultimate Team packs until next Wednesday, 7th May.