Posted July 11th at 12:00am.
When it comes to MMA, styles often make fights. EA SPORTS UFC is no different.
Fighters exhibit a variety of strengths and weaknesses every time they step into the Octagon, and as a future UFC Hall of Famer, it's your job to know how to exploit them. Any style can be neutralized as long as you approach it with the right fight plan.
Check out our previous Fight Plan on Defeating A Submission Artist.
How to Defeat: A Knockout Artist
Going up against Anderson Silva, Chuck Liddell or Anthony Pettis and want to avoid getting starched? Check out this tutorial put together by our friend IPod King Carter and dive in below for a breakdown of all the key takeaways.
Keys to the Fight
1. Keep Your Distance
Standing in the pocket and trading shots with a superior striker is a good way to wake up on your back with a referee staring down at you. When squaring off against a knockout artist, rule one is keep your distance. Use the left stick to dodge when you can, and whenever you get in close be prepared to rock some head movement and slip those punches.
Striking defense is also a must and there's never been a better moment to master the parry and use the openings you create to land some of your own bombs. Just remember to watch your stamina at every turn. Lowered stamina means you won't be able to defend attacks properly, and against a powerful striker that could mean "lights out" before you know it.
Learn – Striking Defense
Learn – Striking Offense
2. Clinch It
Not only does locking up a knockout artist in a clinch keep you out of range of spinning back-fists and kicks to heads, but it also gives you the opportunity to slow the fight down and set your own pace.
In the spirit of slowing things down, once in the clinch, don't get hung up on drilling your opponent with shots to the head. Instead knee their legs, stomp their feet and soften up their bodies before taking them down.
Learn – Clinch Offense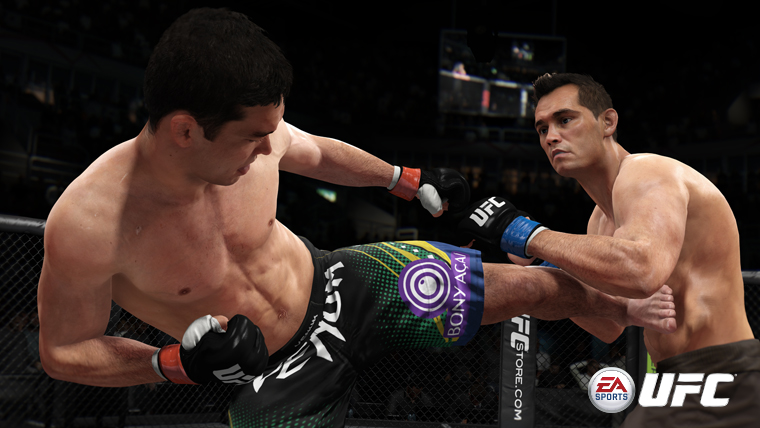 3. Take 'Em Down
The standup game belongs to them, so taking the fight to the ground should feel like bringing an opponent into your world. Sharpen up your takedowns skills and get used to landing them from a variety of positions in the clinch, or shooting in on an opponent after dodging a strike. Get them to the ground and take over.
Learn – Takedown Offense
4. Master Transitions
Whether you've locked a striker up in a clinch or taken them to the ground, transitions are key to making the fight stay where you want it. Transitions essentially identical for both the clinch and ground. Mastering transitions and advanced transitions allow you to move around in the clinch and set up the takedown you're looking for, stop your opponent from taking you down, or stop a grounded opponent from getting back up to their feet.
Stall them, control them, work them over and set yourself up for the dominant position TKO finish or the Submission.
Learn – Ground Offense
Learn – Ground Defense
Get the inside edge. Visit our Tips and Tricks page, featuring video tutorials and submission information.
Want more EA SPORTS UFC? Step into the Octagon, Feel the Fight, experience The Next-Gen Fighter and check out all of our other Developer Diary videos for more details on the game.
EA SPORTS UFC is now in stores, buy your copy today.
Like us on Facebook and Follow us on Twitter to stay in the conversation on all things EA SPORTS UFC.