Posted July 12th at 12:00am.
Brian Krause, EA Canada Software Engineer
Those of you familiar with the EA SPORTS NHL franchise may recognize my name from a series of blogs I posted about NHL's Career mode in the past. When I was given the opportunity to join the EA SPORTS UFC team and help realize its Career Mode, I jumped at the chance to join the team and provide a solid career mode for those of you looking to enjoy a deeper gaming experience.
Starting a Career
Similar to other EA titles, we offer you the chance to import your favorite Created Fighter into the mode. You've probably spent a lot of time customizing your fighter to look "just right", and we've given you the option of starting you career with that fighter, kicking things off via the process of building a brand new character. We're happy to report there is a very deep creation feature with all the bells and whistles you could ask for. Game Face also makes it return allowing you to import a photo of yourself to use in the creation of a fighter in EA SPORTS UFC.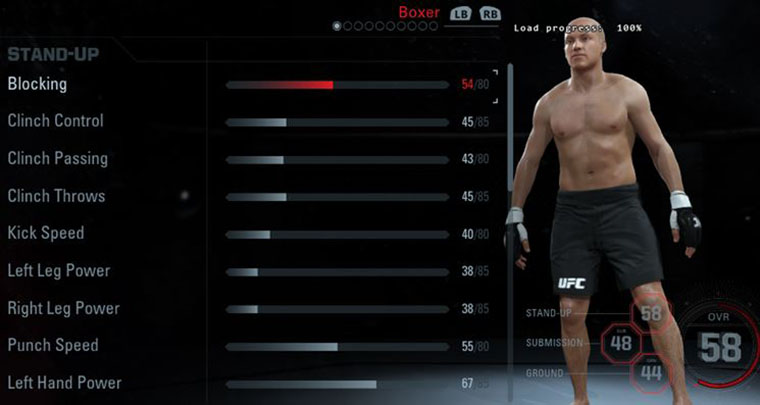 There are eight weight classes in EA SPORTS UFC Career Mode and 10 different fighting styles you may choose from to start your career. Each of those weight classes and fighting style combinations provides your fighter with specific ratings.
This means we essentially offer you 80 different pre-set fighters to start your career, each one of them balanced in such a way to reflect the fighting discipline, the opponents you will face in your weight class, and offer you extensive character evolution options as you proceed through the mode.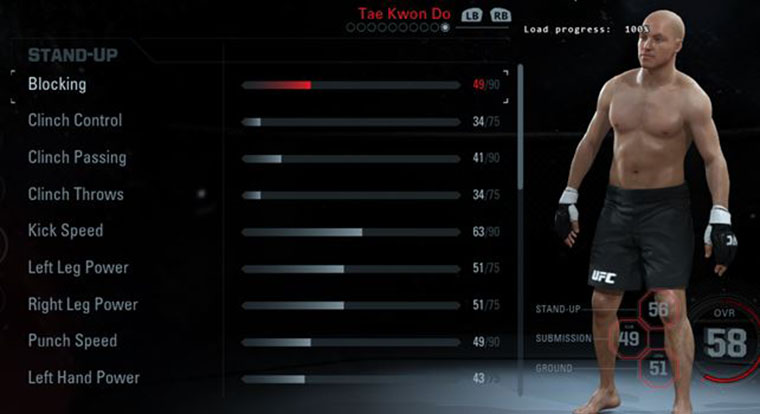 Each fighter is made up of 24 distinct ratings that cover a specific component of UFC fighting. The fighter you choose will offer you a specific career path with your fighter's base style affecting the starting values of your ratings and how much it will cost to increase that rating. In addition, skills and moves will be unique to that character giving the mode a lot of replay value.
Progressing through a career as a Welterweight Boxer will give you a distinctly difference experience than you'll have as Featherweight Tae Kwon Do fighter. Starting you career will see you advance through some initial training and evaluation sessions to teach you the basics of the mode. After you complete those you'll get into the meat and potatoes of the career, and your challenges will begin.
The Ultimate Fighter
When you start career mode you'll immediately be immersed into the world of UFC by competing in The Ultimate Fighter tournament. We've taken the intensity and drama of that real-world experience and made it the launching point of our career mode.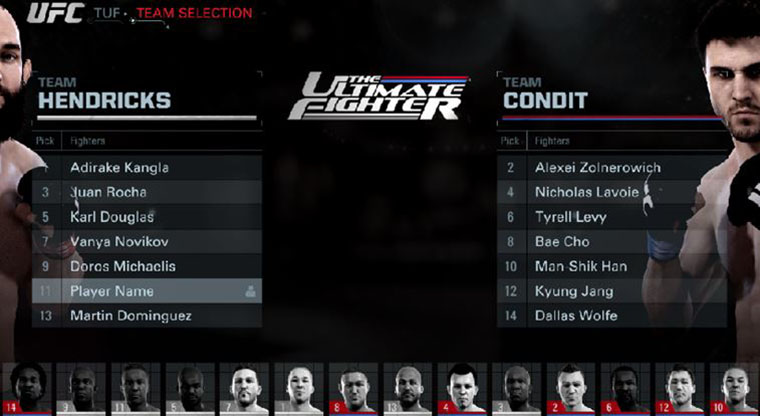 We've matched up 13 pairs of real life rivals to act as coaches, depending on which weight class you've chosen to begin your career in. Johny Hendricks and Carlos Condit are just one set of coaches you'll work with in addition to Benson Henderson and Nate Diaz, Chris Weidman and Lyoto Machida, Jon Jones and Alexander Gustafsson, just to name a few.
The Ultimate Fighter experience will force you to first qualify by winning an elimination match, and once that's out of the way you'll get drafted to one of the two teams along with 13 other CPU generated fighters of various styles and skills.
Here, our created fighter has been drafted by Team Hendricks, so we'll immediately begin our rivalry with fighters from Team Condit. All fighters will come out wearing the colors of their respective teams – just like the real show.
Before each round in the Ultimate Fighter Tournament, you'll be given a heads up by your coach on who your upcoming opponent will be. You'll also be provided with a scouting report on your opponent as well as some last-minute comments about the matchup.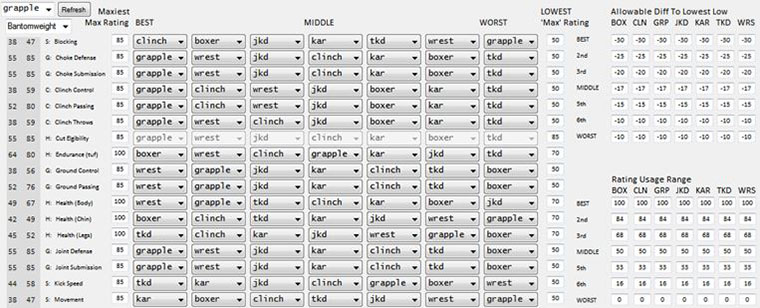 The programming language of C# plays a huge part of development of EA SPORTS UFC's Career Mode. Virtually every feature pertaining to fighter progression and CPU fighter decision-making (within the career, not in the octagon) that we'll be outlining in this article is governed by a C# component that we developed in order to prototype and test a feature while the game was still in development.
Above is an example of just one of several pages that controls the initial attributes of CPU controlled fighters. Play balance was a key design initiative at all stages of career mode development.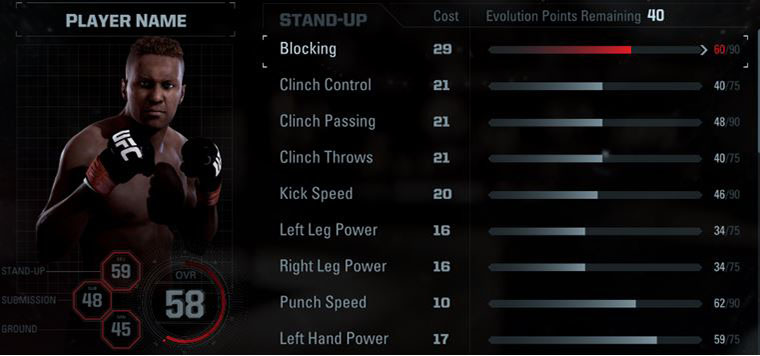 As you proceed through The Ultimate Fighter tournament, you'll be presented with opportunities to both fight and train. These actions give you XP which levels up your character as well as Evolution Points which you can use as you see fit to improve your fighter. Your fighting style, weight class, and current rating in relation to its maximum all feed into the cost computation process.
As mentioned when discussing the CPU fighter generation process, all aspects of rating costs and character progression are also governed by C# components that allowed us to test and model any situation with a few button presses. Each of the fighting styles has some ratings that come naturally and others that will be difficult to adapt to as you proceed through your career. This design mantra allows you to customize your character as you see fit, but forces you to choose between how many you want to have in your arsenal. If you over-specialize in something that is easy for your character to pick up, you'll be at a distinct disadvantage when you face off against an opponent with other areas of strength.
As you proceed through The Ultimate Fighter, your teammates and opponents will all be making a run at that coveted UFC contract, same as you. The winners of each stage of the tournament proceed through the brackets until only two of you remain in the final.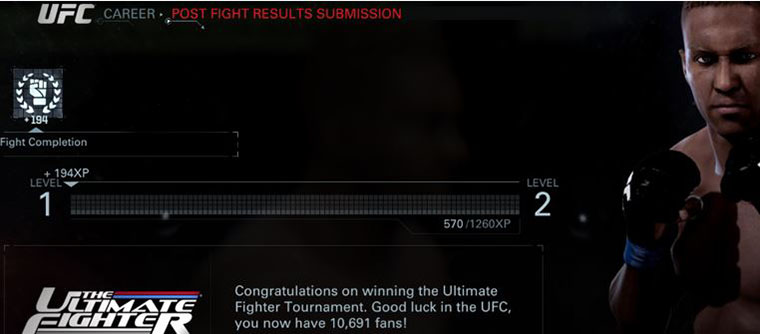 After winning The Ultimate Fighter tournament, you'll be presented with a UFC contract. Your exploits in will also have earned you enough fans to claim your first official Sponsor – the UFC itself. You'll now be able to equip special ring gear and bling out your fighter in official UFC merchandise. You'll also have achieved Level One out of a possible 25 Levels to enhance your fighter, which should come in handy.
Your Official UFC Career Begins
From this point on in your career, you'll be one of 35+ fighters in your chosen division, all be gunning for the same championship belt. You'll fight on a series of PPVs, and make your way up the Power Rankings until eventually progressing from the undercard to the main card.
Our first opponent here is Sterling Torres, one of over 200 CPU generated fighters we've created to pit you against on your journey to the top. All CPU fighters are also fighting, leveling up, and purchasing ratings – just like you should be – so if you face off against Torres again five or six fights later, he'll be significantly improved from the version you fought earlier in your career.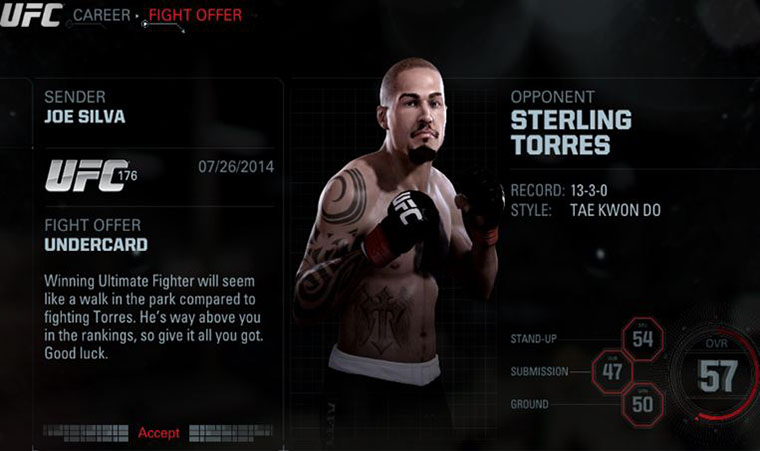 After your fight, you'll be presented with an interactive summary of the various XP Rewards you've received, and be given an overview of your level progression and how close you are to reaching the next level.
Victories and how you earned them will earn you additional fans, which in turn will unlock new sponsors for you to equip. There are almost 30 different sponsors that can be unlocked at varying levels of fan support. In addition to fans, you'll also be awarded Evolution Points and Skills and Gameplans to help build your fighter.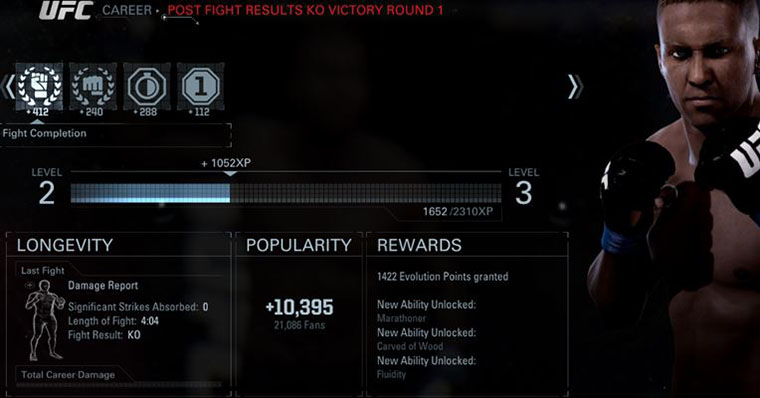 Power Ranking and Title Contention Progression
As mentioned earlier, all fighters belonging to a weight class are being evaluated in the same way you are. As fighters win or lose their matches and invest in their abilities, they climb and fall in the division's Power Rankings. Here we can see that Jose Aldo is the current champion, and that our created fighter has moved up to 36th in the Power Rankings thanks to our victory over Sterling Torres, while Torres has dropped to 40th.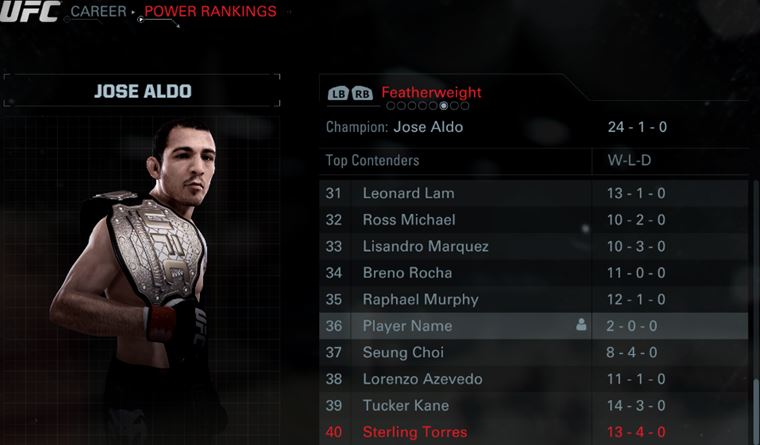 Each fight result will earn you XP which is in turn used to level up. There are 25 levels per fighting style, and each of those levels unlock some of the almost 40 different skills/abilities that may be equipped on your character.
Abilities are broken down into three categories, Ground, Standup and Physical. Abilities are granted in an order that is based on the fighting style you've chosen, so being able to equip abilities based on your fighting style will allow you a large variety of career options. As you level up you'll be given up to three different Game Plans with up to five skills in each. You can switch between these three pre-sets at any time, based on who your next opponent is, and what fighting style you'll be dealing with.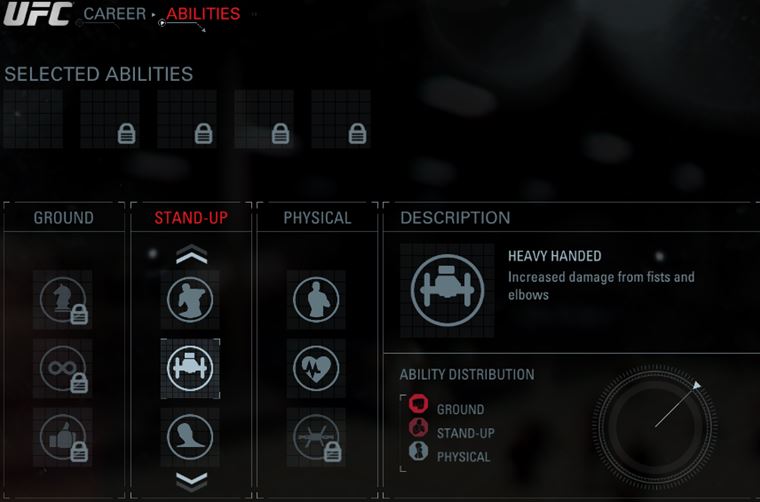 In addition to Attributes, and Skills, you'll also have the option to customize your Moves. You may decide to use your Evolution Points for Attributes, or to buy new moves. If you choose to buy moves, you'll be taken to an interactive screen where each of the fighter-style moves that you could equip will be displayed. Provided you have sufficient points and level for that move, you'll be able to equip it.
Under the Hood
Each of the 10 fighting styles is controlled by a progress tree that allows us to tune what skills are available and what is likely to be equipped for each of the 25 XP levels in that style. CPU fighters unlock levels and skills just like you, and need logic to equip those skills sensibly based on what is available and what plays to their advantage as a fighting style.
We can set up any fighting style at any XP Level, and then specifically target the type of skills they should use at that stage of their career.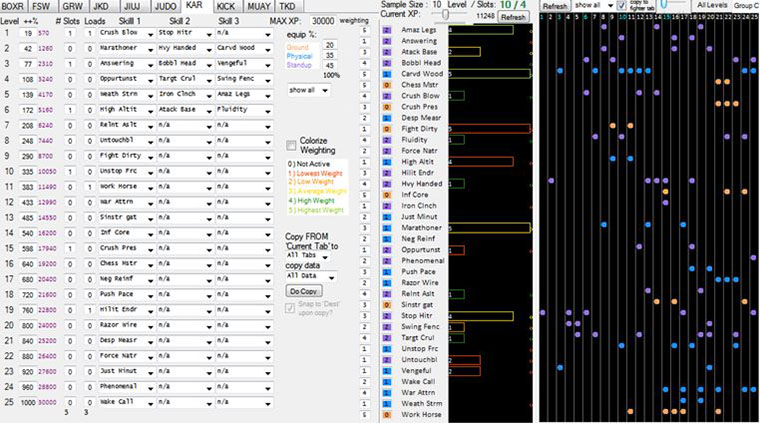 The Power Rankings system is used for all weight classes and we need to be able to control who moves up and down, and by how much in order to control who is able to fight for the belt and who remains on the main card or under card. Extensive testing has gone into ensuring that we achieved the right balance of fighters beneath you and above you as you progress through your career.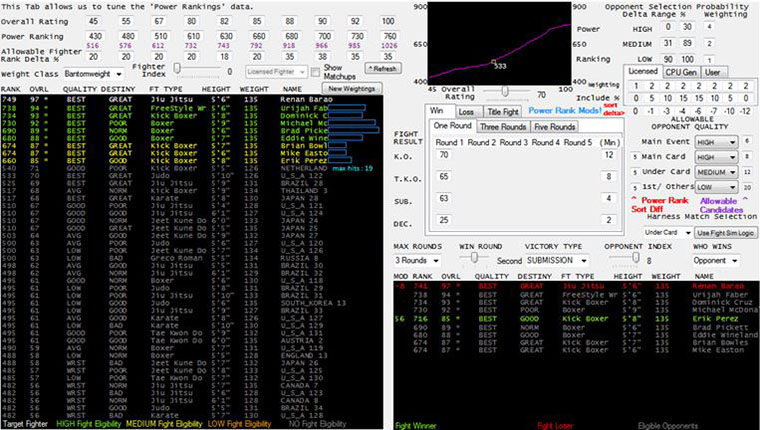 We have the ability to model a full career of fights at the press of a button, and provide metrics for our design team on how much XP is granted in a typical undercard match, or how often a fight is won by KO in the 3rd round. We also can see how often each of the 10 fighting styles purchases a particular attribute, or how often they chose to purchase something that is 'easy' rather than target something outside of their typical range of abilities.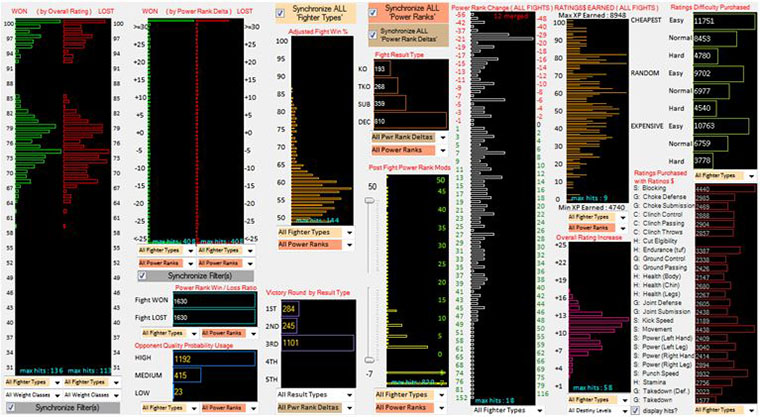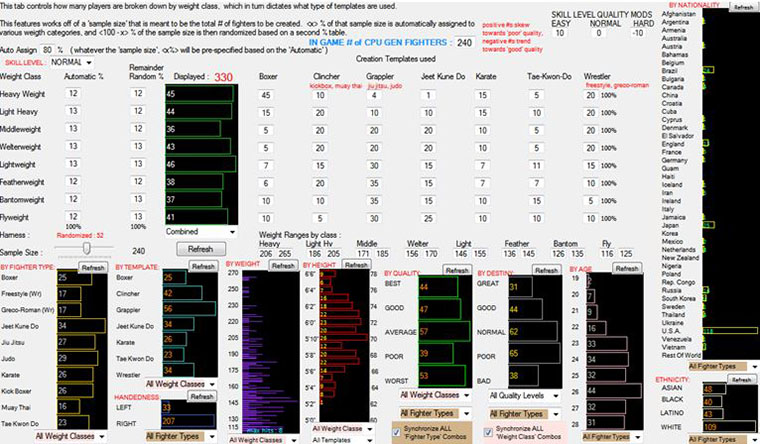 This above page also allows us to set up the entire mode with the press of a single button. We provide metrics on how many fighters there are in each weight class and how many fighters are created from Brazil, Germany, or Canada. We can break down exactly how many Boxers will be assigned a 'great' rating package, or compare them to how many Greco Roman Wrestlers will be 23-year-old Latinos at the start of their careers. With tools like this at our disposal, a LOT of effort went into providing you with an incredibly deep – and hopefully very fun and rewarding – experience.
Get the inside edge. Visit our Tips and Tricks page, featuring video tutorials and submission information.
Want more EA SPORTS UFC? Step into the Octagon, Feel the Fight, experience The Next-Gen Fighter and check out all of our other Developer Diary videos for more details on the game.
EA SPORTS UFC is now in stores, buy your copy today.
Like us on Facebook and Follow us on Twitter to stay in the conversation on all things EA SPORTS UFC.