FIFA Ultimate Team - Team of the Week - 24 September
Posted September 24th at 7:00am.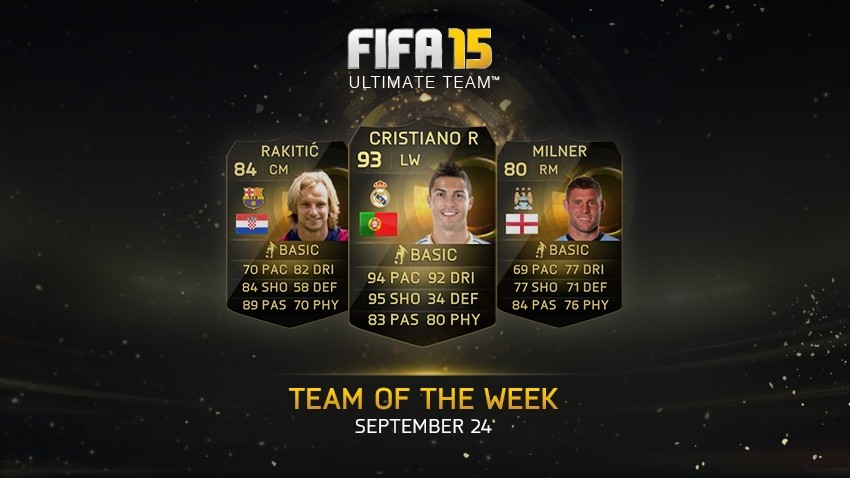 Elke week worden de beste spelers van clubs en landenteams uit alle delen van de wereld verzameld in FIFA Ultimate Team. Deze verzameling spelers kun je ook uitdagen in FIFA Ultimate Team.
Cristiano Ronaldo van Real Madrid heeft een paar fantastische dagen achter de rug. Zaterdag scoorde hij driemaal voor zijn ploeg, die Deportivo La Coruña in de Galicische stad een flinke afstraffing bezorgde: 2-8. Dinsdag ging hij rustig verder met scoren. Ditmaal passeerde hij de doelman vier keer, waarvan één keer via een strafschop, in de met 5-1 gewonnen wedstrijd tegen Elche.
Eveneens in Spanje maakte nieuweling Ivan Rakitić zondag zijn eerste doelpunt voor FC Barcelona in de eenvoudige 0-5 zege op Levante. Door die overwinning behoudt de club de koppositie, met twee punten voorsprong op Valencia en Sevilla FC.
Zondag kwamen Manchester City en Chelsea niet verder dan een 1-1 gelijkspel. Hoewel de meeste aandacht uitging naar voormalig Chelsea-speler Frank Lampard, die tegen zijn oude team de gelijkmaker voor zijn rekening nam, was er ook veel aandacht voor het goede spel van James Milner. Niet alleen leverde hij in de 85e minuut de assist voor het doelpunt van Lampard, ook vervulde hij diverse rollen met verve nadat de thuisploeg in de 66e minuut was teruggebracht tot tien spelers.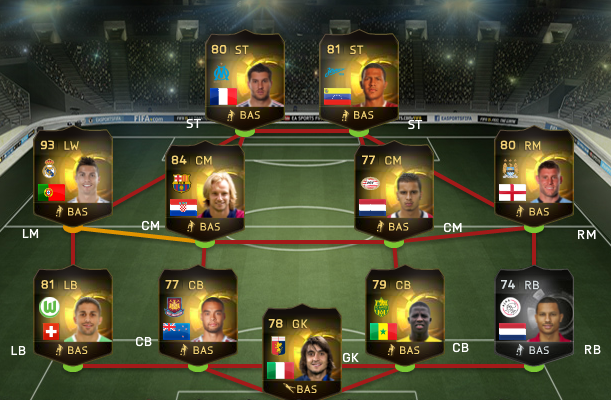 Basisopstelling
GK: Mattia Perin – Genoa (Italy)
LB: Ricardo Rodriguez – VfL Wolfsburg (Germany)
CB: Winston Reid – West Ham United (England)
CB: Papy Mison Djilobodji – FC Nantes (France)
RB: Ricardo van Rhijn – Ajax (The Netherlands)
LW: Cristiano Ronaldo – Real Madrid (Spain)
CM: Ivan Rakitić – FC Barcelona (Spain)
CM: Adam Maher – PSV (The Netherlands)
RM: James Milner – Manchester City (England)
ST: André-Pierre Gignac – Olympique de Marseille (France)
ST: Salomón Rondón – Zenit St. Petersburg (Russia)
Wisselspelers & Reserves
GK: Loris Karius – 1. FSV Mainz 05 (Germany)
CDM: Dele Alli – Milton Keynes Dons (England)
RM: Roberto Torres – CA Osasuna (Spain)
CAM: Ronny – Hertha BSC (Germany)
ST: Mana Dembélé – AS Nancy (France)
ST: Jamie Vardy – Leicester City (England)
ST: Bradley Wright-Philips – New York Red Bulls (United States)
*Let op: de beginopstelling en/of posities van de spelers kunnen in het spel iets afwijken.
---
Je kunt elke week weer in FIFA Ultimate Team tegen het Team van de week spelen. Telkens wanneer je een FIFA Ultimate Team-pakket opent, kun je TVDW-items tegenkomen.
FIFA 15 is nu overal verkrijgbaar. Koop de game vandaag nog.
Praat mee over FIFA 15, vind ons leuk op Facebook en volg ons op Twitter.