FIFA Ultimate Team - Team of the Week - 22 Oktober
Posted October 22nd at 7:00am.
Elke week worden de beste spelers van clubs en landenteams uit alle delen van de wereld verzameld in FIFA Ultimate Team. Deze verzameling spelers kun je ook uitdagen in FIFA Ultimate Team.
Sergio Agüero nam zaterdagmiddag alle vier de treffers voor Manchester City voor zijn rekening in de eenvoudige 4-1 zege op Tottenham. Agüero heeft dit seizoen negen keer gescoord en is nu gedeeld topscorer van de competitie, samen met Diego Costa van Chelsea.
Wesley Sneijder maakte zaterdagavond twee doelpunten voor Galatasaray, waarvan eentje om in te lijsten. Hiermee hielp hij zijn ploeg aan een 2-1 zege op rivaal Fenerbahçe. Door de overwinning staat de ploeg slechts één punt achter op nummer één Beşiktaş.
Bayern München vermorzelde zaterdag Werder Bremen met 6-0 en blijft daarmee koploper in de Bundesliga. Hoewel hij vooral bekendstaat om zijn verdedigende kwaliteiten, wist Philipp Lahm tweemaal het net te vinden. In zijn hele carrière heeft hij nu tien keer gescoord voor zijn club.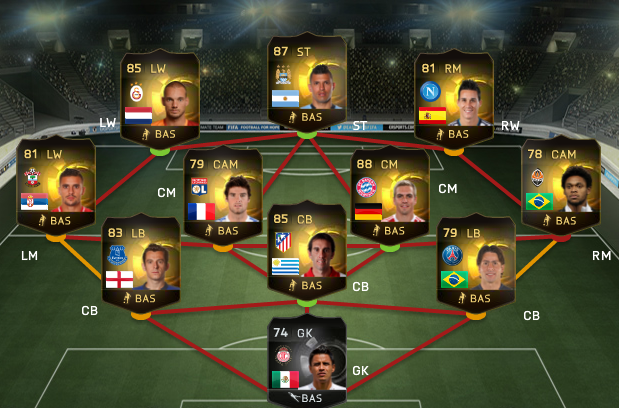 Basisopstelling
GK: Alfredo Talavera – Toluca (Mexico)
CB (LB): Leighton Baines – Everton (England)
CB: Diego Godín – Atlético de Madrid (Spain)
CB (LB): Maxwell – Paris Saint-Germain (France)
LM (LW): Dušan Tadić – Southampton (England)
CM (CAM): Yoann Gourcuff – Olympique Lyonnais (France)
CM: Philipp Lahm – Bayern München (Germany)
RM (CAM): Luiz Adriano – Shakhtar Donetsk (Ukraine)
LW: Wesley Sneijder – Galatasaray SK (Turkey)
RW (RM): José Callejón – Napoli (Italy)
ST: Sergio Agüero – Manchester City (England)
Wisselspelers & Reserves
GK: Abdoulaye Diallo – Le Havre AC (France)
RB: Johan Larsson – IF Elfsborg (Sweden)
RB: Benjamin Kessel – Eintracht Braunschweig (Germany)
CM: Victor Vazquez – Club Brugge (Belgium)
ST: Franck Etoundi – FC Zürich (Switzerland)
ST: Garry Thompson – Notts County (England)
ST: Paweł Brożek – Wisła Kraków (Poland)
*Let op: de beginopstelling en/of posities van de spelers kunnen in het spel iets afwijken.