Posted August 29th at 4:00pm.
Our NHL® 18 Player Ratings reveal continues with the top NHL young stars. These are the top 10 players who are 23 years old or younger. Find out who they are below!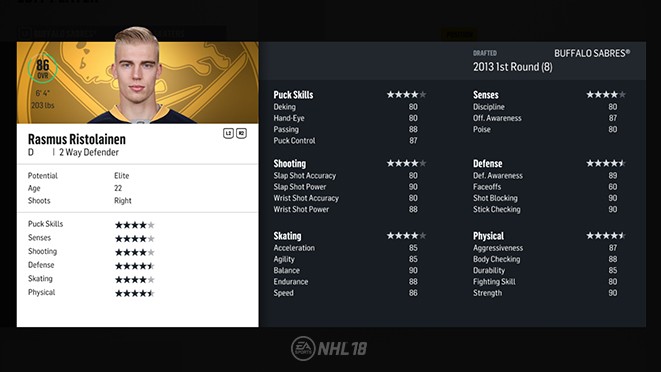 10. Rasmus Ristolainen – 86 Overall
One of the NHL's premier power play quarterbacks, Rasmus Ristolainen's Passing (88) and Offensive Awareness (87) allow him to distribute the puck to his teammates with ease. Look for Buffalo Sabres' defender to lead the young team as they push for the playoffs in 2017-18.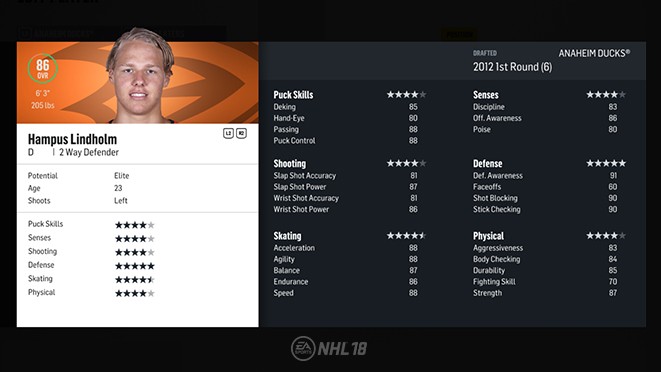 9. Hampus Lindholm – 86 Overall
Hampus Lindholm might be one of the best-kept secrets in the NHL. The 23-year-old blue liner is rapidly becoming one of the best defenders in the NHL. Lindholm's 5-star Defense skills, including his Defensive Awareness (91), Shot Blocking (90) and Stick Checking (90), allows him to shut down the opposition with ease. Lindholm's use his solid Passing (88) ability to set up teammates for the breakouts or to generate scoring chances in the offensive zone.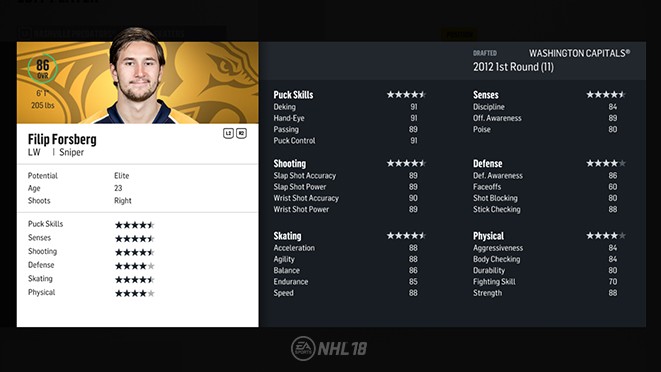 8. Filip Forsberg – 86 overall
At just 23 years of age, Filip Forsberg is one of the NHL's brightest Young Stars. He was a key component in the Nashville Predators Stanley Cup run last season and look for Forsberg to elevate his game even further this year. The Swedish left wing has incredible Puck Skills, often using his Deking (91) and Puck Control (91) to find the right attacking lanes to get to the net.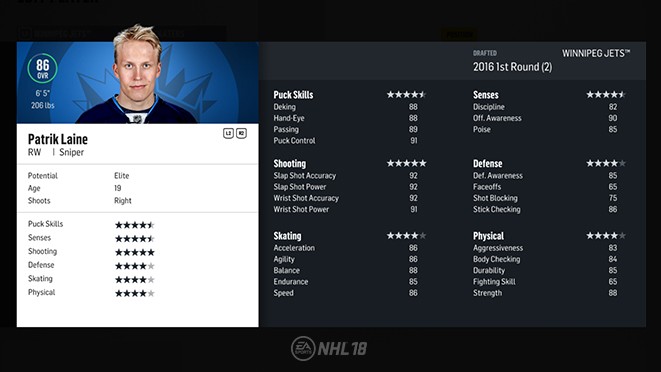 7. Patrik Laine – 86 overall
At just 19 years old, Patrik Laine has one of the hardest and most accurate shots in the NHL. The 19 year-old recorded 36 goals for the Winnipeg Jets thanks to his Slap Shot Accuracy (92) and Slap Shot Power (92). The future is bright for the young Finnish sniper who has an electric flair to his game.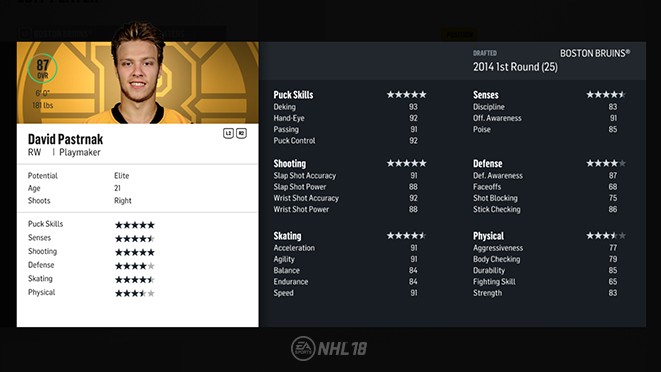 6. David Pastrnak – 87 overall
One of the best young stars in the NHL, David Pastrnak world-class Puck Skills allow him to create a highlight reel play out of any opportunity. The Boston Bruins right wing has elite Deking (93) and Puck Control (92) abilities to go along with his 5-star shot to bury any opportunity he gets.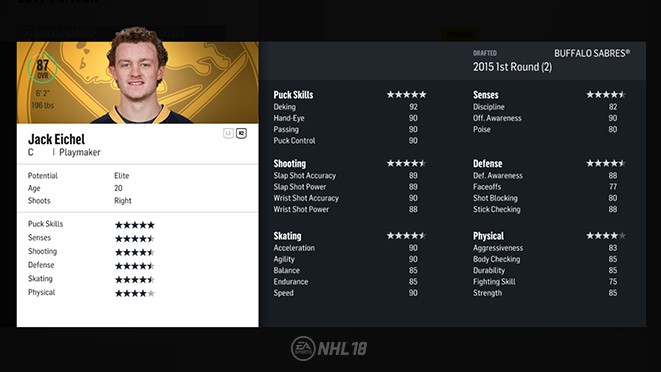 5. Jack Eichel – 87 overall
There are few players who can stickhandle better than Jack Eichel. The young Buffalo Sabres center will look to continue his torrid pace from last season. Eichel uses his Deking (92) abilities to create either shooting or passing lanes where he can use his strong wrist shot to snipe goals or feather a pass to a teammate for a scoring chance.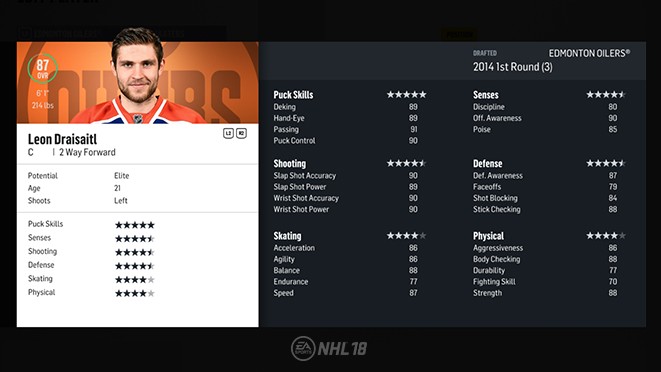 4. Leon Draisaitl - 87 overall
Leon Draisaitl emerged into the spotlight in a major way last season. His performance in both the regular season and playoffs was amongst the best in the league. Draisaitl uses his Strength (88) and 5-star Puck Skills to generate scoring chances for the Edmonton Oilers.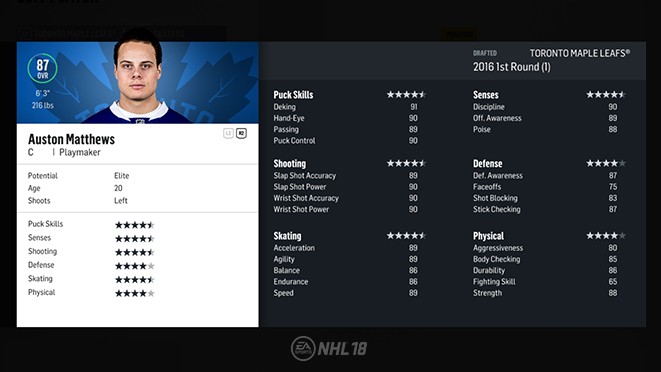 3. Auston Matthews - 87 overall
From four goals in his NHL debut to 40 goals in his rookie season, Auston Matthews lived up to and surpassed all the expectations that surrounded him last season. The Toronto Maple Leafs center is a well-rounded player who can play in all ends of the ice. If he can continue his performance from last season, Matthews will be challenging for a spot in the top 10 NHL centers.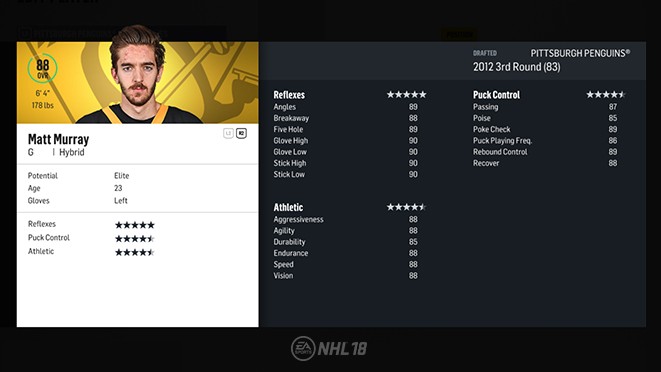 2. Matt Murray – 88 overall
Since storming onto the scene during the Pittsburgh Penguins 2015-16 Stanley Cup victory, Matt Murray has been one of the very best netminders in the NHL. After the Penguins' 2016-17 Stanley Cup Championship last year, he became the only netminder in NHL history to win two Stanley Cups as a rookie. He's one of the best at stopping high shots, boasting a Glove High (90) and Stick High (90).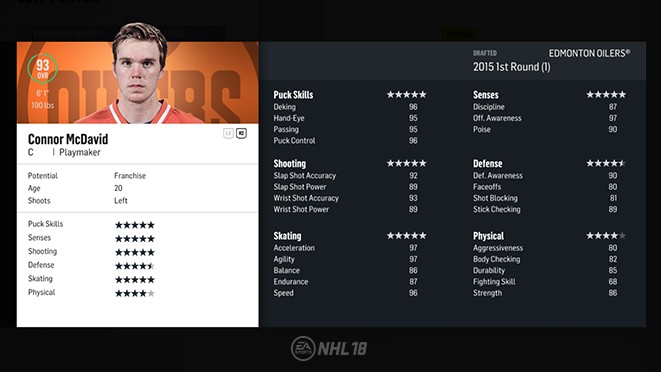 1. Connor McDavid – 93 overall
In his first full season, Connor McDavid tore the league apart with his world-class Speed (96), Puck Control (96), Deking (96) and Offensive Awareness (97). The 2016-17 NHL MVP was the only player to reach 100 points last season and carried the Edmonton Oilers to their first post-season appearance in over a decade. McDavid is a game breaker that you'll want to have on your team.
---
EA SPORTS NHL® 18 delivers the creativity of today's young NHL with new Creative Attack controls and the first-ever Defensive Skill Stick. Play the fast-paced, arcade-inspired 3-on-3 EA SPORTS™ NHL® THREES mode, or reshape the league entirely with the new Expansion Draft and your own custom 32nd NHL team. Do it all with the most co-op and competitive multiplayer options ever delivered in an EA SPORTS NHL game.
NHL® 18 is available worldwide on September 15th.