NHL Moments Live - The Spectacular Ben Scrivens
Posted February 7th at 12:00am.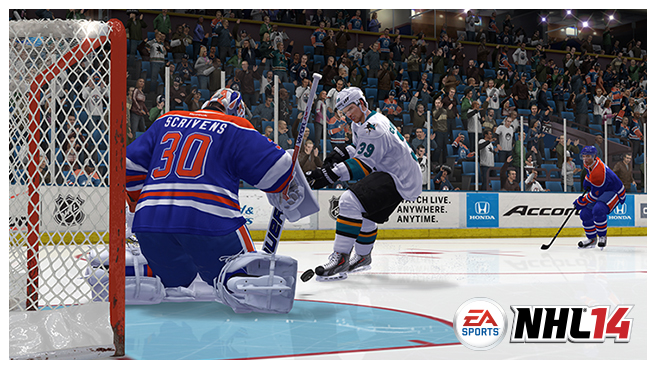 NHL Moments Live lets you relive or recreate some of the most exciting situations from the current NHL Season. Complete this week's NHL Moments Live and face off with new challenges each week in NHL 14.
Summary:
On January 29, 2014 the Edmonton Oilers welcomed the San Jose Sharks to town. It was a night to remember for Oilers goaltender Ben Scrivens, who stopped all 59 of the shots he faced in the team's 3-0 win. The shutout broke a NHL record for most saves in a regular season game, surpassing the previous record of 54 saves, set two years ago by Phoenix Coyotes goaltender Mike Smith.
Objective:
With 13:51 left in the 3rd period, maintain the shutout as Ben Scrivens. CAN YOU RE-CREATE HISTORY?
Reward:
Rookie – 50
Pro – 100
All-Star – 250
Superstar – 500
Beat this week's NHL Moments Live? Download and try one of the many other NHL Moments Live scenarios available, including some of best moments from last season.
NHL 14 is now available in stores. Pick up your copy today and experience Hockey Ultimate Team, NHL® Collision Physics, NHL 94 Anniversary mode and much more.
Stay in the conversation of all things NHL and follow us on Facebook and Twitter.