Posted August 13th at 7:00am.
NHL 15 is the start of a new generation of hockey video games, where the sights, sounds and feel of the fastest team sport on the planet come to life in a way you've never experienced before.
Within our Authentic Arenas you will also see authentic Jumbotrons and score clocks. The display boards are dynamic and will showcase crowd noise meters, team slogans, and different types of advertisement throughout every game.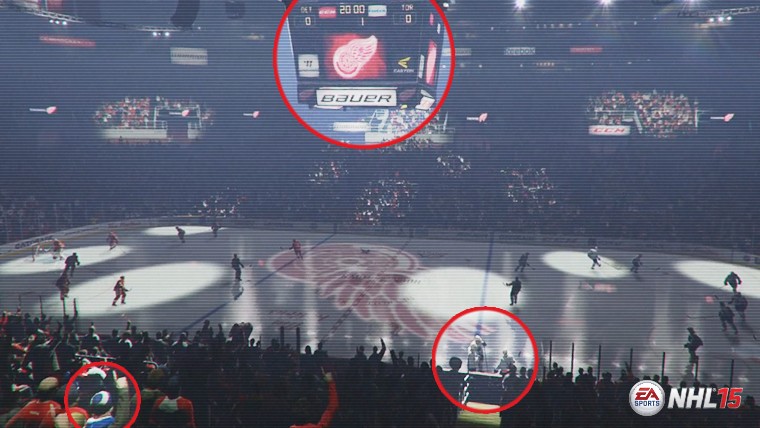 Rival fans will also show up to your home games, cheering on the road squad and making their presence be known. During the warm-up skate, players can now be seen leaning near the bench waiting for the game to start.
In the image above you can see the player model and equipment underneath the player's jersey. Each layer interacts independently, making every contact with the puck or other players even more realistic.
There will be a variety of ways to how crowd members react in NHL 15. During a goal most fans will stand up and cheer, while others will stay seated even if they're a home fan.
Outside of fans, you will also notice photographers, hand-held TV cameramen, stationary broadcast TV cameramen, vendors, security, ushers, NHL staff, and more.
NHL 15 features a Dynamic Ice Surface. During the course of play, the ice will gradually wear down until the next ice cleaning.
As the puck moves on top of the ice surface, it will push worn ice to the side, clearing a path wherever it travels. During shootouts, the ice will be resurfaced down the middle ice for shooters, leaving worn areas on the outside.
---