NHL 14 Dynamic Ratings Update
Posted April 12th at 12:00am.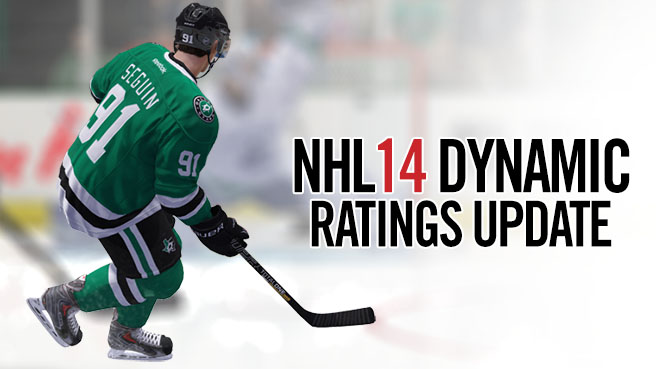 The latest NHL®14 Dynamic Ratings update has arrived! For the first year in franchise history, player ratings will be adjusted based on real-world NHL performances.
These ratings changes are available to challenge in both the 'Play Now' and 'Online Versus' modes*.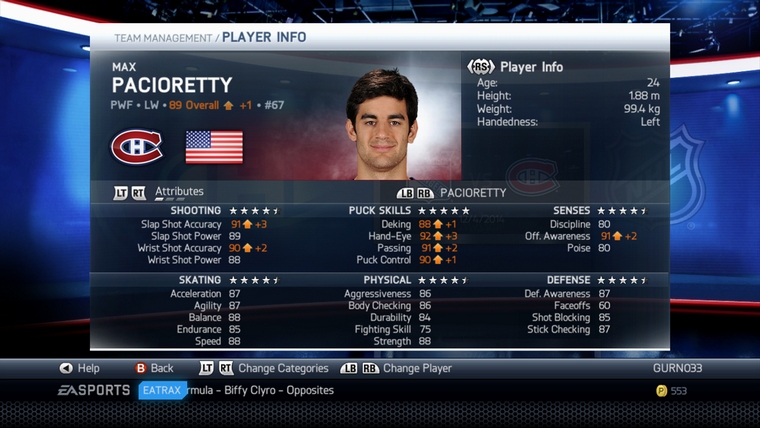 Players who are on hot streaks will receive a temporary ratings boost, while players who have been slumping will see a temporary decline in their individual and overall player ratings. Each week, we select a group of NHL players who have played above or below their start of season expectations. This week features our largest adjustment, with over 55 players seeing changes to their ratings.
Players will continue to be updated throughout the week according to their real life performances.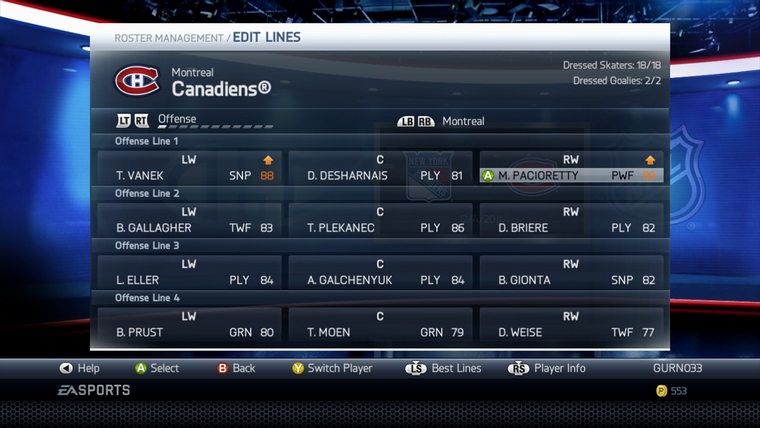 Hot Streak Players:
R. Getzlaf - ANA
C. Perry - ANA
P. Bergeron - BOS
D. Krejci - BOS
L. Eriksson - BOS
C. Hodgson - BUF
M. Cammalleri - CGY
K. Ramo - CGY
P. Sharp - CHI
P. Stastny - COL
N. MacKinnon - COL
T. Barrie - COL
R. O'Reilly - COL
S. Varlamov - COL
S. Bobrovsky - CBJ
J. Wisniewski - CBJ
J. Benn - DAL
T. Seguin - DAL
D. Alfredsson - DET
T. Hall - EDM
J. Eberle - EDM
R. Nugent-Hopkins - EDM
B. Pirri - FLA
Z. Parise - MIN
M. Koivu - MIN
C. Coyle - MIN
M. Pacioretty - MTL
T. Vanek - MTL
C. Schneider - NJD
P. Hornqvist - NSH
H. Lundqvist - NYR
M. Zuccarello - NYR
A. Hemsky - OTT
M. Streit - PHI
J. Pavelski - SJS
O. Palat - TBL
V. Hedman - TBL
A. Ovechkin - WSH
N. Backstrom - WSH
Cold Streak Players:
C. Conacher - BUF
J. Staal - CAR
A. Semin - CAR
S. Horcoff - DAL
S. Gonchar - DAL
B. Scrivens - EDM
M. Richards - LAK
D. Brown - LAK
D. Heatley - MIN
P. Subban - MTL
D. Brunner - NJD
C. Hagelin - NYR
A. Niemi - SJS
T. Oshie - STL
D. Roy - STL
S. Ott - STL
V. Filppula - TBL
A. Burrows - VAN
D. Booth - VAN
D. Setoguchi - WIN
NHL 14 is now available in stores. Pick up your copy today and experience Hockey Ultimate Team, NHL® Collision Physics, NHL 94 Anniversary mode and much more.
Stay in the conversation of all things NHL and follow us on Facebook and Twitter.
*Dynamic Ratings Updates will occur as and when made available. Online Connection Required.