HUT - Countdown to Sochi
Posted February 8th at 12:00am.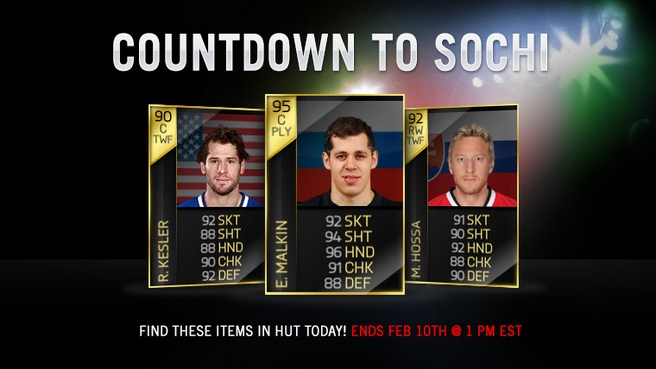 With Sochi 2014 drawing near, Hockey Ultimate Team in NHL 14 is celebrating the occasion by releasing some special edition international items!
This weekend, we are featuring players from the countries playing in Group A. These items are available now and ONLY until Monday, February 10 at 10am Pacific.
This week's featured items:
Russia:
Evgeni Malkin
Sergei Bobrovsky
Vladimir Tarasenko
Slava Voynov
Slovakia
Marian Hossa
Tomas Kopecky
Tomas Tatar
Jaroslav Halak
USA
Blake Wheeler
Ryan Kesler
Ryan Miller
Cam Fowler
These special, limited edition items are available by chance when opening certain Hockey Ultimate Team packs.
HUT in NHL 14 invites gamers to build their own on-ice fantasy squad from a stable of international players and superstars before putting their teams to the test against others online. Teams grow and improve as gamers find and collect their favorite stars and enlist them for in-game action.
NHL 14 is now available in stores, only on PlayStation 3 and Xbox 360. Order your copy today.
Stay in the conversation of all things NHL 14 and follow us on Facebook and Twitter.