Posted May 17th at 12:00am.
The EA SPORTS NHL Team is proud to present the first look at One Touch Dekes and the core improvements being made to True Performance Skating. Check out the NHL 14 One Touch Dekes Gameplay Trailer, featuring behind-the-scenes footage of the EA SPORTS technology used in development:
One Touch Dekes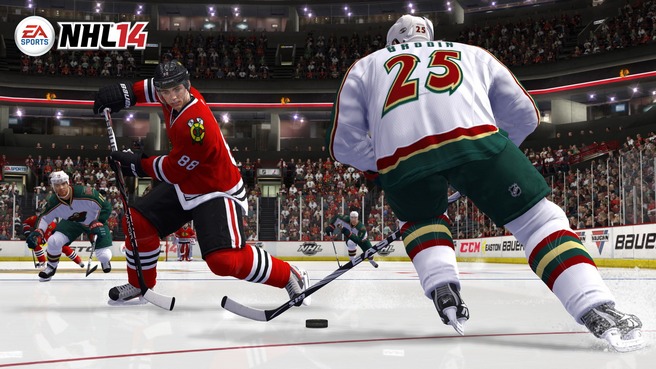 Experience what it feels like to be a superstar through a new, more responsive deking system controlled with only the left stick and one-button. From beginner to advanced gamer, this system allows for quicker reactive dekes and intuitive combination dekes, allowing for more moves than ever before. Be careful who you're controlling with the one touch dekes though, not everyone has hands like Datsyuk. Getting too fancy with the wrong player is the quick and easy way to lose the puck.
True Performance Skating
This year, we've improved upon the breakthrough innovation that introduced physics-based skating and over 1,000 new skating animations to the EA SPORTS NHL franchise. In its second year, True Performance Skating features greater player responsiveness and unprecedented control through improved balance between speed and momentum, quicker pivots and enhanced lateral skating.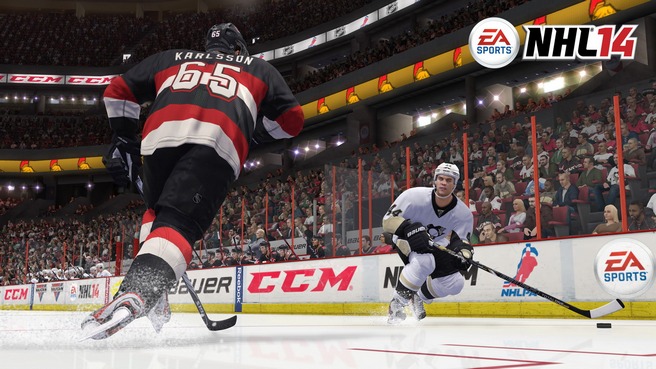 Defensive Strafing
NHL 14 is all about gameplay balance, so we've improved True Performance Skating by adding lateral strafing, giving players the tools they need to play strong defense. Defensive strafing gives you the ability to move your player laterally across the ice while still facing up towards the puck carrier. This improves player body positioning; defenders in NHL 14 will have a better opportunity to make a play by forcing the attacking player wide and then using a poke check, a stick lift or a well-timed hit to separate them from the puck.
Quicker Pivots
A big part of hockey is using quick changes in speed and direction to outmaneuver an opponent. Being able to defend those movements is key, and to that end we've improved the speed of pivots in NHL 14 to ensure that a player feels more responsive as they skate. Players will no longer appear flat-footed when they attempt to stay aligned with a streaking forward.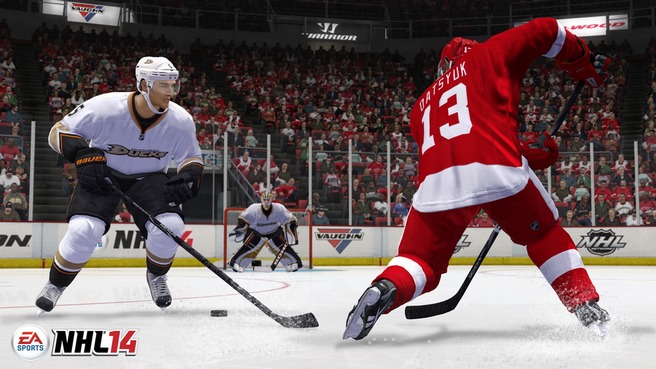 Improved High Speed Turning
True Performance Skating introduced physics-based skating to the EA SPORTS NHL Franchise and this year, it has been further tuned to produce improved balance between speed and momentum. The result is that players will be able to make quicker cuts and sharper turns at high speeds, creating greater player responsiveness and control.
Linking 45-degree cuts
Introduced in NHL 13 with the addition of True Performance Skating, 45-degree cuts allow you to quickly change direction and evade the checks of defenders. Now in NHL 14, you're able to combine 45-degree cuts smoothly in succession to evade defenders. There's no longer a delay between each move.