NHL Moments Live - Moulson Makes an Impact
Posted November 2nd at 12:00am.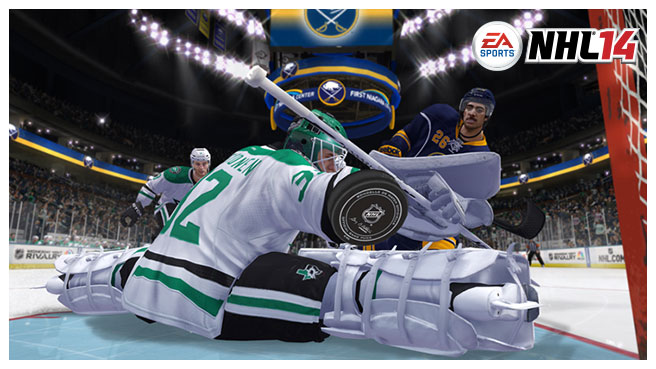 NHL Moments Live lets you relive or recreate some of the most exciting situations from the current NHL Season. Complete this week's NHL Moments Live and face off with new challenges each week in NHL 14.
Scenario:
On October 28, 2013 the Buffalo Sabres took on the Dallas Stars, with newly-acquired forward Matt Moulson making his debut.
It didn't take long for Buffalo's new weapon to make his presence felt, as Moulson scored early in the first period. The Stars would take a 4-1 lead, but Buffalo answered with two goals, including another from Moulson, to reduce the deficit to one. Unfortunately, that was all they could muster as Dallas would go on to win 4-3 and spoil #26's debut.
Objective:
With 11:55 left in the 3rd period, as Matt Moulson, get the hat-trick and win the game. CAN YOU CHANGE HISTORY?
Reward:
Rookie – 50
Pro – 100
All-Star – 250
Superstar – 500
Beat this week's NHL Moments Live? Try one of the many other NHL Moments Live scenarios available, including some of best moments from last season.
NHL 14 is now available in stores. Pick up your copy today and experience Hockey Ultimate Team, NHL® Collision Physics, NHL 94 Anniversary mode and much more.
Stay in the conversation of all things NHL and follow us on Facebook and Twitter.