NHL Moments Live - A Hero's Return
Posted December 7th at 12:00am.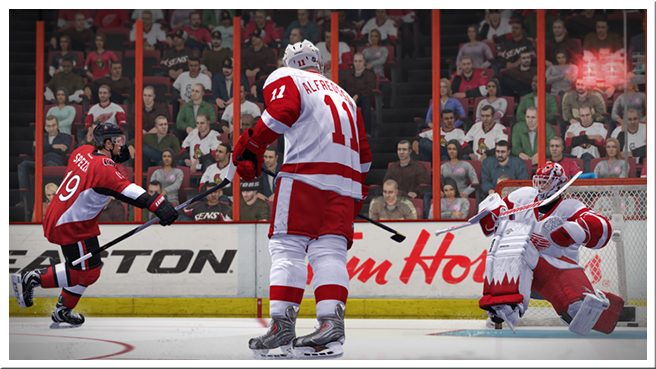 NHL Moments Live lets you relive or recreate some of the most exciting situations from the current NHL Season. Complete this week's NHL Moments Live and face off with new challenges each week in NHL 14.
Summary:
On December 1, 2013 the Ottawa Senators welcomed the Detroit Red Wings to town. This marked the return of Daniel Alfredsson to the Nation's Capital, who had previously spent 17 seasons as a member of the Senators. The former captain got on the score sheet early when he assisted on the game's opening goal. The Red Wings would take a 3-1 lead in the 3rd period, but Ottawa's Mika Zibanejad managed to reduce the deficit with less than two minutes remaining in the game. However, Alfredsson would deliver the final dagger, scoring an empty net goal to seal the 4-2 victory.
Objective:
Playing as the Ottawa Senators with 1:03 left in the 3rd Period, comeback and win the game. CAN YOU CHANGE HISTORY?
Reward:
Rookie –100
Pro – 250
All-Star – 500
Superstar – 1000
Beat this week's NHL Moments Live? Download and try one of the many other NHL Moments Live scenarios available, including some of best moments from last season.
NHL 14 is now available in stores. Pick up your copy today and experience Hockey Ultimate Team, NHL® Collision Physics, NHL 94 Anniversary mode and much more.
Stay in the conversation of all things NHL and follow us on Facebook and Twitter.