Posted July 31st at 12:00am.
NHL 14 brings multiple community-driven improvements to all online game modes. NHL 14 will offer a more streamlined and accessible experience for both new and veteran players, while also bringing in exciting features like Online Seasons to EA SPORTS Hockey League.
EA SPORTS Hockey League Online Seasons
New this year, NHL 14 adds the best-in-class promotion and relegation system in the sports category to the EA SPORTS Hockey League modes. Win games and advance to the next division to face tougher competition, but fall short and be bumped down. Teams will be able to track their progress across multiple seasons.
The Seasons HUB is the central location to view Seasons stats and get into a Season or Playoff game. Season progression and club history is tracked on this screen.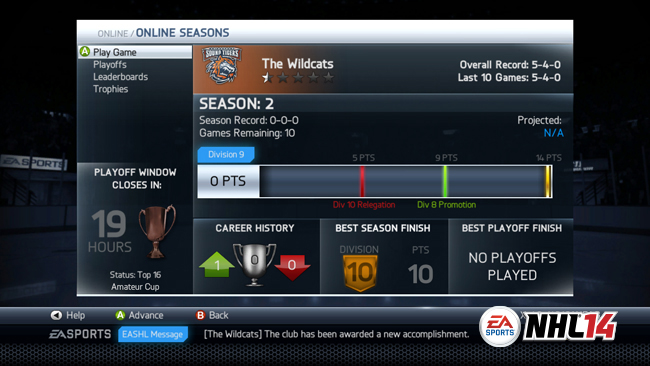 Playing through an OnlineSeason
Just like the real NHL, teams will get points for playing through each game. At the end of a Seasons game, the Seasons Progress Report screen shows goals needed for the club to reach the next level. A season can be up to 10 games in length; however a season can end early if a club does not have enough points to reach their next goal in the amount of games remaining.
Once the Season has been completed, the Season Progress Report screen will show the results (Division Title/Promotion/Division Held/Relegated)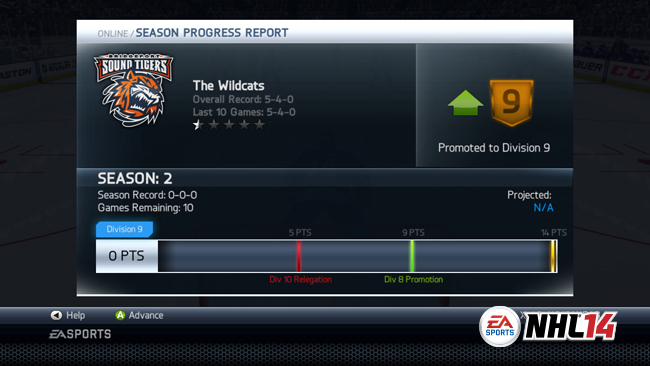 Divisions
Clubs have to qualify to compete in one of 10 divisions, grouped into Playoff Cups.
The ultimate goal is to work up through the divisions, winning Playoff Cups, earning Division Titles and finally claiming the coveted League Title Trophy.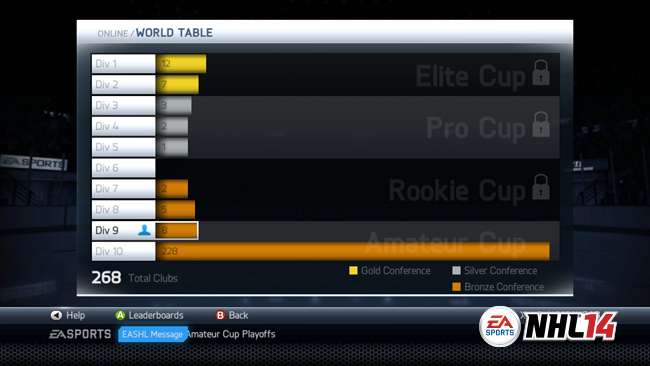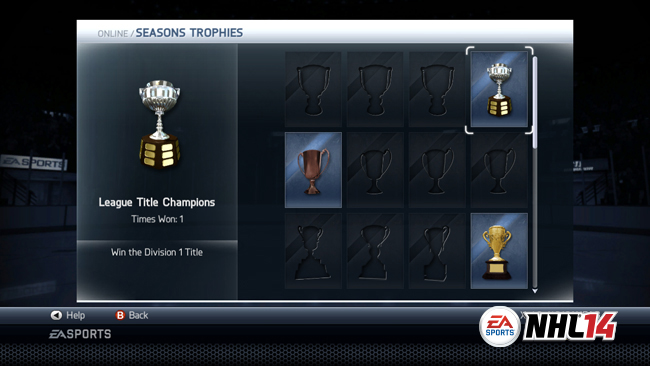 Playoffs
In NHL 14, the playoff experience will last longer and be more frequent. NHL 14 introduces weekly playoffs within EASHL. Double knockout playoffs are included, so each club can retry their playoff run once per window.
Matchmaking in EASHL Club Seasons
The new EASHL Club Seasons includes matchmaking by division standing. Clubs with similar experience playing Seasons will find themselves with more evenly-rated matchups than before. Also, matchmaking in Playoffs will help identify an opponent within the same Playoff Cup.

Club Challenges
Based on the community's feedback, NHL 14 will allow ranked challenges if the clubs are within two divisions of each other (number of divisions is server tunable). Clubs can still send challenges if they are not within the allowable division limits, however these will be unranked challenge games.
Hockey Shop
The Hockey Shop has changed the way items are purchased for NHL 14. Rather than buying specific items, like Speed +5, you now buy a voucher that can be redeemed for any item of that given type. As you can see in the Voucher Inventory, a user can purchase vouchers for +3 Boosts, +5 Boosts, +7 Boosts, Equipment Slots, and Boost Packs.
Edit Attributes
In NHL 14, attribute caps are shown for all player types. The user cannot exceed the cap by adding XP, and they cannot exceed the cap by applying a combination of XP and PULC boosts. Going over the cap will highlight the stat category in red and prompt a message about having unused boosts applied when attempting to back out and save.
Improved Online Team Play (OTP) Flow
New for NHL 14, the Online Team Play user flow has been streamlined and merged with the position select screen. Once matched up into a drop-in game session, users will see that they have been taken into a Side Select screen that now also shows positions that can be chosen.
This is different from NHL 13's two-step process (first select side, then a 'race' to select position). The goal of this improved flow is to minimize users quitting out from the OTP flow because they were unable to select the position that they wanted.
These are just some of the innovations available in EASHL and Online Modes in NHL 14. Stay tuned for more information about the NHL series in the near future!
Follow the conversation on Twitter @EASPORTSNHL.