NHL 14 Movember Cover Contest
Posted November 13th at 12:00am.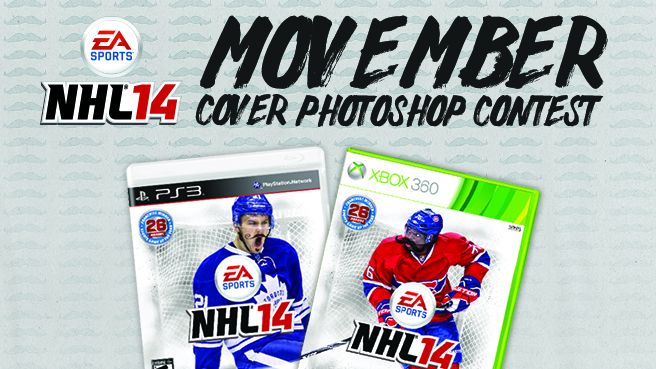 Hey hockey fans! This is the second year that EA SPORTS is supporting the Movember campaign and we need your help. We're looking those with design chops to create a custom NHL 14 cover with your favorite NHL player. The only catch is you have to give them an awesome moustache. The more elaborate the cover, the better.
And the best part is we're giving away some great prizes to the best submissions. So get those dust off those photo-editing skills and be creative with your designs. You can end up winning some swag!
Prizes:
Grand Prize – A custom NHL Jersey from your favorite team & One (1) EA SPORTS Games Pack
2nd Prize – EA SPORTS Games Pack (One (1) copy of NHL 14, FIFA 14, Madden NFL 14 & Tiger Woods 14 – Xbox 360 OR PlayStation 3)
3rd Prize – EA SPORTS game of your choice (Xbox 360 OR PlayStation 3)
How to enter:
Download the NHL 14 cover outline HERE (file contains both Xbox 360 and PlayStation 3 covers).
Submit your image (in .jpeg or .png format, including your initials on image) to nhl14covercontest@gmail.com(include your name & hometown in the email).
We'll upload your cover to a photo album on http://www.facebook.com/easportsnhl*
On November 29, 2013, the top 5 MOST LIKED images will be added to a "Finalists" Facebook photo album.
The top three prize winners will be voted on by you, the fans. Simply click 'LIKE' on your favorite image to vote for it and the number of votes will determine which fans win a prize.
We will announce the winners on December 6, 2013. Good luck!
*EA SPORTS reserves the right to not upload or to delete an image submitted at any time if the image is deemed unsportsmanlike.