NHL Moments Live - Jiggy Stones the Pens
Posted October 25th at 12:00am.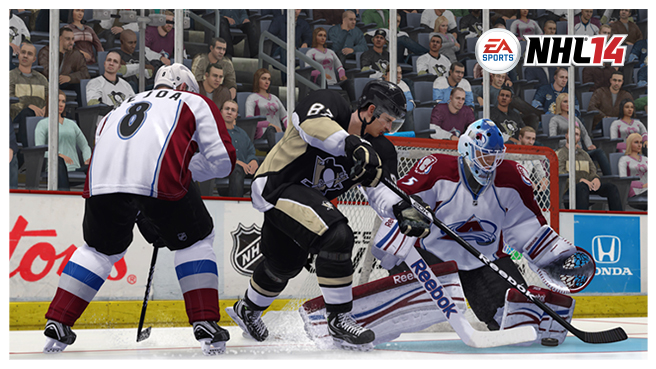 NHL Moments Live lets you relive or recreate some of the most exciting situations from the current NHL Season. Complete this week's NHL Moments Live and face off with new challenges each week in NHL 14.
Scenario:
On October 21, 2013 the Colorado Avalanche took on the Pittsburgh Penguins. Going into the game the spotlight was on Coal Harbour, Nova Scotia natives Sidney Crosby and rookie Nathan MacKinnon, both former #1 overall draft picks. By the time all was said and done, Jean-Sebastien Giguere would steal the spotlight. The veteran goalkeeper only needed Gabriel Landeskog's 2nd period marker, in a game where Pittsburgh would outshoot Colorado by a margin of 34 to 14.
Objective:
With 14:34 left in the 2nd period, as Jean-Sebastien Giguere, maintain the shutout. CAN YOU RE-CREATE HISTORY?
Reward:
Rookie – 100
Pro – 250
All-Star – 500
Superstar – 1000
Beat this week's NHL Moments Live? Try one of the many other NHL Moments Live scenarios available, including some of best moments from last season.
NHL 14 is now available in stores. Pick up your copy today and experience Hockey Ultimate Team, NHL® Collision Physics, NHL 94 Anniversary mode and much more.
Stay in the conversation of all things NHL and follow us on Facebook and Twitter.