Posted July 26th at 12:00am.
Gameplay Producer Ben Ross talks NHL 14 Improvements
A great hockey game has the perfect balance of speed, skill, and aggression. In NHL 14, our main goal is to capture that gameplay balance using the best EA SPORTS technology on this console generation to create a game that is fun without compromising gameplay depth.
This year, we've added three new major gameplay features – NHL® Collision Physics, One Touch Dekes, and the Enforcer Engine, but we've also focused on enhancing the core gameplay experience through community requested improvements.
Click a link below for more information on that gameplay area, including a gameplay clip demonstrating the improvements. Check back often to see all the improvements.
Goalies
We know you want more realistic and consistent goalies, so that's what we're delivering in NHL 14. Goalies make the saves you'd expect them to make, but occasionally blow your mind with an unbelievable, but always realistic save. See the improvements.
Goal Scoring Balance
It's all about goal scoring variety in NHL 14. Shots from the point, deflections, one-timers, breakaways, rebounds and more, all get upgrades. See the improvements.
EA SPORTS Hockey I.Q.
Better puck support and understanding of the developing play. Smarter shooting analysis. Tighter defensive coverage. All this and more with year two of EA SPORTS Hockey I.Q. See the improvements.
True Performance Skating
In its second year, True Performance Skating features greater player responsiveness and unprecedented control through improved balance between speed and momentum, quicker pivots and enhanced lateral skating. See the improvements.
Stick Skills
From passing to puck pickups, chops to pokes, if you use your stick to do it, it's been upgraded in NHL 14. See the improvements.
Goalie & Incidental Contact (Penalties)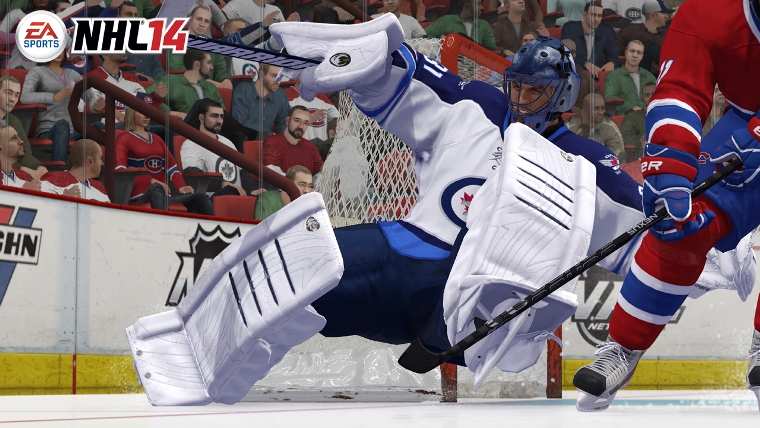 Goalies are live and contact is powered by NHL® Collision Physics. Incidental contact (with players and goalies) occurs more frequently based on speed and momentum. But don't worry, lots of work has been done to tune penalty calls so that they're realistic. See the improvements.
NHL 14 hits store shelves on September 10th, only on PlayStation 3 and Xbox 360. Available for a limited time, be sure to check out our NHL 14 Pre-Order Offers before it's too late.
Stay in the conversation of all things hockey and NHL 14, follow us on Facebook and Twitter.