NHL 14 Gameplay Dev Diary Hits May 2
Posted May 2nd at 12:00am.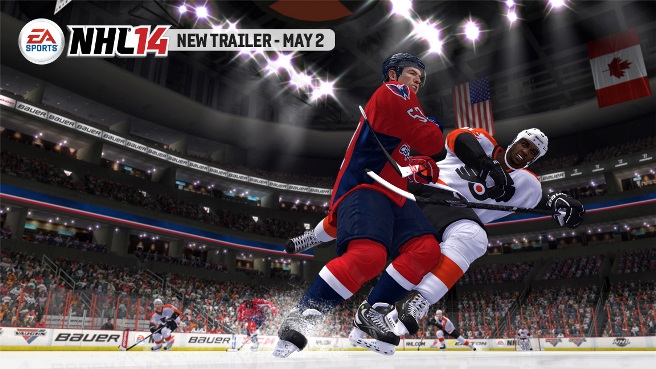 Are you looking for more NHL®14 news? The next big reveal will come May 2, when we release the NHL® Collision Physics Developer Diary, the first of three NHL 14 Gameplay Developer Diaries.
Each Dev Diary released will include a new gameplay trailer and developer blog that will provide an in-depth look at the highlighted feature. You'll also get a behind-the-scenes look at the EA SPORTS technology used to create it.
Here is when you can expect each NHL 14 Gameplay Dev Diary to be released and what features they'll cover:
May 2 – NHL® Collision Physics
Developed from the same core technology that powers the EA SPORTS FIFA critically-acclaimed Player Impact Engine, NHL® Collision Physics introduces bigger, more thrilling hits, and truer-to-life collisions. A new left-stick control scheme makes delivering a game-changing hit simpler and more rewarding than ever.
Mid-May – One-Touch Dekes/True Performance Skating
One-Touch Dekes – Experience what it feels like to be a superstar through a new, more responsive deking system controlled only with the left stick and one-button. From beginner to advanced gamers, the system allows for quicker reactive dekes and intuitive combination dekes, creating more moves than ever before.
True Performance Skating – Built on the breakthrough innovation that introduced physics-based skating and over 1,000 new skating animations to the EA SPORTS NHL franchise. The second year of the True Performance Skating features improved acceleration, explosive first-strides, quicker pivots and enhanced lateral skating, resulting in greater player responsiveness and unprecedented control.

Early June – Enforcer Engine
There is a code in hockey, when it's broken you have to respond. A first for the NHL franchise, Fight Night technology delivers a new 3rd person experience, physics-based punch targeting and player size differentiation to every fight, creating the most authentic and electrifying experience yet.
Click here to see the entire list of NHL 14 Features.