NHL® 14 for Hockey Fights Cancer
Posted October 30th at 12:00am.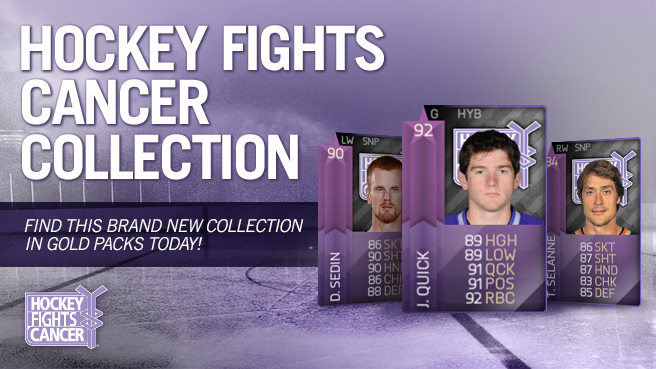 EA SPORTS NHL 14 is partnering up with the NHL and the NHLPA with the common goal of driving awareness to the Hockey Fights Cancer initiative.
NHL 14 will be doing its part by integrating a Hockey Fights Cancer collection into the Hockey Ultimate Team (HUT) game mode. Exclusively throughout the month of October, gamers will have the opportunity to show their support by collecting rare Hockey Fights Cancer player items in HUT.
Most importantly, EA SPORTS NHL 14 will be donating $10,000 to the Hockey Fights Cancer cause.
Player items featured this week:
Forwards:
Taylor Hall – Edmonton Oilers
Teemu Selanne – Anaheim Ducks
Daniel Sedin – Vancouver Canucks
Shane Doan – Phoenix Coyotes
James Sheppard – San Jose Sharks
Tim Jackman – Calgary Flames
Defenseman:
Jason Garrison – Vancouver Canucks
Jason Demers – San Jose Sharks

HUT in NHL 14 invites gamers to build their own on-ice fantasy squad from a stable of international players and superstars before putting their teams to the test against others online. Teams grow and improve as gamers find and collect their favorite stars and enlist them for in-game action.
For more information on the NHL's Hockey Fights Cancer initiative, CLICK HERE.
Returning Hockey Ultimate Team (HUT) 13 users who create a team in HUT 14 will be eligible for a one-time bonus of up to 150,000 EA Pucks in NHL 14. Learn how your EA Puck Bonus will be calculated.
NHL 14 is now available in stores, only on PlayStation 3 and Xbox 360. Order your copy today.
Stay in the conversation of all things NHL 14 and follow us on Facebook and Twitter