NHL 14 - E3 2013 Best Sports Game
Posted July 2nd at 12:00am.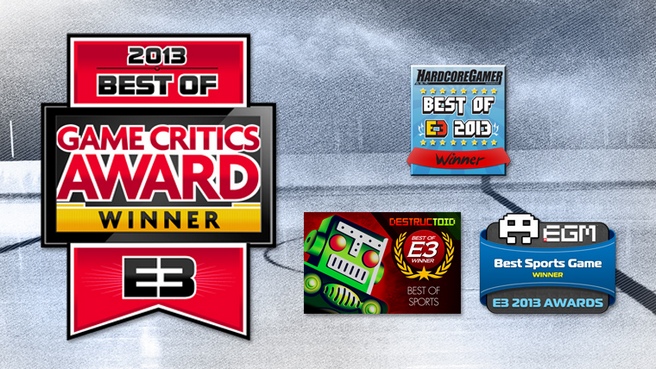 It's been an exciting few weeks for NHL 14. We took three Best Sports Game awards during E3. Last week we unveiled the NHL 14 Cover Vote winner, making Martin Brodeur the first goalie to grace the cover since NHL '97.
And today, we're happy to announce that NHL 14 has won Best Sports Game in the Game Critics Awards Best of E3 2013. Undoubtedly the most prestigious E3 award, the Game Critics Awards are chosen by the 30 leading North American media outlets that cover the video game industry.
That's four E3 awards for NHL 14; people really like what the game is all about: Big Hits. Real Fights. Unbelievable Speed and Skill. We have a lot more to show you, but we can't wait to get the "Best Sports Game" into your hands so that you can experience it for yourself.
NHL 14 hits store shelves on September 10th, only on PlayStation 3 and Xbox 360. Available for a limited time, be sure to check out our NHL 14 Pre-Order Offers before it's too late.