NHL 14 Cover Vote - Semifinal Matchups
Posted May 21st at 12:00am.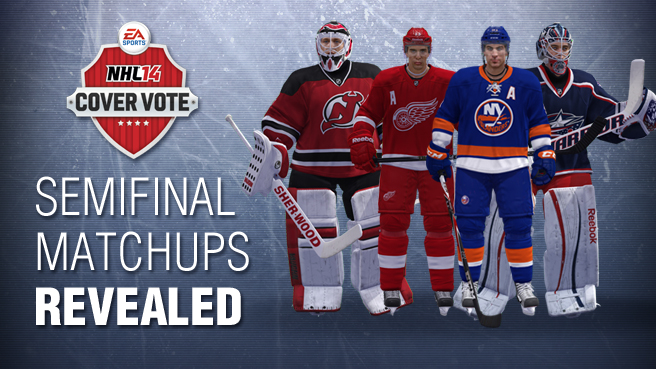 The NHL®14 Cover Vote Semifinals are now live with players competing in head-to-head matchups for a spot in the Finals. You can head to NHL.com/CoverVote to cast your vote for your favorite player. Click here to learn more about the NHL 14 Features.
Here are the NHL 14 Cover Vote candidates and their matchups for this round: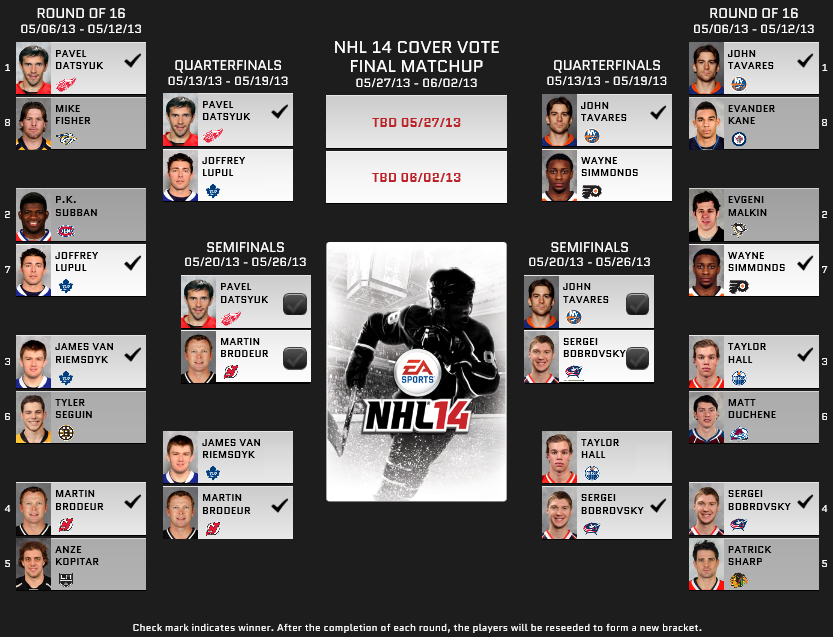 Click to enlarge image
Datsyuk vs. Brodeur
Surprisingly, Pavel Datsyuk narrowly defeated his opponent last round, sneaking by Joffrey Lupul in what was the tightest matchup of the round. Many would've predicted that Datsyuk would dominate the matchup, but Leafs nation ensured that it wasn't a walk in the park. It may not have been as close, but another Leaf, James van Riemsdyk made things interesting for Martin Brodeur as they battled for a spot in the semifinals. In the end, the left half of the semifinals bracket will pit Selke-nominated Datsyuk against one of the best goalies of all-time, Martin Brodeur.
Tavares vs. Bobrovsky
The always dangerous Philadelphia Flyers saw their hopes of back-to-back covers dashed as John Tavares rallied on the final day to eliminate Wayne Simmonds from contention. In what was a back and forth affair, the 'Wayne Train' ran out of steam when it mattered most. The ultimate underdog, the Blue Jackets' Sergei Bobrovsky continues to make waves in the cover vote. Bobrovsky defeated Taylor Hall to secure his spot. Will Tavares lock up a spot in the finals or will Bobrovsky continue to buck the trend?
NHL 14 Cover Vote Schedule
The Finals – May 27- June 2

Double YOUR Vote on 'Twitter Vote Thursdays'
Fans can vote by tweeting a player's designated hashtag on Thursdays ONLY. Each Tweet containing a hashtag(s) will count as two votes for the player(s) mentioned."Fans can join the conversation about the cover vote every day by using #NHL14CoverVote on Twitter and Instagram.