NHL 14 Cover Vote - Quarterfinals Update
Posted May 17th at 12:00am.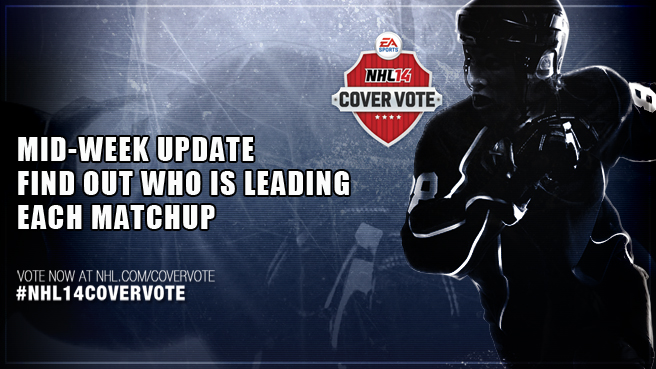 There are only a few more hours left to vote in the Quarterfinals of the NHL 14 Cover Vote. As it has been all week long, there are a number of close contests entering this final day.
The Pavel Datsyuk and Jopffrey Lupul duel has changed leads a few times since the first update on Wednesday. Right now, Datsyuk holds the slender lead but is no where near comfortable.
The other big change comes between Phily's Wayne Simmonds and the Islanders' John Tavares. What was thought to be a comfortable lead for Tavares has quickly disappeared. Simmonds does hold onto a small lead, but like the Datsyuk/Lupul contest, a number of votes in either direction can drastically change things.
While the other two contests haven't seen lead changes, that's not to say that a clear-cut winner is there. New Jersey's Martin Brodeur still is fending off Maple Leafs fans who still want to make it an all-Toronto Semi-Final. James van Riesmdyk has been breathing down the goalie's neck throughout the week and will not let up. As for Taylor Hall, he too has been keeping it interesting against Columbus Blue Jackets' Sergei Bobrovsky, but will Oilers fans be able to push him ahead? We'll just have to wait and see.
Fans can head to NHL.com/CoverVote to cast their vote for their favorite candidates, or can use player specific Twitter hashtags (which are worth twice as much) to vote on Thursdays
Here is who is currently leading each matchup as of May 18th at 11:59pm ET: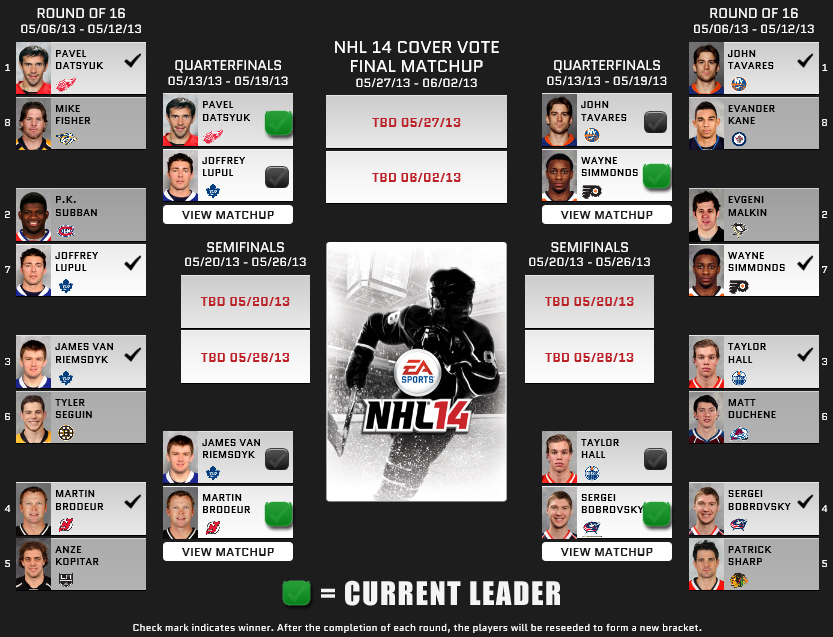 Click for Larger Image

Don't forget to cast your vote at NHL.com/Covervote. Remember voting is unlimited, so vote early and vote often!