NHL 14 Cover Vote Finalist: Bobrovsky
Posted June 1st at 12:00am.
NHL 14 Cover Vote finalist Sergei Bobrovsky's career has been an interesting one. After playing in goal for his hometown KHL team Metallurg Novokuznetsk, he made his way to the NHL and played two seasons with the Philadelphia Flyers. Bobrovsky was the Flyers number one choice in goal in his first season in the league. He played in 54 games, won 28 and helped lead Philly to the #2 seed in the Eastern Conference.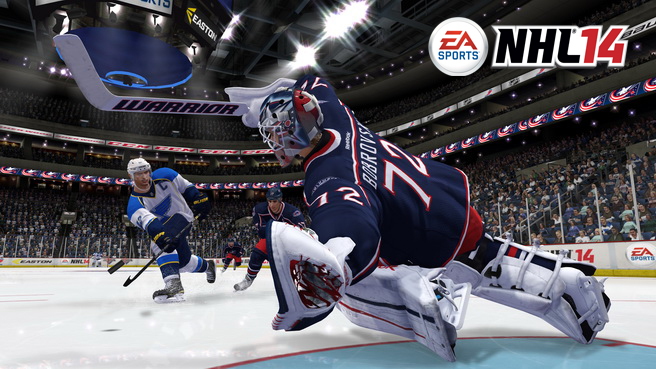 But a disappointing run in the playoffs forced him into the backup slot with his role significantly reduced the following season. Although he would play 29 games in the 2011-12 season, he was clearly the team's second choice and not in the long term plans of the organization. At the end of the season, Bobrovsky was traded to the Columbus Blue Jackets, where it was expected he would play back-up to then first-string goalie Steve Mason.
Thanks to his solid play early in the season, Bobrovsky went from the second choice to becoming the team's primary goalie. In that role, he played in 38 games and won 21 of them, posting a 2.00 Goals Against Average (good enough for top five in the league) as well as a .932 save percentage, second-best among all goalies.
Although the Blue Jackets barely missed reaching the playoffs, Bobrovsky's performances didn't go unnoticed. Earlier in May, he was named one of the three finalists for the Vezina Trophy, awarded to the league's best goalie and he has been touted as the favorite to take home the award at the end of June.
It would mean plenty if Bobrovsky could take home the Vezina Trophy and grace the cover of NHL 14 in the same season. The only way to make it happen is to head over to the NHL 14 Cover Vote Page and vote him in.