HUT - Team of the Week
Posted May 22nd at 12:00am.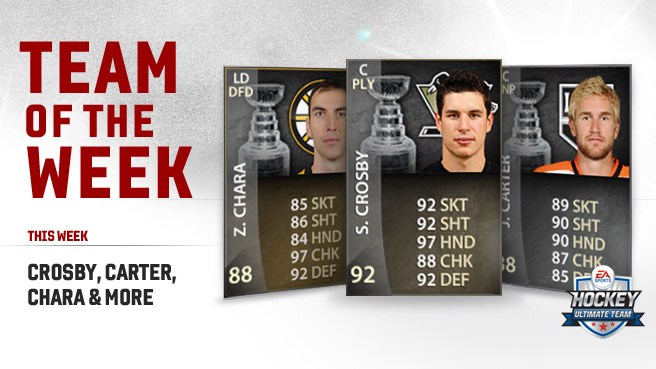 Collect Special Edition – Crosby, Chara, Carter & Other Team of the Week Items
Pick up any gold pack in NHL®13 Hockey Ultimate Team and you'll have a chance at special edition Team of the Week items. Each special edition item features players with boosted ratings. You can also challenge the Team of the Week and see how your own HUT team stacks up.
Stars of the Week: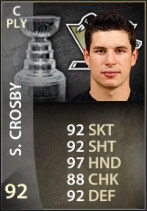 Sidney Crosby
Currently 3rd in overall playoff scoring, Sidney had been a force all post season and is a big reason why his Pittsburgh Penguins are up 2-1 in their Second Round series versus Ottawa. Aside from his hat trick performance in Game Two, Crosby has been strong in faceoffs and been solid on the defensive end for Pittsburgh.
Zdeno Chara
Zdeno has been a absolute beast in these playoffs as he is first in defense scoring with over a point-per-game this postseason. His physical play and ability to keep opponents to the outside with his reach is one of the reasons why the Boston Bruins have a chance to make quick work of the New York Rangers.
Jeff Carter
Some nights all the Los Angeles Kings need is one goal to come away with the victory, and Jeff Carter has been their main source of those all important goals. If he continues with his strong play, the Kings are legitimate contenders to repeat as champions.
Team of the Week:
Forward Line 1 - Brad Marchand (Boston Bruins) – Sidney Crosby (Pittsburgh Penguins) – Jeff Carter (LA Kings)
Forward Line 2 - Patrick Marleau (San Jose Sharks) – Patrice Bergeron (Boston Bruins) – Patrick Sharp (Chicago Blackhawks)
Defensive Line 1 - Zdeno Chara (Boston Bruins) – Kris Letang (Pittsburgh Penguins)
Defensive Line 2 - Slava Voynov (LA Kings) – Johnny Oduya (Chicago Blackhawks)
Goalie 1 - Jimmy Howard (Detroit Red Wings)
Goalie 2 - Craig Anderson (Ottawa Senators)