HUT - Team of the Week
Posted May 15th at 12:00am.
Collect Special Edition – Iginla, Reimer, Zetterberg & Other Team of the Week Items
Pick up any gold pack in NHL®13 Hockey Ultimate Team and you'll have a chance at special edition Team of the Week items. Each special edition item features players with boosted ratings. You can also challenge the Team of the Week and see how your own HUT team stacks up.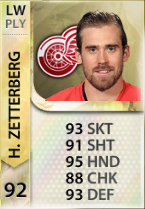 Henrik Zetterberg
Zetterberg helped the Red Wings fight off elimination and advance to the second round with a team high eight points in round one. He came up big when it mattered the most as he got seven of his eight points in the final three games against the Ducks.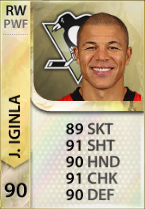 Jarome Iginla
Iginla has provided exactly what the Pittsburgh Penguins were hoping for this playoff run. With nine points in seven games, Jarome looks like the Iginla of old and could be the final piece that the team needs to bring home another Stanley Cup to the Steel City.
James Reimer
Although their run came short, Toronto's Reimer stepped up his game and gave the Leafs a fighting chance against the Boston Bruins. He got stronger as the series continued and was one of the most surprising stories of the post season.
Lineup:
Forward Line 1 - Derick Brassard (New York Rangers) – David Krejci (Boston Bruins) – Jarome Iginla (Pittsburgh Penguins)
Forward Line 2 - James Van Riemsdyk (Toronto Maple Leafs) – Henrik Zetterberg (Detroit Red Wings) – Pascal Dupuis (Pittsburgh Penguins)
Defensive Line 1 - Paul Martin (Pittsburgh Penguins) – Jake Gardiner (Toronto Maple Leafs)
Defensive Line 2 - Francois Beauchamin (Anaheim Ducks) – Mark Streit (New York Islanders)
Goalie 1 - James Reimer (Toronto Maple Leafs)
Goalie 2 - Tomas Vokoun (Pittsburgh Penguins)