HUT – Team of the Week
Posted June 11th at 12:00am.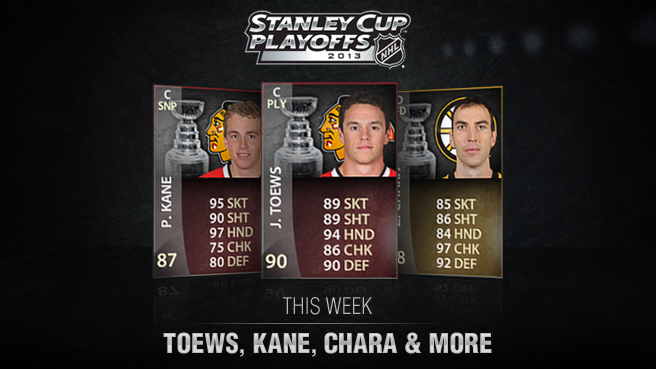 It's all about the Chicago Blackhawks and the Boston Bruins. They make up this week's Team of the Week for Hockey Ultimate Team.
Pick up any gold pack in NHL®13 Hockey Ultimate Team and you'll have a chance at special edition Team of the Week items. Each special edition item features players with boosted ratings. You can also challenge the Team of the Week and see how your own HUT team stacks up.
This week's Line-up:
Forward Line 1: Milan Lucic – David Krejci – Nathan Horton
Forward Line 2: Patrick Sharp – Jonathan Toews – Marian Hossa
Forward Line 3: Brad Marchand – Patrice Bergeron – Tyler Seguin
Forward Line 4: Andrew Shaw – Patrick Kane – Bryan Bickell
Defensive Line 1: Zdeno Chara – Johnny Boychuk
Defensive Line 2: Brent Seabrook – Duncan Keith
Defensive Line 3: Niklas Hjalmarsson – Dennis Seidenberg
Goalie 1: Tuukka Rask
Goalie 2: Corey Crawford