Posted April 3rd at 12:00am.
Collect Special Edition – Lupul, Niemi, Hall & Other Team of the Week Items
Pick up any gold pack in NHL®13 Hockey Ultimate Team and you'll have a chance at special edition Team of the Week items. Each special edition item features players with boosted ratings. You can also challenge the Team of the Week and see how your own HUT team stacks up.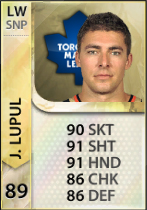 Joffrey Lupul
Toronto's Joffrey Lupul led the NHL with nine points in four games and was also tied for first with five goals, including three game-winners and three power-play tallies. Since coming back from injury Lupul has had 13 points in 6 games.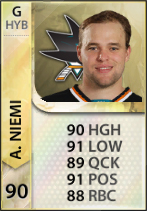 Antti Niemi
San Jose's Antti Niemi had an NHL-best four wins and two shutouts to go along with a 1.22 goals-against average and .952 save percentage in four appearances. With the Sharks still battling for the final few playoffs spots, Neimi's performance couldn't have come at a better time.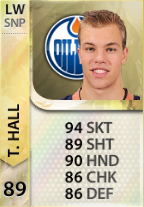 Taylor Hall
Edmonton's Taylor Hall was tied for first in the NHL with five goals and ranked second with eight points in four games. Hall also broke Wayne Gretzky's franchise record for the fastest hat trick to start a game when he scored three times in the first 7:53 of a 4-0 win over the Vancouver Canucks.
Team of the Week Lineup:
Offensive Line 1 – Taylor Hall (Edmonton Oilers) – Mikko Koivu (Minnesota Wild) – Joffrey Lupul (Toronto Maple Leafs)
Offensive Line 2 – Zach Parise (Minnesota Wild) – Claude Giroux (Philadelphia Flyers) – Joe Pavelski (San Jose Sharks)
Defensive Pairing 1 – Duncan Keith (Chicago Blackhawks) – PK Subban (Montreal Canadiens)
Defensive Pairing 2 – Brent Burns (San Jose Sharks) – Mike Green (Washington Capitals)
Goalie 1 – Antti Niemi (San Jose Sharks)
Goalie 2 – Tomas Vokoun (Pittsburgh Penguins)
*information courtesy of NHL.com