HUT Fan Appreciation
Posted June 8th at 12:00am.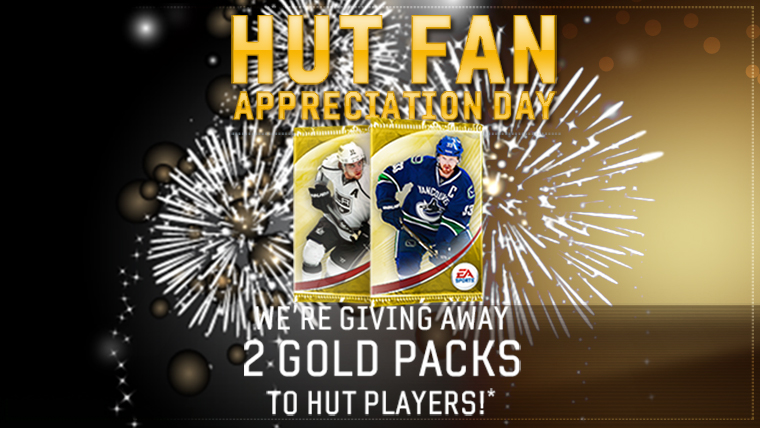 On June 7th 2013, we're rewarding all HUT users with 2 Gold Packs as a thank you for playing Hockey Ultimate Team! All you need to do is log into Hockey Ultimate Team and enter the HUT Store to claim your 2 complimentary HUT Gold Packs.*
It might not be the Stanley Cup, but it's our way of saying 'Thank You!'
Hockey Ultimate Team Year-over-Year incentives
Returning Hockey Ultimate Team (HUT) 13 users who create a team in HUT 14 will be eligible for a one-time bonus of up to 150,000 EA Pucks in NHL 14. The EA Puck bonus for returning users will be determined by:
How many HUT games you have played in NHL 13
The size of your HUT 13 player item collection
Your puck balance

The more HUT 13 games played, the bigger your collection, the bigger the Returning User Bonus...so, keep playing HUT 13!
Details:
Bonus is granted as a one-time offer per user account. Returning HUT users will need to actively redeem Returning User Bonus in HUT 14. Any progress, purchases, items in HUT collection, etc. will not be carried over from HUT 13 to HUT 14.
For the complete list of NHL®14 Pre-Orders:
http://www.easports.com/nhl/news/article/nhl-14-pre-order
* Players must claim their packs by June 14th, 2013. Offer can only be claimed once per Xbox Live Gamertag/PSN ID.