Posted February 19th at 12:00am.
February has been a fantastic month for Hockey fans. From unbelievable performances to incredible storylines, the season has been a non-stop thrill ride. With each team having played a quarter of their season, it's time for us to reward a standout player in Hockey Ultimate Team. But rather than making that decision ourselves, we're giving you the chance to choose who that person is.
How to Vote
Each day from February 18-22 on the EA SPORTS NHL Facebook, Twitter and Instagram channels, we will feature one of the #HUT99 candidates listed below. All you have to do is LIKE or ReTweet the featured player's image to cast your vote for them.
At the end of the voting period, we will tally all the LIKES/ReTweets and on February 23, we will release a limited edition 99-rated HUT item of the winning player.
#HUT99 Candidates
Your nominees for the coveted #HUT99 item are: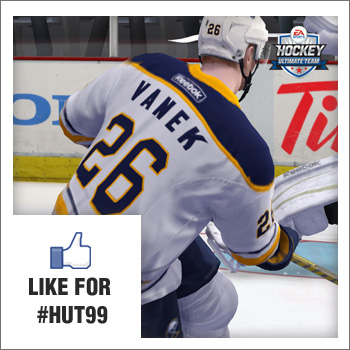 Thomas Vanek (Buffalo Sabres) –
The Buffalo Sabres may be struggling lately, currently among the crowded lower-end of the Eastern Conference, but Thomas Vanek is doing everything he can to keep his team in every match. He not only leads the league in point, but his 12 goals puts him ahead of the competition. He had an incredible January with 15 points and his February has been just as solid, tallying 10 points in 9 games.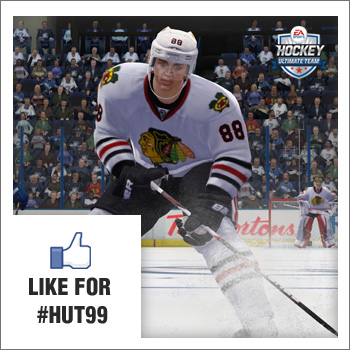 Patrick Kane (Chicago Blackhawks) –
Everyone is talking about the Chicago Blackhawks and while they have had solid production from a handful of players, it is former #1 overall draft pick, Patrick Kane who is taking them to another level. Not only is he among the top-ten goal scorers in the league, he is his team's leading assist producer. The Blackhawks look unstoppable and fans hope that his production continues as the team spends their next handful of games in the Windy City.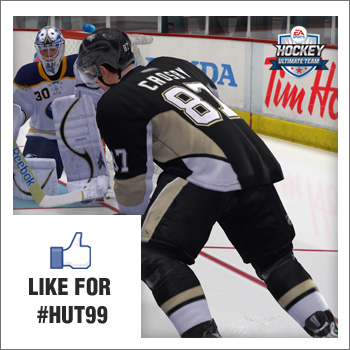 Sidney Crosby (Pittsburgh Peguins) –
After a pretty quiet month of January, where he had 3 goals and 4 assists, February has been a fantastic month for the Penguin's Sidney Crosby. This month alone, he has racked up 13 assists and 4 goals, during which the team has only lost two games. With New Jersey Devils right there ready to pounce, the more production the Penguins can get from him, the better they fare.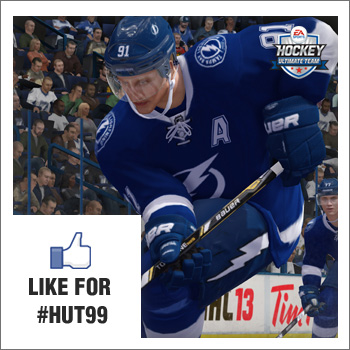 Steven Stamkos (Tampa Bay Lightning) –
After an incredible start to the current NHL season, the Tampa Bay Lightning have wavered off a bit, currently sit second in their division, close behind the Carolina Hurricanes. But even with the weak form lately, you can't deny that Steven Stamkos is doing his part to keep his team relevant. Stamkos leads his team with nine goals and is second on the team with 12 assists behind teammate, Martin St. Louis who has 17.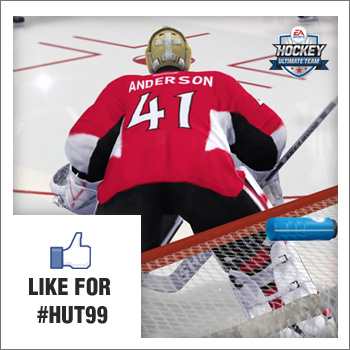 Craig Anderson (Ottawa Senators) –
The Ottawa Senators may have suffered key injuries to Jason Spezza and now, Erik Karlsson, but their last line of defense, goaltender Craig Anderson, has done an incredible job this season. He leads the league with a .948 save percentage and his 1.61 Goals Against Average, puts him at the top of that Stats category. The team will need him to continue this strong run of form if they want to stay in the Eastern Conference playoff hunt.
99-rated Player Item Available Starting February 23
Starting Saturday, February 23 at 10 a.m. PT and available for one week, you'll have a chance to get the winning player's 99-rated special edition item in HUT Gold Packs. If you really want to get your favorite player picked, be sure to get the word out there!
Good Luck!