Posted April 27th at 12:00am.
The first round of the NHL 14 Cover Vote is quickly coming to a close. For the 60 candidates, this is a pretty big deal and some of have gone the extra mile to get your vote. We scoured the web and found a few that caught our eyes.
It's getting heated in Florida
One of the closest battles in the first round is happening right now in South Florida as both Brian Campbell and Kris Versteeg look to put another Florida Panther on the cover of an EA SPORTS NHL game. Both are so serious about being on the cover, they've created a series of campaign videos to highlight why one is better than the other.
Brian Campbell
Kris Versteeg
Who to vote for in Phoenix?
So, the Coyotes aren't heading to the playoffs but that doesn't mean that Shane Doan or Keith Yandle aren't worthy candidates.
He eats tennis balls...for fun!
You would think being married to country-music star Carrie Underwood would be your go-to for appealing to the masses, but not for Nashville Predators' Mike Fisher. Check out his campaign video where he shows off what makes him so great. Spoiler, the sub-header is not a joke!
Tweeters
While we have had a few videos, athletes are also going to Twitter to get votes. Here is a collection of Tweets that caught our attention thus far.
Who's John Tavares?
So, New York Islanders Candidate Michael Grabner is facing off against teammate John Tavares. According to Grabner, considering no one knows who Tavares is, this should be an easy first-round win.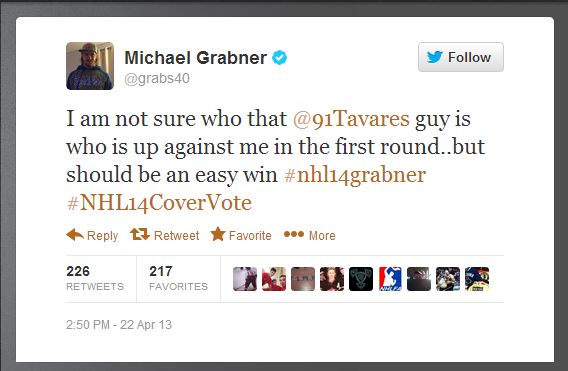 Any support you can get
Toronto Blue Jays slugger, Jose Bautista is a very popular athlete and we know who he's putting his support behind. We'll see if this pushes Brandon Dubinsky over teammate Sergei Bobrovsky to represent the Columbus Blue Jackets in the second round.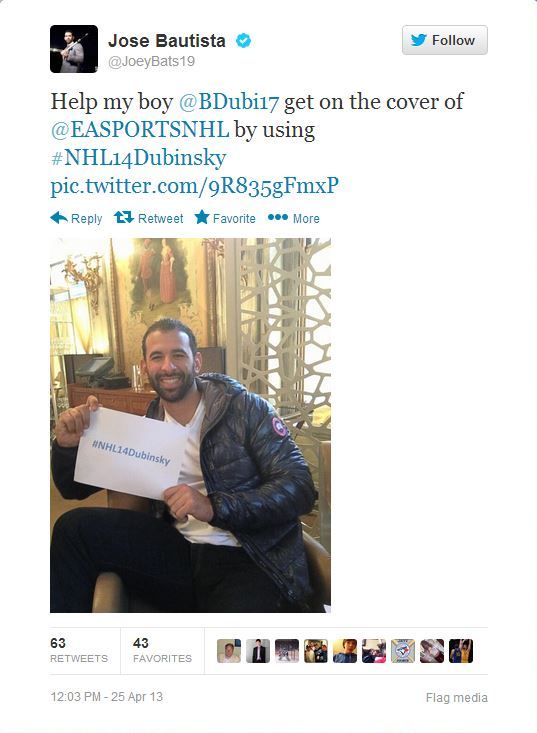 Planning ahead for NHL 15
So, Brandon Prust of the Montreal Canadiens isn't part of the NHL 14 Cover Vote, but he's not afraid to campaign for next year's game now.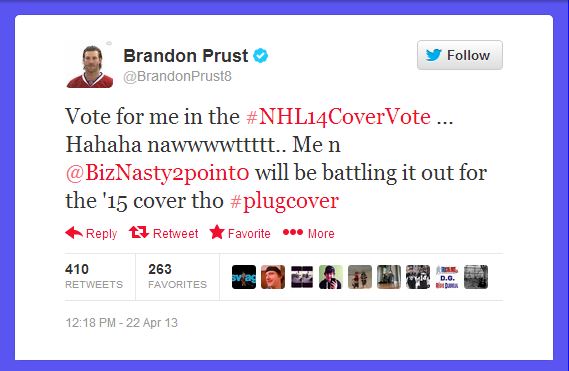 Spoiler Alert
The guys responsible for the design of the NHL 14 cover were pretty upset when Montreal Canadiens defenseman P.K. Subban decided to reveal the box art if/when he wins early. But, after seeing just how incredible he looks, they expect that people are already lining up to grab the game well in advance of the September 10th release.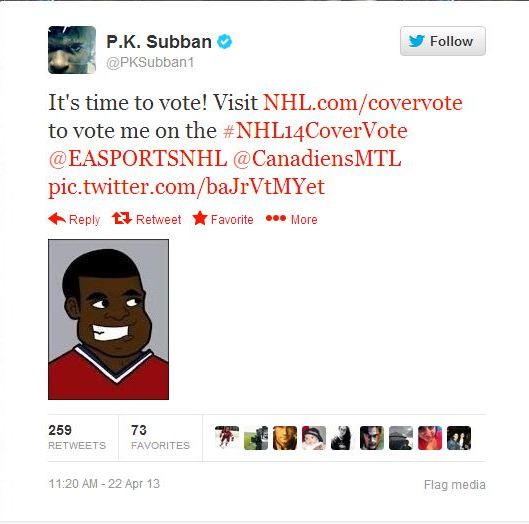 Did we miss anything? Well, we probably did but if there are some cool social campaigning going on with your favorite NHL player, drop the link in the comments below and let's see which guy is willing to go that extra mile for the support. Hopefully, they get even more creative as we move towards the final.