Jump into the action with NHL 19 THREES Drop-In
Posted July 26th at 11:00am.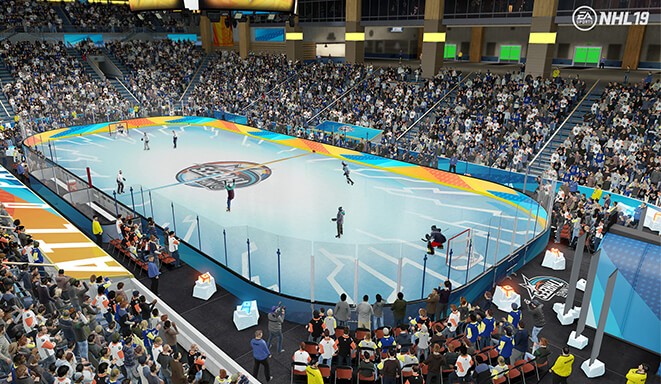 Get ready to experience three-on-three hockey action like never before, as THREES Drop-In comes to NHL® 19. Enjoy the fast-paced action of THREES, with the same level of online competition as EA SPORTS™ Hockey League (EASHL) Drop In. Building on the arcade-inspired nature of THREES, the ability to Drop-In on a position and play with others is exciting, especially with a community full of unique characters. Read below to find out more about NHL 19 THREES Drop-In mode.

Thrilling Cooperative Competition

Inspired by fun, pick-up-and-play arcade sports games, NHL THREES brings fans a three-on-three hockey experience with big hits, fast-paced action, and intense back-and-forth competition. The THREES announcer and colorful arenas with unique on-ice designs enhance the excitement, while no offsides and no icing means the fun never stops. Mechanics like RPM Skating and Collision Physics give you all-new ways to perform bigger hits, as you go up-and-down the ice with authentic responsiveness. The smaller-sized THREES rink leads to non-stop action, as less space heightens the thrill of the game.

Introducing Drop-In capabilities to NHL THREES means you'll be able to experience the same cooperative competition offered in EASHL Drop-In. Match-up with other THREES players and play in casual gear unlocked through the World of CHEL journey, meeting potential EASHL Clubs teammates along the way. The more you play, the more experience you earn to win Hockey Bags that contain casual gear for your character. You won't want to miss out on all the action with THREES Drop-In, all-new to NHL 19.

---
Stay up to speed with NHL 19 on Facebook, Twitter, and Instagram.

NHL 19 is available to hockey fans worldwide on September 14, 2018 for Xbox One and PlayStation 4. Be first in line to compete from the pond to the pros, unlocking the full game three days early on September 11, 2018 when you pre-order the NHL 19 Legend Edition or the NHL 19 Ultimate Edition.

Sign up today to receive the latest NHL 19 news, updates, behind-the-scenes content, exclusive offers, and more (including other EA news, products, events, and promotions) by email.