Posted August 28th at 9:00am.
With a strong crop of prospects ready to burst onto the NHL® scene, it's time to get a glimpse into the future with NHL 19's list of the top 10 rookies. These potential superstars are ready to give it their all, in hopes of being crowned the best first-year player in a class that's stacked with talent. See the full list of NHL Rookies and their ratings below.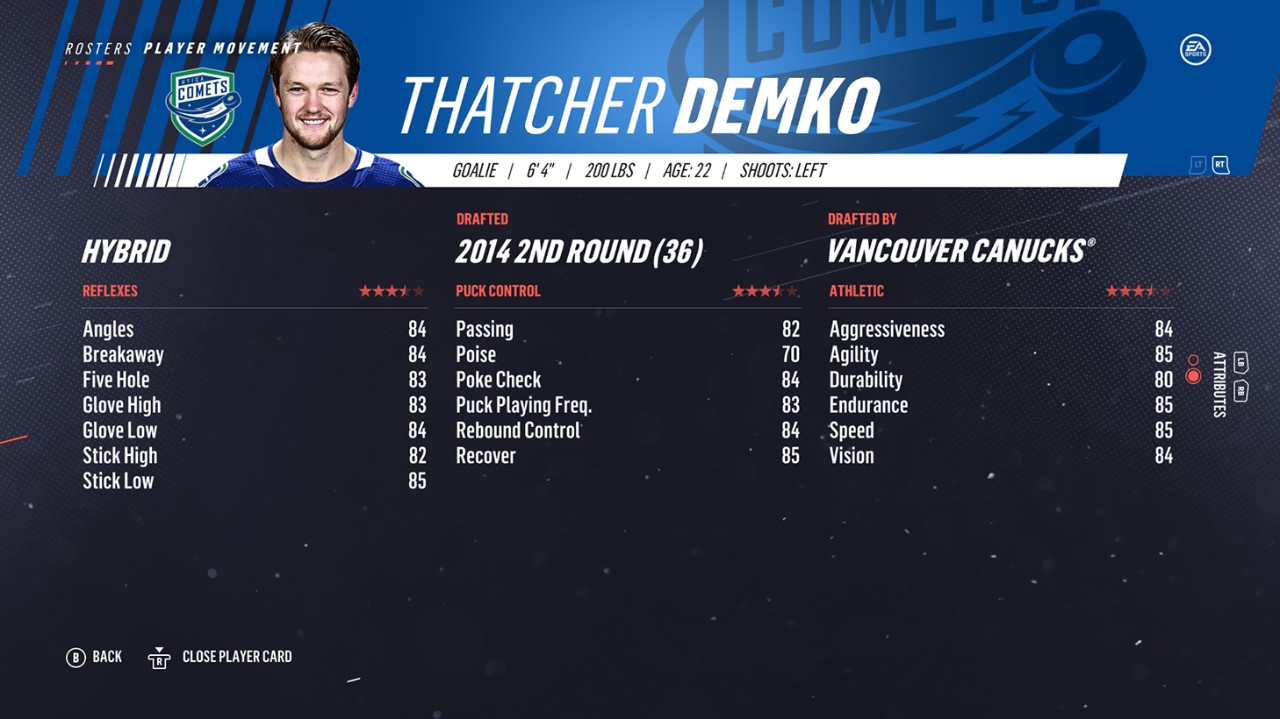 10. Thatcher Demko – 79 OVR
Our list starts with Vancouver Canucks prospect and Utica Comets goalie Thatcher Demko, a skillful and composed backstop who looks like he could become an elite competitor for a long time. There's a very good chance he could play his way into a starting role this year, and possibly even top rookie honors.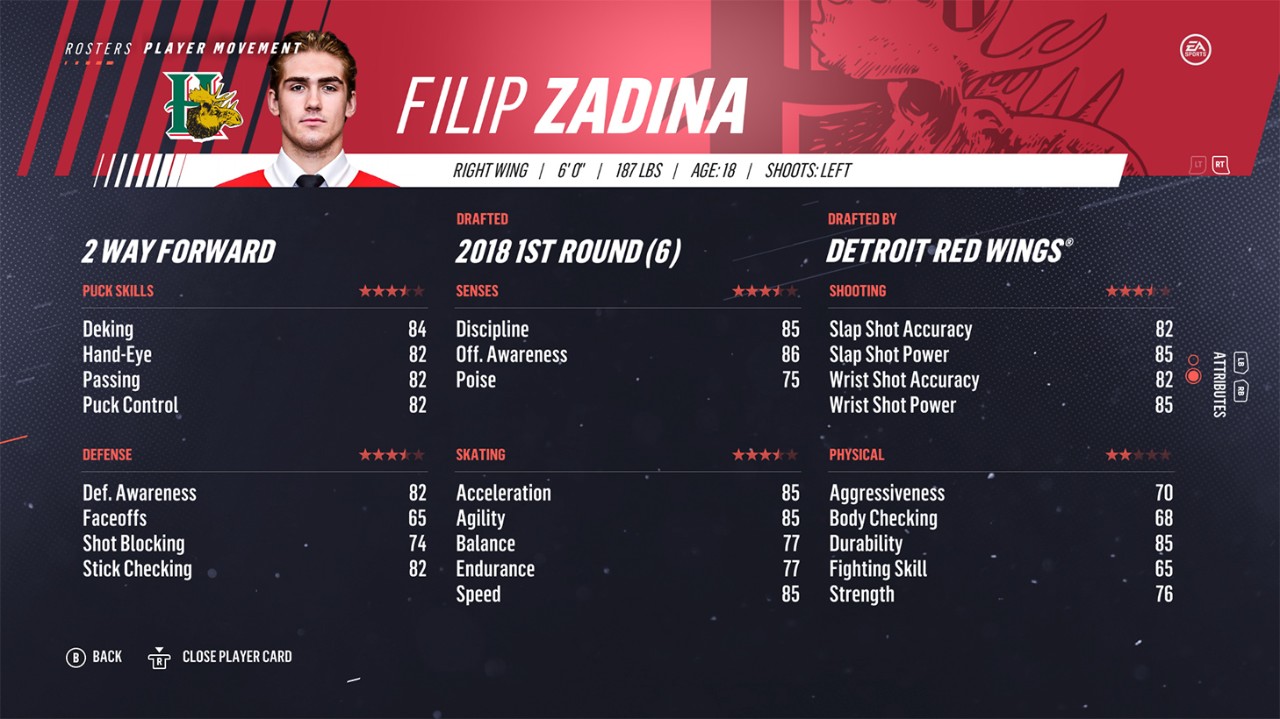 9. Filip Zadina – 76 OVR
Selected sixth overall in last year's Entry Draft by the Detroit Red Wings from the Halifax Mooseheads of the QMJHL, Filip Zadina is a strong two-way player who will look to compete for the coveted Calder Trophy this year. With a serious opportunity to take on an important role, Zadina is one to keep your eye on.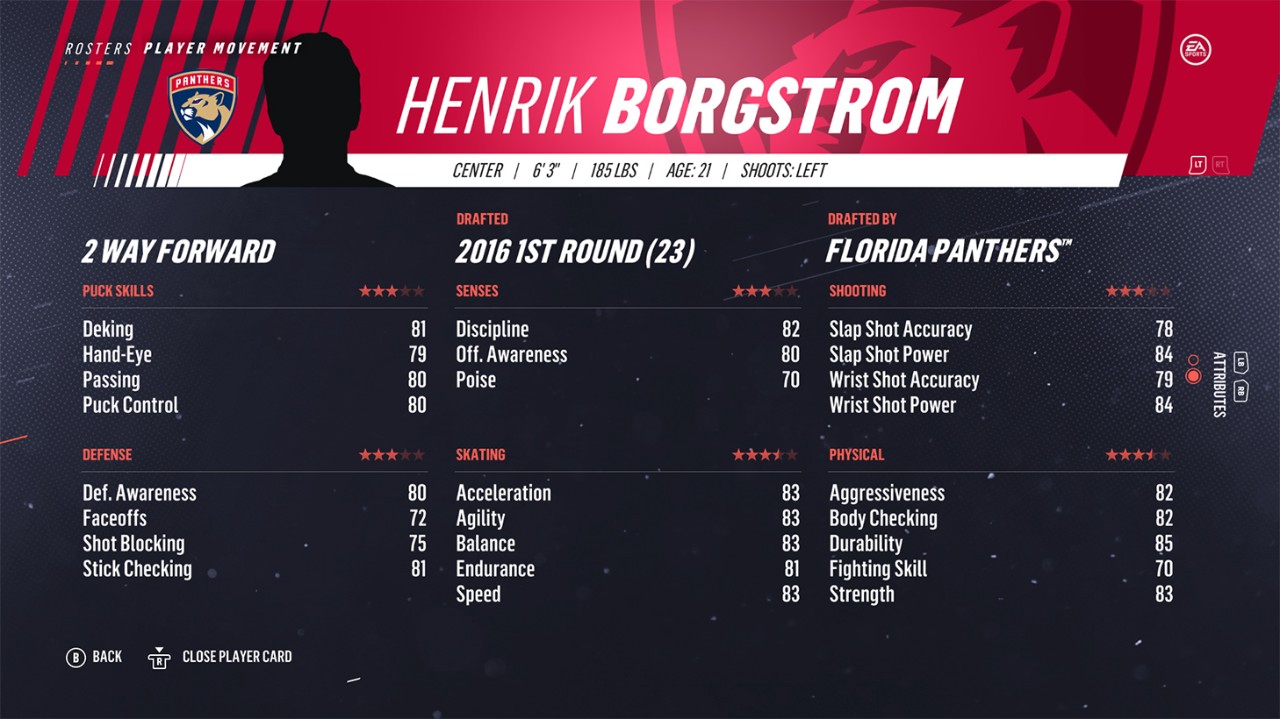 8. Henrik Borgstrom – 74 OVR
6'3" centerman Henrik Borgstrom has the potential to become a complete forward, as the Florida Panthers rookie boasts both the size and skill to compete in the NHL for years to come. Joining a strong group of young players in Florida, Borgstrom could have tons of talent around him to help grow into topping the list.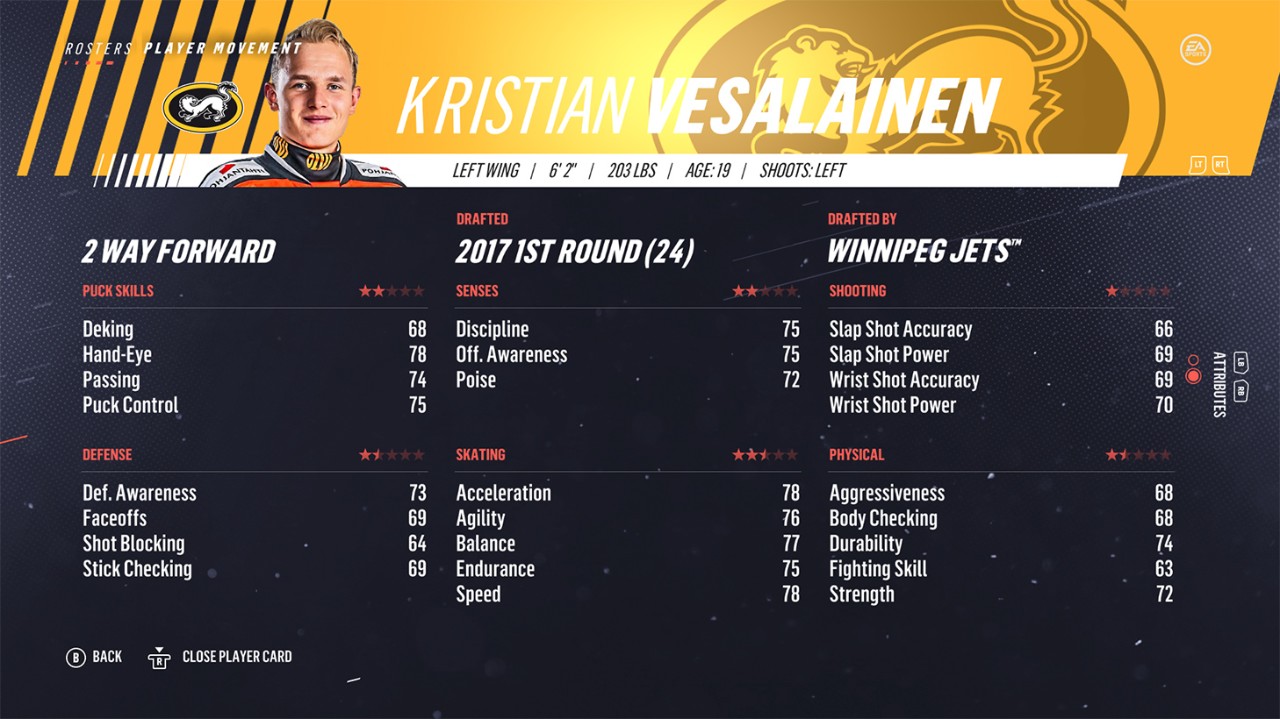 7. Kristian Vesalainen – 69 OVR
A fantastic Finnish prospect from the Winnipeg Jets prospect pool, Kristian Vesalainen can fit in well with the team's high-tempo pace that makes the team so dangerous. If he can play his way onto a stacked Winnipeg team, there's no doubting he'll be in the running for hockey's top rookie prize.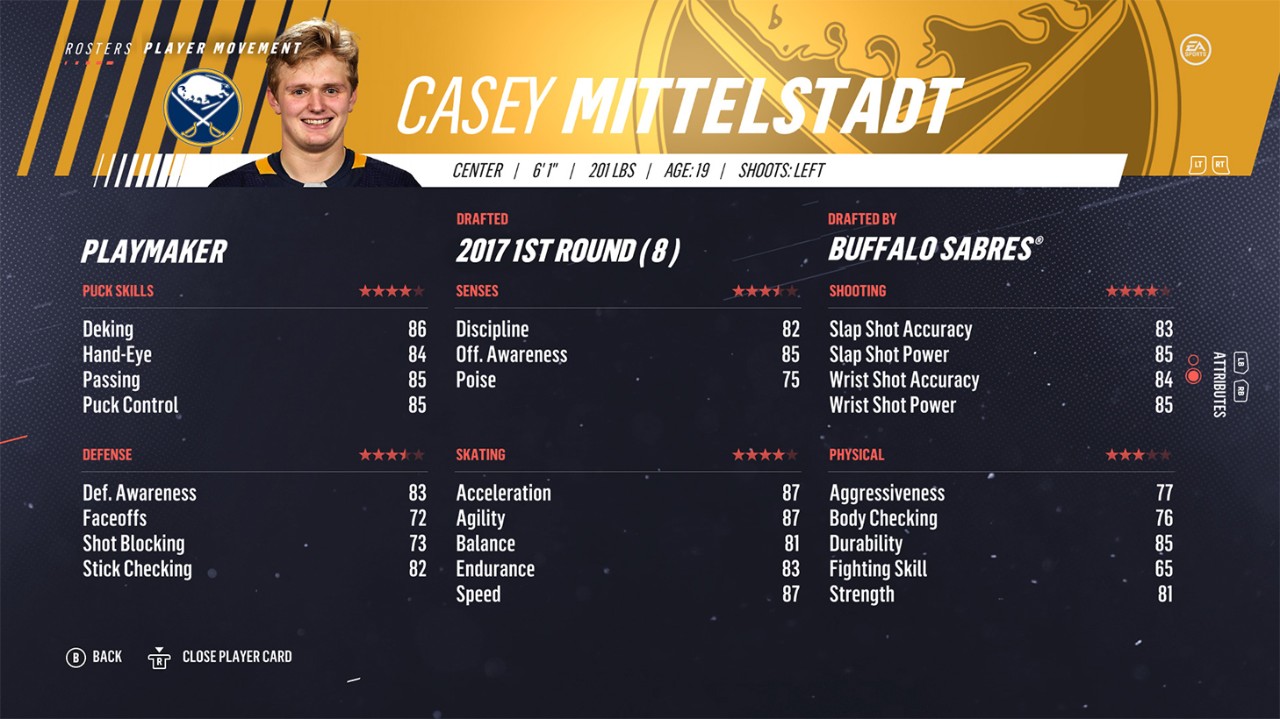 6. Casey Mittelstadt – 79 OVR
Gifted with the puck on his stick, Casey Mittelstadt looks like he's going to be an offensive spark plug for the Buffalo Sabres. It seems like this could be Mittelstadt's year, as Buffalo is bursting with talent and looking ready to compete now.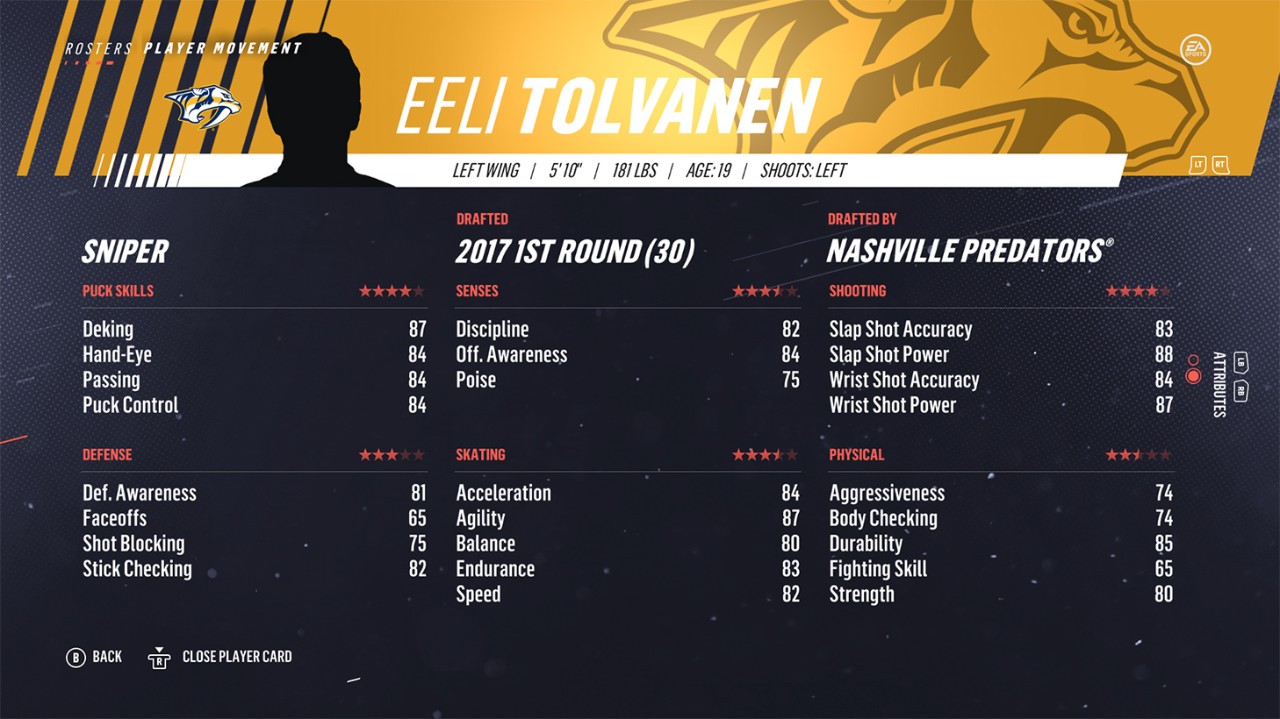 5. Eeli Tolvanen – 77 OVR
Selected 30th overall by the Nashville Predators in the 2017 Draft, Eeli Tolvanen has quickly become an NHL-ready prospect. Adding some offense to the defensive powerhouse in Nashville could qualify Tolvanen as a Calder Trophy candidate, especially with the help of his 88 slap shot power rating.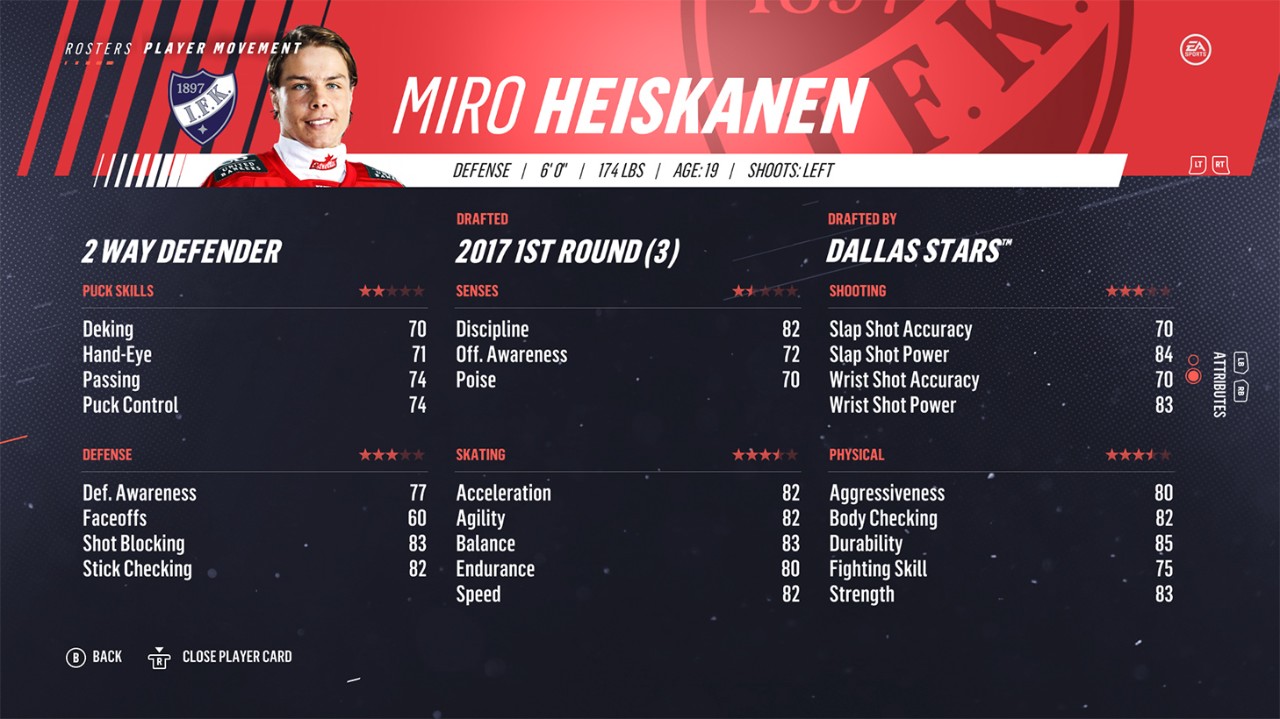 4. Miro Heiskanen – 70 OVR
Quick skating and creative puck moving skills are what Dallas Stars defenseman Miro Heiskanen hangs his skates on, and what causes many to consider him one of the most exiting up-and-comers in hockey. Heiskanen has the potential to win the Calder, and push Dallas into the next level of contenders.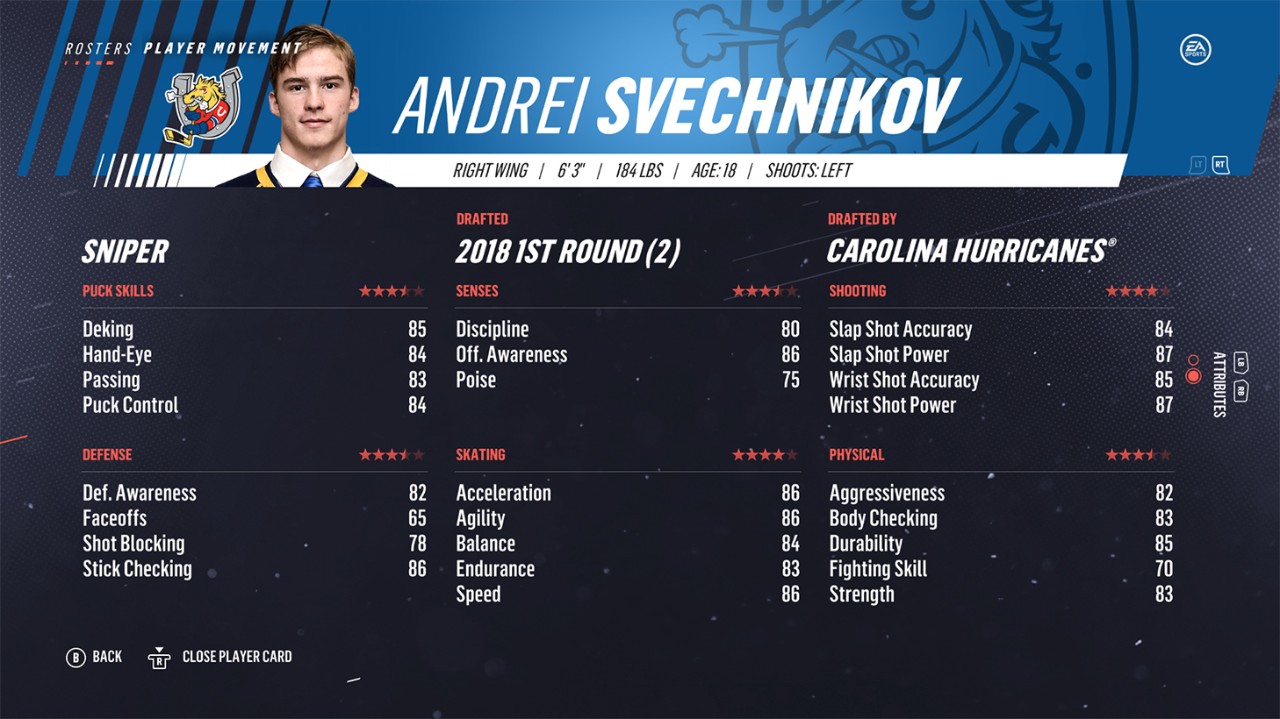 3. Andrei Svechnikov – 80 OVR
The second overall selection in last year's draft, Andrei Svechnikov was named the No. 1 North American skater by the NHL Central Scouting Bureau. A pure offensive talent with 87 wrist shot power, he put up 40 goals with the Barrie Colts this year, and is projected to be a top-line talent for the Carolina Hurricanes down the line. He's definitely one to keep your eyes on in the race to best rookie.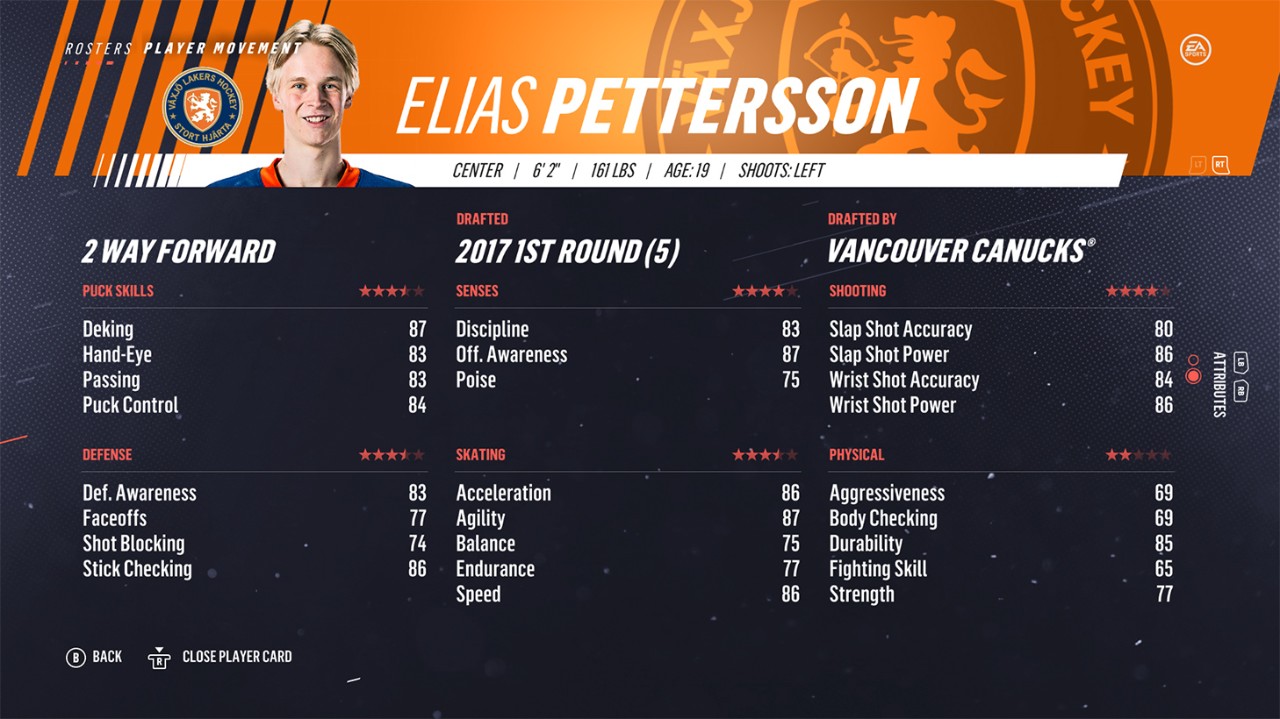 2. Elias Pettersson – 78 OVR
Setting the SHL record last year for most points in a season by a player under the age of 20, Elias Pettersson is ready to break out with the Vancouver Canucks. With 87 offensive awareness and 86 speed ratings, Pettersson will be a force to be reckoned with as a rookie centerman.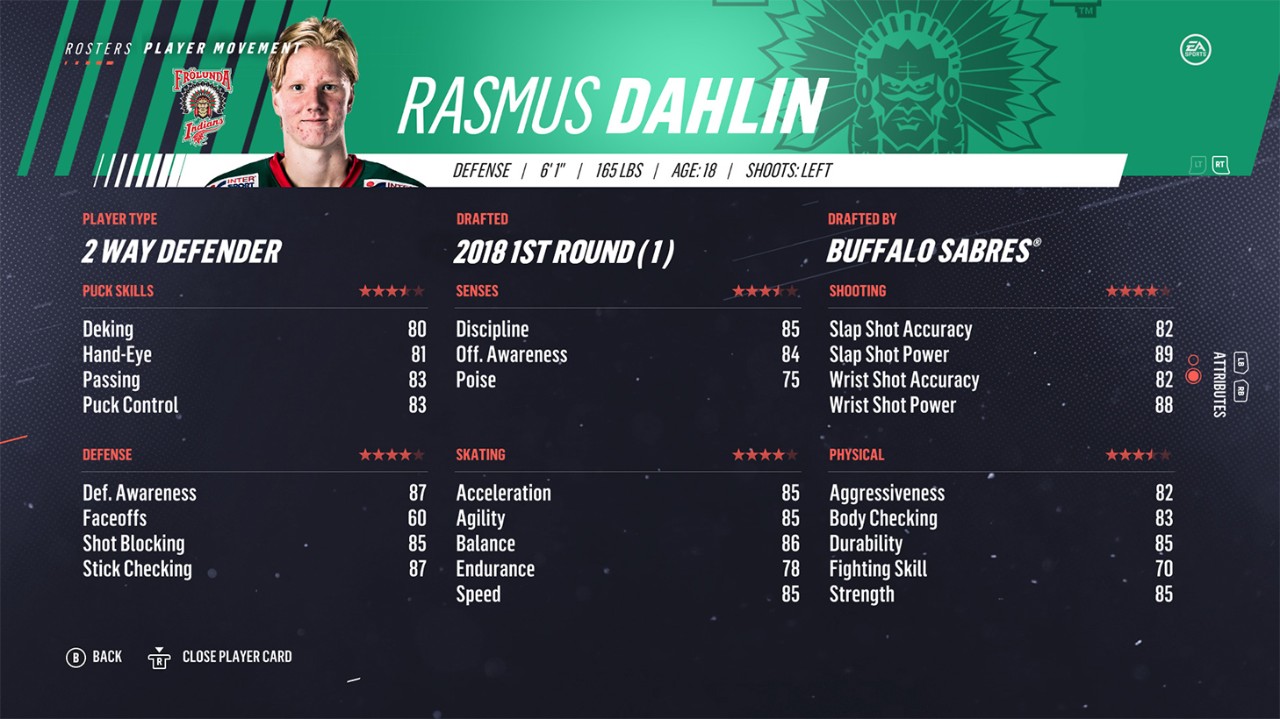 1. Rasmus Dahlin – 82 OVR
Swedish-born Rasmus Dahlin has all the skills to compete against the best players from the first drop of the puck, with excellent stats like 89 slap shot power and 87 defensive awareness. Able to play both sides of the puck, the Buffalo Sabres defenseman is one of the best blueline prospects in a long time, and it's going to be very difficult to stop him from capturing the Calder.
Who do you think will win the Calder? Join the conversation with the hashtag #NHL19Ratings on Facebook, Twitter, and Instagram.
---
NHL 19 is available to hockey fans worldwide on September 14, 2018 for Xbox One and PlayStation® 4. Be first in line to compete from the pond to the pros, unlocking the full game three days early on September 11, 2018 when you pre-order* the NHL 19 Legend Edition or the NHL 19 Ultimate Edition.

Sign up today to receive the latest NHL 19 news, updates, behind-the-scenes content, exclusive offers, and more (including other EA news, products, events, and promotions) by email.

*Conditions and restrictions apply. See https://www.easports.com/nhl/game-and-offer-disclaimers for details.