Posted September 4th at 5:00pm.
A song from one of Finland's all-time most popular artists can be heard in NHL® 19, as JVG's "Tarkenee" is being featured on the game's soundtrack. The playful Finnish rap duo have racked up hundreds of millions of listens, and their songs are amongst the personal favourites of many Finnish NHL players. Jare and Ville-Galle themselves have a background in sports, are active EA SPORTS™ NHL players, and their music has even been featured in NHL arenas, making JVG a perfect addition to the NHL 19 soundtrack. JVG recently spoke to us about their love for Chel, and what it means to be featured in one of their favorite games.

Finland's Finest

JVG started their takeover of the Nordic music industry by uploading songs online in 2009, and two years later released their debut album. Since then, the duo has gone on to sell out huge hockey arenas, while breaking Finnish streaming records for most plays in one day, and they started their own record label, PME Records. There's no doubt about it, Jare and Ville-Galle are gamers, too, saying the first hockey video game they played was EA SPORTS NHL 94, and that they even have Chel set up on their tour bus. "Throughout the years the EA SPORTS soundtracks have always been a great source of inspiration with many memorable tracks. It's naturally a big honor for us to become part of the legendary EA SPORTS NHL game series" said Jare Brand.

JVG's tracks are jam-packed with shoutouts to the greatest game on ice, their music videos have featured cameos from pro Finnish hockey players, and the two still like to lace up the skates and hit the ice with friends. We're thrilled to have JVG and their song "Tarkenee" representing international hockey culture in the NHL 19 Official Soundtrack.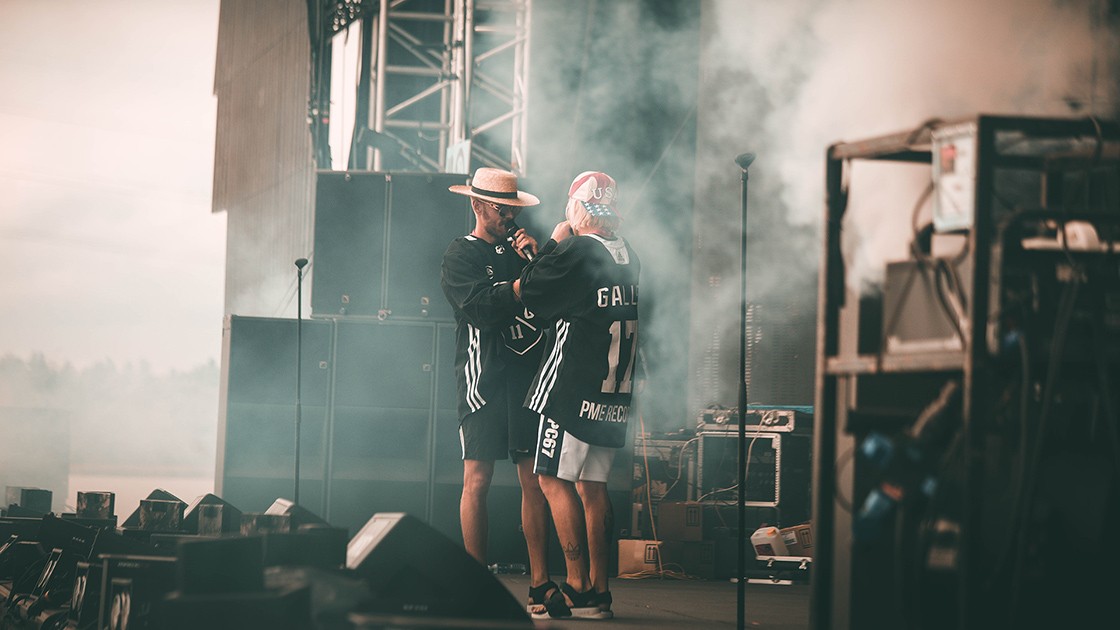 True Competitors

Sounding off on their love for EA SPORTS NHL, the two admit that Ville is the better player, but they're equally excited to be featured in an NHL game. They like to play against other artists while on tour or at festivals, and Ville still likes to take his skills online and play against others. We could tell Ville-Galle was just as excited as we are to have JVG in the game. "It really means a lot to have our music featured in the NHL game. This is one of those 'Life Goals!' things" With NHL 19 being the most authentic and fun hockey experience in gaming, it's thrilling to have artists like JVG be part of the experience.

On launch-day "Tarkenee" plays in the NHL 19 main menu on Finnish, Swedish, Norwegian & Danish consoles. From mid-October onwards, "Tarkenee" will also be featured globally in the new NHL ONES game-mode, and players all over the world will be able to select the song as their goal-song in EASHL and the Creation Zone.

Thanks to JVG for being a part of NHL 19; "Tarkenee" is a song with a unique connection to hockey fans worldwide, which is why we're so excited to have the track in our soundtrack.

NHL® 19 launches worldwide on September 14. If you're an EA Access subscriber, you can play the game early starting September 6*, and if you pre-order the Legend Edition, you can unlock the game three days early and play it September 11**.

---
Sign up today to receive the latest NHL 19 news, updates, behind-the-scenes content, exclusive offers, and more (including other EA news, products, events, and promotions) by email. Stay up to speed with NHL 19 on Facebook, Twitter, and Instagram.

*CONDITIONS, LIMITATIONS, AND EXCLUSIONS APPLY. SEE ea.com/ea-access/terms AND ea.com//ea-access FOR DETAILS.

**CONDITIONS AND RESTRICTIONS APPLY. SEE www.easports.com/nhl/game-and-offer-disclaimers FOR DETAILS