EA SPORTS Hockey League in NHL 19
Posted July 26th at 11:00am.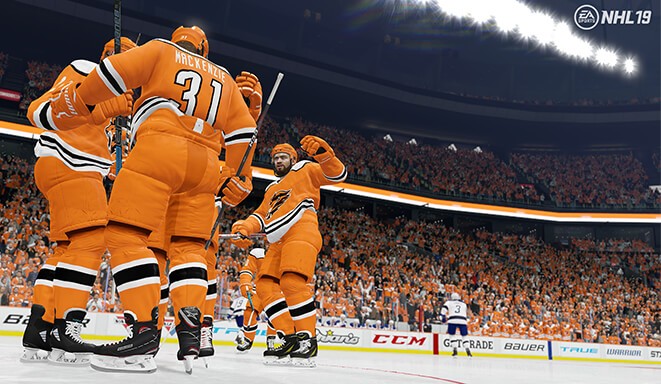 At the core of the World of CHEL is EA SPORTS™ Hockey League (EASHL), the fan-favorite online team mode that lets you choose specialized player classes in a highly-competitive hockey community. This classic mode is essential to the World of CHEL, as new modes and features like customizable classes shape your character to suit your playstyle. Here's how the World of CHEL offers a variety of benefits to the EASHL experience.
The World of CHEL Journey

Joining a customizable team and competing cooperatively has always been the core of EASHL, and thanks to the jam-packed World of CHEL, these objectives are even more fun than ever before. With NHL® ONES, THREES Drop-In, and Pro-Am modes, you'll have numerous opportunities to try different classes, traits, and specialties that improve your created character for use in EASHL.

12 skater and 3 goalie classes are available to choose from when building a character, and loadouts of these categories can be saved for use in different situations. Experiment with different loadouts and strategies while playing on outdoor rinks for the first time, surrounded by breathtaking natural environments.

These game modes offer different ways to explore the impact each player class has, and with recently-unveiled mechanics like RPM Skating and overhauled Collision Physics, you'll be able to customize your character to suit your playstyle. In addition to equipping your character with customizable classes, over 900 new pieces of pond hockey-inspired gear are available for your character in the World of CHEL, giving you bold styles to show-off in as you carve up the EASHL ponds. Build your unique identity and rise through the ranks of the best NHL 19 clubs in the world, thanks to EASHL in the World of CHEL.
---
Stay up to speed with NHL 19 on Facebook, Twitter, and Instagram.

NHL 19 is available to hockey fans worldwide on September 14, 2018 for Xbox One and PlayStation 4. Be first in line to compete from the pond to the pros, unlocking the full game three days early on September 11, 2018 when you pre-order the NHL 19 Legend Edition or the NHL 19 Ultimate Edition.

Sign up today to receive the latest NHL 19 news, updates, behind-the-scenes content, exclusive offers, and more (including other EA news, products, events, and promotions) by email.