NHL 19 Cover Athlete: Wayne Gretzky
Posted June 20th at 7:00pm.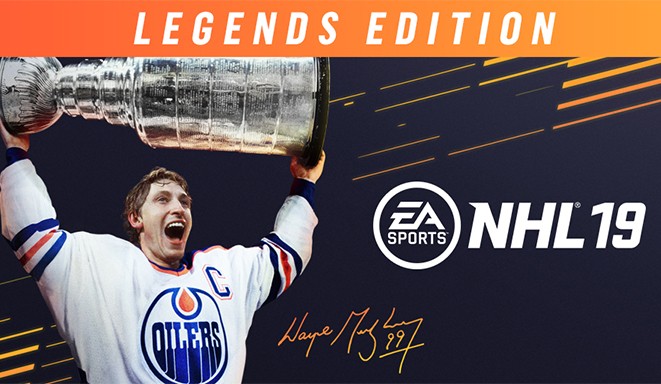 From outdoor ponds to the stars of the NHL, there are endless examples of both fans and players who represent the spirit of hockey. In order to represent this dynamic, we've selected Wayne Gretzky to be one of our cover athletes, representing an era of hockey that gave rise to the league's first superstar. Let's take a closer look at how the best player of all time embodies the spirit of NHL 19.

It Started Outdoors

Like many players, Gretzky was introduced to the game of hockey at a young age on home-made rinks. At the age of three, Wayne hit the ice for the first time on a backyard pond, learning how to skate and play the game. In NHL 19, outdoor hockey is alive with newly-designed environments surrounding frozen ponds that stage classic modes like EASHL, as well as well as new features like NHL ONES. Going outdoors is the best way to get started on your journey in NHL 19 —and also a lot of fun.

Ahead of the Rest

As Gretzky progressed from the early days of skating on backyard ponds to playing with organized teams in local leagues, it became clear that he was a special talent. Playing with and against ten-year-old peers when he was six, Gretzky understood the game quickly and more thoroughly than others his age. This dominance would be present throughout Gretzky's career, as he was in a class of his own at every stage of the game.

With more goals and assists than any other player in league history, four Stanley Cups, and nine Hart trophies for Most Valuable Player, Gretzky's accomplishments are simply incredible. To celebrate just how special Gretzky is, we're featuring him on the cover of our Legend and Ultimate editions, releases that feature special bonuses you'll need if you want to become the greatest.

Top of the Class

With over 200 legends from multiple eras in hockey's history, you can take Wayne Gretzky onto the ice and have him join a team with some of the sports' greatest players. NHL 19 also introduces Hero Teams that combine the top players from past and present to create the ultimate fantasy matchups between today's superstars and yesterday's legends. Available in single player and multiplayer modes, history is now at your fingertips.

View the cover athletes including P.K. Subban.

---
NHL 19 is available to hockey fans worldwide on September 14, 2018 for Xbox One and PlayStation 4. Be first in line to compete from the pond to the pros, unlocking the full game three days early on September 11, 2018 when you pre-order the NHL 19 Legend Edition or the NHL 19 Ultimate Edition.