Posted August 28th at 4:00pm.
Create your fantasy lineup and compete to be the best in Hockey Ultimate Team™ (HUT). In HUT 19, you'll be able to build your dream team using current players, top prospects, and over 200 NHLⓇ Legends and Alumni players. Along the way, you'll be able to play with your team, earn rewards from playing, and use the rewards to upgrade your team.
Let's get in to all the information on HUT 19 to get you ready to start your season!
WHAT'S NEW?
NEW ALUMNI AND LEGENDS
In HUT 19, there will be 140+ NHL Alumni Player Items. These players range from fan favourites to local legends to greats of the sport, and can be found in any pack that contains the prospects of a gold player item. 30 of the Alumni players will be available year-round from launch in regular store packs. The rest will be released in waves each week, with a different selection of Alumni players available each week, and as rewards in specific instances (such as rewards for competitive seasons.
On top of this, there will be 63 NHL Legend player items to add to your team. From fan favourites to local legends to all-time greats, you'll be able to create your ultimate team with more legends than ever before.
There are 4 ways to obtain legends, detailed below.
Sets
32 Legends are available in Sets at launch – 30 regular Legends and two 99 OVR Ultimate Legends including Wayne Gretzky.
To obtain the 30 regular Legends from Sets, you'll need to get the base Alumni Player Item from regular store packs or the Auction House and upgrade it 3 times through Legend sets. You can upgrade the Alumni version by trading in the base Alumni version along with Gold and/or Carbon Collectibles to get the upgraded version.
Each time you complete one of these sets, you obtain an untradeable Legend Collectible. The Legend Collectibles are able to be used to complete the Ultimate Legends sets. Each Ultimate Legend set requires you to trade in 45 Legend Collectibles but will reward you with a 99 OVR Ultimate Legends Player Item.
The base Alumni Player Item for those in the Legends set will always be available in packs.
Monthly Collectibles
Legends can also be obtained by turning in Monthly Collectibles. These are obtained in the Daily Log-in Pack and by completing all Daily Objectives. You'll be able to earn a new Legend each month up to and including April 2019 as a reward for collecting and turning in enough Monthly Collectibles.

Milestones
There are 7 Legends who will be obtainable as rewards for completing full Milestone groups. These Legends will be earned through completing in-game tasks like scoring goals, completing sets, and taking shots.
As you progress through the Milestone for a Legend, you'll also earn a loan item of the Legend that increases in overall the closer you are to completing the set. These Legends will be untradeable.

Legend Packs
These are not always available, and when they are they will have a purchase limit. It guarantees you a random Legend from a pre-selected pool for a high price.
OBJECTIVES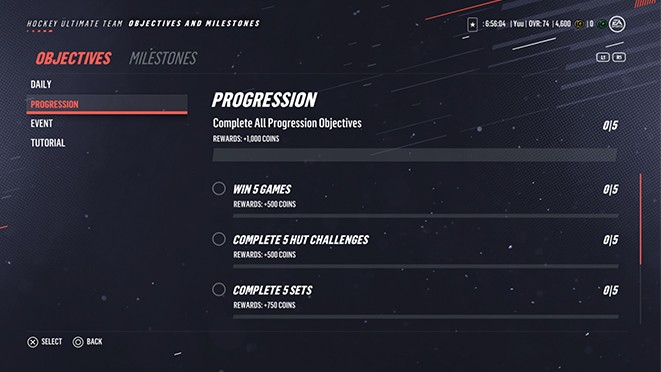 New to HUT 19 are Objectives. Objectives will reward you with HUT items, packs, and coins for completing tasks throughout your year in HUT.
There will be a variety of objectives for you to complete in your HUT journey. Every day there will be new Daily Objectives for you to complete, along with Progression Objectives that you'll work towards throughout your HUT 19 experience. There will also be Event Objectives for every special event in HUT 19!
Some examples of Objectives include completing sets, completing games, and winning games.
MILESTONES
Also new to HUT 19 are Milestones! Milestones are long-term tasks with big-time rewards that you'll work towards as you progress in HUT. With rewards that include Legends, Loan items, coins, and more, Milestones give you goals to chase throughout the year with massive payoffs upon completing all of the tasks.
Some examples of Milestones include Goals, Challenge Stars Earned, and Objectives Completed.
Completing both Objectives and Milestones are a great way to improve your HUT team in HUT 19!
LOAN PLAYERS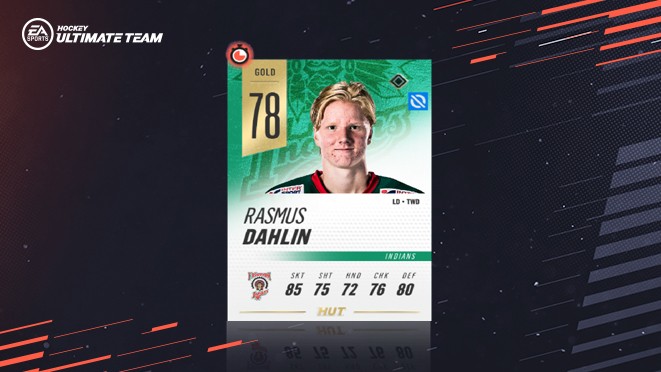 Loan Items are coming to HUT 19 and will allow you to try out some of the top players on your team for a limited duration. With the Loan Players feature, you'll be able to see how a player fits on your squad before purchasing them on the Auction House. From HUT Challenges to Objectives and Milestones, there will be plenty of ways for you to earn Loan Items to try out in your squad.
WHAT'S CHANGED?
REBALANCING THE ECONOMY
A key priority for us heading into NHL 19 was to work on rebalancing the HUT economy. As a result, there are a few changes to how your progression in HUT will work in NHL 19.
Lower Overalls
This year, players will be starting at a lower overall rating than in previous years. Base items at launch will generally range from 50-85 OVR, with a few exceptions mainly for Alumni and Legend Items. This will allow more room for stat growth throughout the year, which we have also re-evaluated (more on that later).
Changes to Bronze, Silver, and Gold Player Items
In HUT 18, a player's grade and rarity reflected the league that they play in. For example, all NHL players were Gold regardless of their stats, all CHL players were bronze, etc. This created a problem where we weren't able to leverage our entire player catalogue effectively.
In HUT 19, a player's rarity will now be determined by the player's overall rating. Here is how a player's rarity will be determined:
50-55 OVR = Bronze Common
56-61 OVR = Bronze Rare
62-67 OVR = Silver Common
68-73 OVR = Silver Rare
74-79 = Gold Common
80+ = Gold Rare
This will make items of higher grades and rarities harder to obtain because of their higher stats (regardless of their league).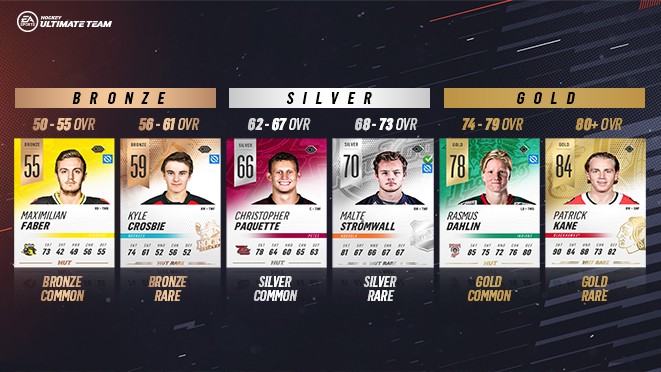 Changes to Live Content
Due to the frequency and volume of HUT 18 live content updates, we had periods during the year where players lacked incentive to chase new items. This year, we aim to do a better job of managing the amount of Player Items we release as well as the OVR increases themselves.

In HUT 18, there were four types of Daily Content Player Items throughout the year:
Team of the Week (TOTW) player items
Milestone player items
Prime Time player items
Flashback player items
In HUT 19, there will only be three types of Daily Content player items:
TOTW player items
Milestone player items
Prime Time player items
On top of these changes, Events will no longer have Daily Content items to further reduce the amount of Items a player can receive over the year.
Additionally, there are also changes in how frequently a player can receive attribute boosts from a Daily Content Item. A player is now only able to receive one attribute boost per calendar month. This means that if a player receives a TOTW item, they can still receive Milestone and Prime Time items, but they will only be distinguished by synergy differences and inform art. A player can only receive one TOTW, one Milestone, and one Prime Time Item per month.
Finally, since a player can only earn one attribute boost per calendar month, they will receive a +3 boost to their stats instead of a +1. This will allow you to know that this is the highest overall player for that time period, giving it more consistent value throughout the year.
Changes to Player Items in Packs
In HUT 19, all types of players will be available in all base packs. You'll be able to find Gold Rare items in Bronze packs and Bronze items in Gold packs. The difference between the packs will be the probability you have of getting a specific item (i.e. amount of rares, amount of golds, NHL players, etc.).
Additionally, there are some changes to the standard packs available in store. There will be different price points for standard packs (i.e. Gold Plus, Gold, Silver, etc.) and there will also be packs containing only Player Items regularly available in the HUT Store from the launch of NHL 19.
Revamped Trade-In Sets
Have unwanted player items that you don't need? In HUT 19, you can trade them for upgraded players in new, repeatable Player Trade-In Sets. This is aimed to give more value to lower grade/rarity players and allow you to use your unwanted players to upgrade your team.
Here are the Player Trade-In Sets that will be available in HUT 19 at launch:
5 Bronze Common Players = 1 Bronze Rare Player
5 Bronze Rare Players = 1 Silver Common Player
5 Silver Common Players = 1 Silver Rare Player
5 Silver Rare Players = 1 Gold Common Player
5 Gold Common Players = 1 Untradeable Gold Rare Player (8 hour cool down)
Gold Rare Re-Roll (2 Gold Rare Players = 1 Untradeable Gold Rare Player) (8 hour cool down)
The above Bronze and Silver player set trade-ins will have a six hour cool down before you can complete it again and the Gold player trade-in sets will have an eight hour cool down.
Additionally, we have also added in a Gold Rare Player to Gold Collectible Trade-In Set. This set will allow you to turn in 5 Gold Rare Players for 1 Gold Collectible, and will have a 24 hour cool down.
OTHER KEY CHANGES FOR HUT 19
Simplified Consumable items
Every year, we see complaints around the complexity of getting and applying consumables in HUT. As a result, we have simplified both Healing and Contract consumable items. There will only be one Contract item (10 Game Contract item) and one Healing item (3 Game Any Injury Healing item) in HUT 19.
Additionally, there will be a Gold Contract Pack available in the HUT Store at launch. This will allow us to have player-only packs in the HUT Store and prevent contracts from becoming too expensive to play games.


Position Locking
One of the biggest complaints we saw last year was around players position locking to take advantage of the AI in online mode. As a result, we have removed the ability to position lock in HUT 19.
Single Player Seasons
We have moved the Single Player Seasons experience into a brand new set of HUT Challenges. This allows us to streamline the mode and provide a more engaging user experience.
---
Stay up to speed with NHL 19 on Facebook, Twitter, and Instagram.

NHL 19 is available to hockey fans worldwide on September 14, 2018 for Xbox One and PlayStation® 4. Be first in line to compete from the pond to the pros, unlocking the full game three days early on September 11, 2018 when you pre-order* the NHL 19 Legend Edition or the NHL 19 Ultimate Edition.

Sign up today to receive the latest NHL 19 news, updates, behind-the-scenes content, exclusive offers, and more (including other EA news, products, events, and promotions) by email.

*Conditions and restrictions apply. See https://www.easports.com/nhl/game-and-offer-disclaimers for details.