Find A Groove With The NHL 19 Soundtrack
Posted September 4th at 7:00am.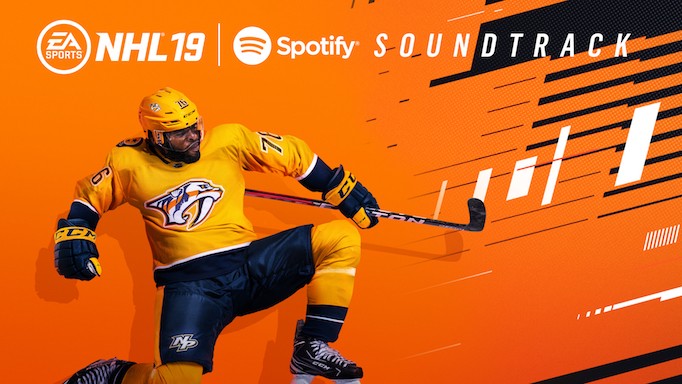 Sharpen your skates, tape up your stick, and grab some pals, because NHL® 19 is coming. It's time to unveil the EA SPORTS™ NHL® 19 official soundtrack, stuffed with in-game songs to get you psyched before you skate into the World of CHEL.

Find your groove with genre-bending rockers twenty one pilots ("Jumpsuit"). Jam out with the perfect pop-rock soundscape of Imagine Dragons ("Natural"). Throw up the horns with Greta Van Fleet ("When The Curtain Falls"). Revisit the Stanley Cup® Finals vibe with Panic! At The Disco ("High Hopes"). Head north of the border for a sampling from Canadian rockers Arkells ("People's Champ"). There are so many bangers on the NHL® 19 soundtrack, we can't even wrap our elbow pads around it all.
And while you're listening to these great tracks, get ready to play some of the coolest new additions to NHL 19 in the World of CHEL, including the addition of hockey legends like Wayne Gretzky (more to come), the EA SPORTS™ Hockey League (EASHL), NHL® ONES, and Real Player Motion (RPM) technology that brings the gameplay to the next level. And the puck hasn't even been dropped yet.

Check out the full track-listing below.

NHL® 19 Official Soundtrack
Arkells – "People's Champ"
Bishop Briggs – "White Flag"
Don Diablo – "Head Up" feat. James Newman
Grandson – "Blood//Water"
Greta Van Fleet – "When The Curtain Falls"
Imagine Dragons – "Natural"
JVG – "Tarkenee"*
King Tuff – "Psycho Star"
Moon Taxi – "Good As Gold"
Ohana Bam – "All Roads Lead Home"
Panic! At The Disco – "High Hopes"
Parade Of Lights – "I Want It All"
Parquet Courts – "Almost Had To Start A Fight/In And Out Of Patience"
Robert DeLong – "Favorite Color Is Blue" feat. K.Flay
SUR – "Make It To Morning"
The Blancos – "Know My Name"
The Cool Quest – "Goodlife"
The Struts – "Bulletproof Baby"
Tom Morello feat. Gary Clark Jr. and Nico Stadi – "Where It's At Ain't What It Is"
twenty one pilots – "Jumpsuit"
Wallows – "Pulling Leaves Off Trees"
NHL®19 launches worldwide on September 14. If you're an EA Access subscriber, you can play the game early starting September 6**, and if you pre-order the Legend Edition, you can unlock the game three days early and play it September 11.***

–Matt Franciscovich (Follow Matt on Twitter @MattFranchise)

*Currently available in the NHL® 19 main menu soundtrack in Swedish, Norwegian and Finnish and from mid-October onwards will also be featured in NHL Ones & Creation Zone

**CONDITIONS, LIMITATIONS, AND EXCLUSIONS APPLY. SEE ea.com/ea-access/terms AND ea.com//ea-access FOR DETAILS.