Posted August 27th at 4:00pm.
Our NHL® 18 Player Ratings reveal continues with the top right wingers in the NHL. We looked at a right wing's Puck Skills, Shooting, Skating, Senses, Defense and Physical abilities when deciding their overall rating.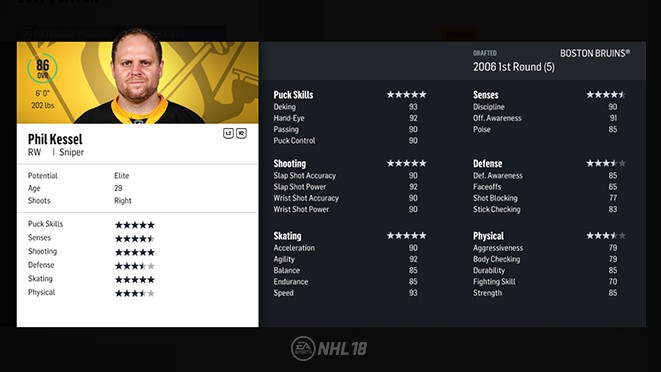 10. Phil Kessel – 86 overall
Phil Kessel is a two-time Stanley Cup Champion with the Pittsburgh Penguins and celebrated while eating hot dogs out of the Stanley Cup. With his elite Speed (93), Deking (93) and his 5-star shot, Phil "The Thrill" Kessel has a massive offensive punch that you'll want on your team.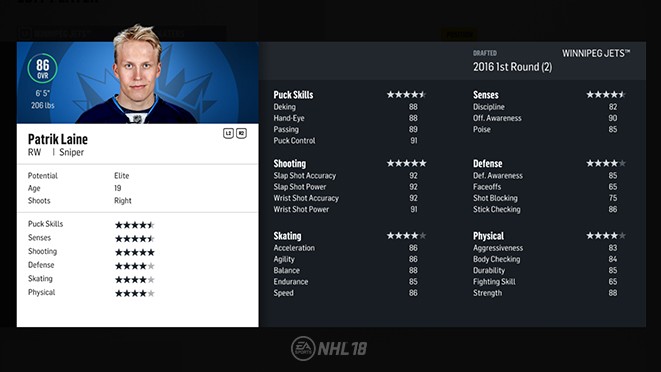 9. Patrik Laine – 86 overall
Patrik Laine stormed onto the scene last year with a booming shot that can cleanly beat even the best of goalies. The 19 year-old recorded 36 goals for the Winnipeg Jets and his shot ranks amongst the best in the league. His Slap Shot Accuracy (92) and Slap Shot Power (92) are world-class already and makes him dangerous from any position.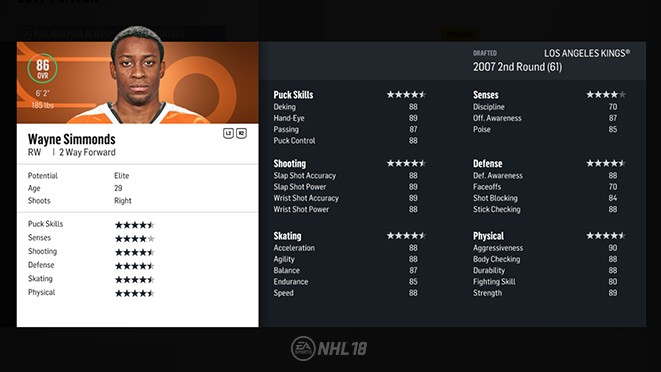 8. Wayne Simmonds – 86 overall
One of the most well-rounded players in the league, Wayne Simmonds is a powerful force on the ice for the Philadelphia Flyers. His 4.5-star ratings in Puck Skills, Shooting, Skating, Defense and Physical make him a very versatile player in any lineup. His combination of Strength (89) and Speed (88) makes him extremely hard to knock off the puck.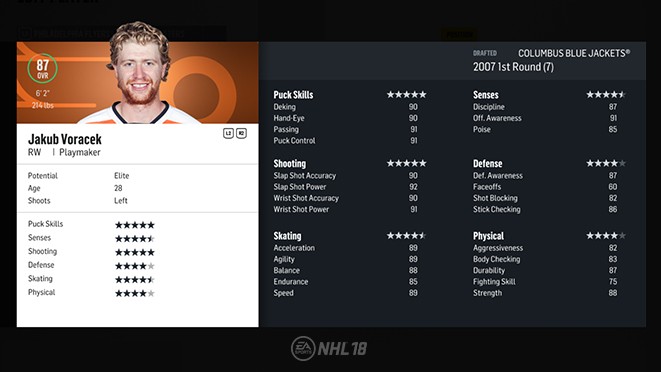 7. Jakub Voracek – 87 overall
Jakub Voracek can create offense in a hurry for the Philadelphia Flyers. Voracek's elite Offensive Awareness (91) and Puck Control (91) allow him to make the proper choice between whether to use his 5-star shot or his excellent Passing (91) abilities to generate a scoring opportunity.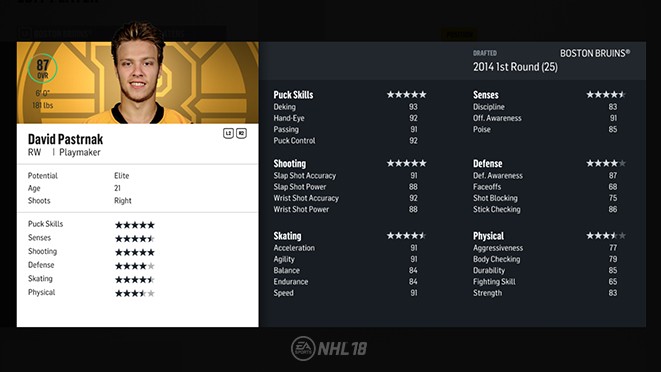 6. David Pastrnak – 87 overall
One of the best young stars in the NHL, David Pastrnak is able to create a highlight reel play out of any opportunity. The Boston Bruins right wing has world-class Puck Skills with 93 Deking, 92 Hand-Eye, 91 Passing and 92 Puck Control. When he gets past the defenders, he can use his 5-star shot to bury the puck past the goalie.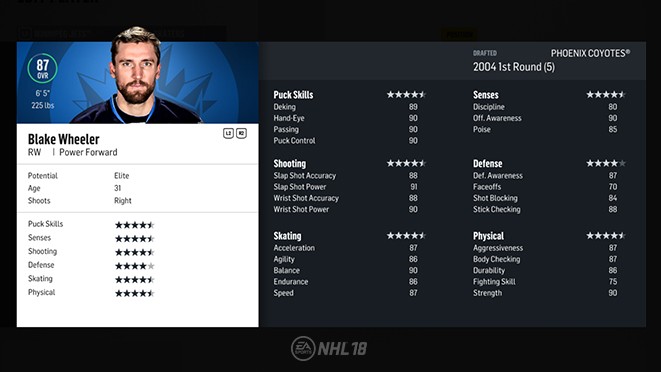 5. Blake Wheeler – 87 overall
Blake Wheeler is one of the more underrated players in the league. The deceptively-quick Winnipeg Jets right winger has excellent Shooting abilities and Puck Skills that compliment his Strength (90) to make Wheeler one of the best Power Forwards in the NHL.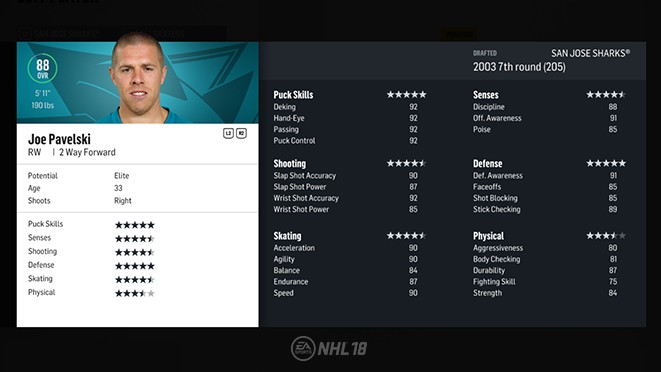 4. Joe Pavelski – 88 overall
Joe Pavelski, the San Jose Sharks captain, is one of the more versatile forwards in the NHL. While Pavelski is a right wing, he can play center and is strong on Faceoffs (85). Pavelski's 5-star Puck Skills and Defense abilities make him excellent in both ends of the ice.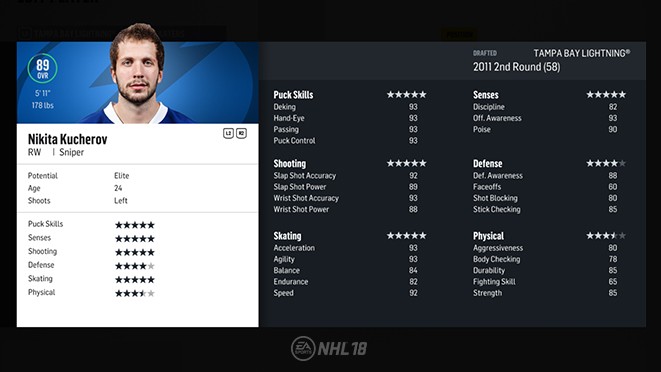 3. Nikita Kucherov – 89 overall
With Steven Stamkos out of the lineup, Nikita Kucherov bolted into the spotlight for the Tampa Bay Lightning. Kucherov's lightning quick Acceleration (93) and Agility (93) allow him to get up to his top Speed (92) instantly to rush past defenders. His 5-star Puck Skills and Offensive Awareness allows him to pick apart the defense to generate scoring chances and offense for his team.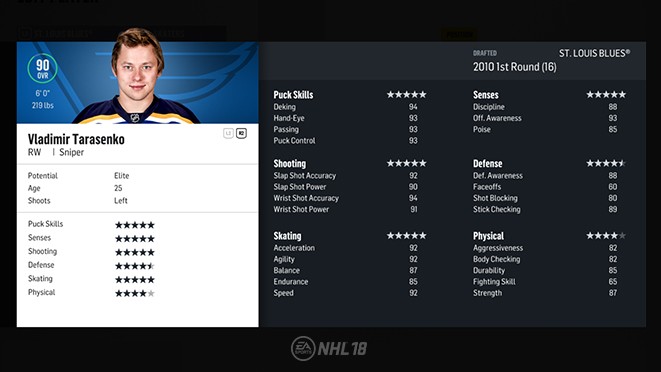 2. Vladimir Tarasenko – 90 overall
The NHL® 17 cover athlete continued his terrific pace last year with the St. Louis Blues. Tarasenko's an elite talent who uses his Deking (94) to dangle his way past defenders on a nightly basis. With 5-star Puck Skills, Shooting, Skating and Senses, Tarasenko is one of the best pure offensive talents in the NHL.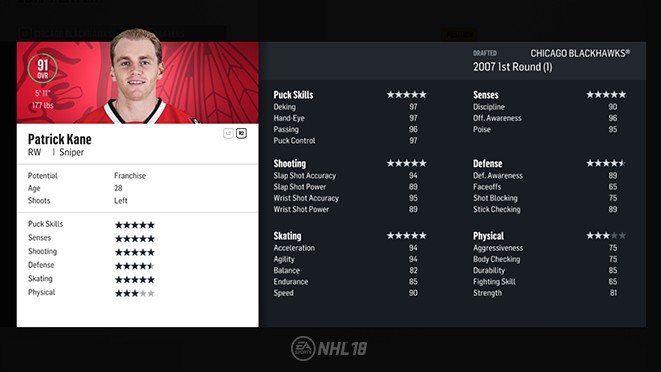 1. Patrick Kane – 91 overall
When it comes to dynamic offensive talents, there may be no one better than Patrick Kane. Kane has world-class Puck Skills, where his Deking (97) and Puck Control (97) dazzle opposing defenders and goaltenders. The Chicago Blackhawks forward's ability to generate offense is a key part to the team's success year in and year out.
---
EA SPORTS NHL® 18 delivers the creativity of today's young NHL with new Creative Attack controls and the first-ever Defensive Skill Stick. Play the fast-paced, arcade-inspired 3-on-3 EA SPORTS™ NHL® THREES mode, or reshape the league entirely with the new Expansion Draft and your own custom 32nd NHL team. Do it all with the most co-op and competitive multiplayer options ever delivered in an EA SPORTS NHL game.
NHL® 18 is available worldwide on September 15th.