Posted August 27th at 4:00pm.
Our NHL® 18 Player Ratings reveal continues with the top left wingers in the NHL. We looked at a left wing's Puck Skills, Shooting, Skating, Senses, Defense and Physical abilities when deciding their overall rating.
10. Gabriel Landeskog – 85 overall
Gabriel Landeskog is a talented forward who doesn't shy away from the physical game. The Colorado Avalanche left wing's Strength (90) and 4.5-star Puck Skills, Shooting, Skating and Physical categories make him a tough player to check whenever he is on the ice.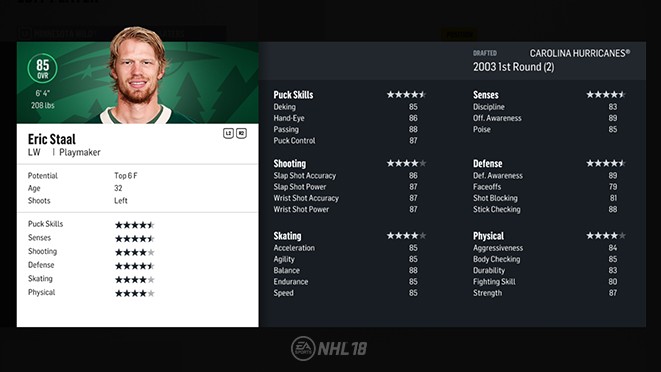 9. Eric Staal – 85 overall
Eric Staal returned to his old form in his first year with the Minnesota Wild. Staal uses his size, Offenseive Awareness (89) and Defensive Awareness (89) to position himself for plays and generate offense for his team. His great Passing (88) ability allows him to set up teammates for tap-in finishes.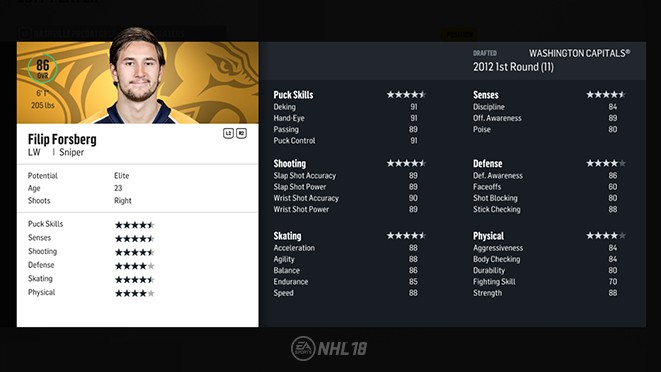 8. Filip Forsberg – 86 overall
The high-flying Filip Forsberg is a dynamic offensive talent that was a key part to the Nashville Predators Stanley Cup run last season. The Swedish left wing has incredible Puck Skills, often using his Deking (91) and Puck Control (91) to find the right attacking lanes to get to the net.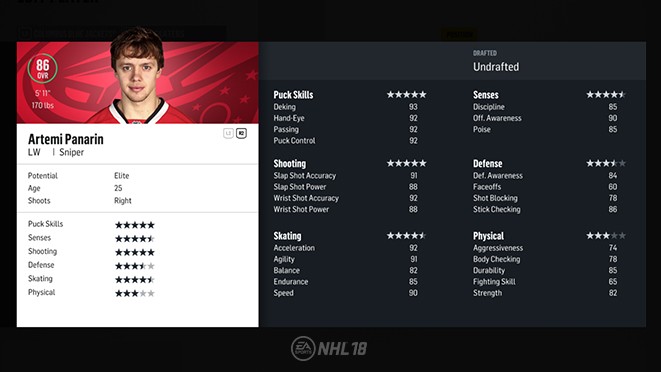 7. Artemi Panarin – 86 overall
Artemi Panarin is set to join the Columbus Blue Jackets after an off-season trade. The crafty Russian left winger boast some of the best Puck Skills in game with 93 Deking and 92 Puck Control. From his Skating to his Shooting to his Sense, Panarin's high talent level can change the game at any moment.
6. Max Pacioretty – 87 overall
If there's one thing you can expect the Montreal Canadiens captain to do, it's to consistently score 30 goals. Max Pacioretty is coming off of his fourth-straight 30+ goal season and is able to generate his goals through his 4.5-star Shooting, Skating, Puck Skills and Senses abilities. He carries an accurate yet heavy shot and the combination of his Speed (89) and Strength (88) can drive defenders crazy.
5. Johnny Gaudreau – 87 overall
At 5'9", Johnny Gaudreau is one of the smallest players in the NHL. However, his 5-star Puck Skills, Skating and Senses makes him tough to check. The Calgary Flames forward is able to pull off magical moves with his Deking (95) abilities while using his world-class his Speed (93) and Agility (94).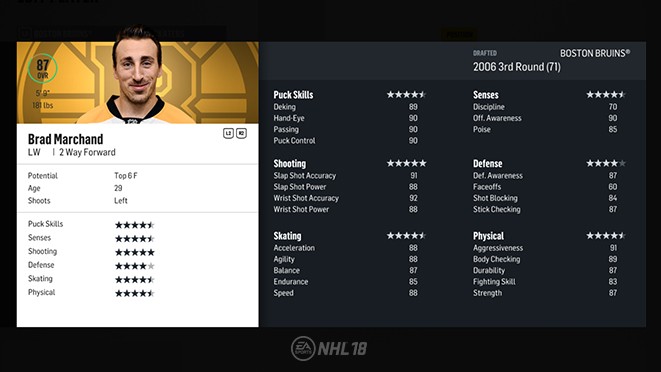 4. Brad Marchand – 87 overall
While originally known for being a pest, Brad Marchand showed the hockey world that he can play with the best in the league last season. While Marchand's two-way play was integral to the Boston Bruins success, his Wrist Shot Accuracy (92) allows him to snipe goals past netminders with ease.
3. Taylor Hall – 87 overall
From his 5-star shooting abilities to his world-class Speed (95), Taylor Hall is one of the best scoring left wingers in hockey. His ability to use his powerful yet accurate shot on the rush allows the New Jersey Devils forward to sneak pucks past goaltenders frequently.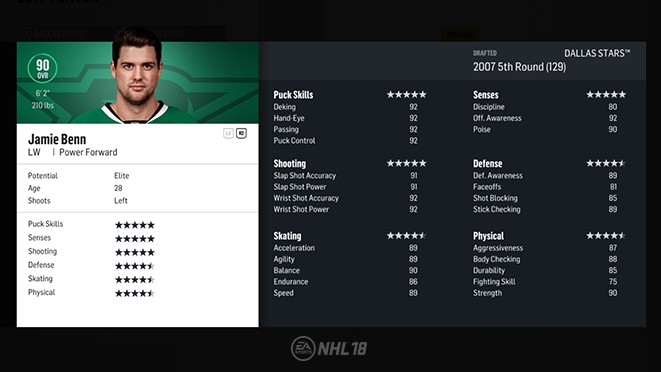 2. Jamie Benn – 90 overall
With 5-star Puck Skills, Senses and Shooting, Jamie Benn is one of the most talented scorers in hockey. When combined with his top-end Strength (90), Balance (90) and Puck Control (92) abilities, you get a dominant power forward that won't go down easily.
1. Alex Ovechkin – 92 overall
Alex Ovechkin is perhaps one of the best goal scorers in NHL history. On the power play, there might not be a better player to score. You know exactly where Ovi is going to be and the Washington Capitals feed him the puck to his spot where he uses his accurate (95) and powerful (95) Slap Shot. With five 5-star categories, Ovechkin's got a lot of tools in his arsenal to dominate the competition.
EA SPORTS NHL® 18 delivers the creativity of today's young NHL with new Creative Attack controls and the first-ever Defensive Skill Stick. Play the fast-paced, arcade-inspired 3-on-3 EA SPORTS™ NHL® THREES mode, or reshape the league entirely with the new Expansion Draft and your own custom 32nd NHL team. Do it all with the most co-op and competitive multiplayer options ever delivered in an EA SPORTS NHL game.
NHL® 18 is available worldwide on September 15th.