Posted August 26th at 4:00pm.
Our NHL® 18 Player Ratings reveal continues with the top defensemen in the NHL. We looked at a defender's Puck Skills, Shooting, Skating, Senses, Defense and Physical abilities when deciding their overall rating.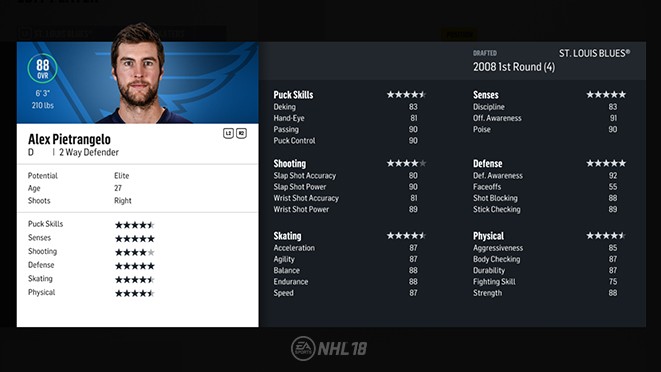 10. Alex Pietrangelo – 88 overall
Alex Pietrangelo has slowly ascended into stardom with the St. Louis Blues. His strong two-way game is highlighted by his Defensive Awareness (92) and his 5-star Sense and Defense skills. Pietrangelo also contributes a strong offensive game with a quality shot and excellent Passing (90).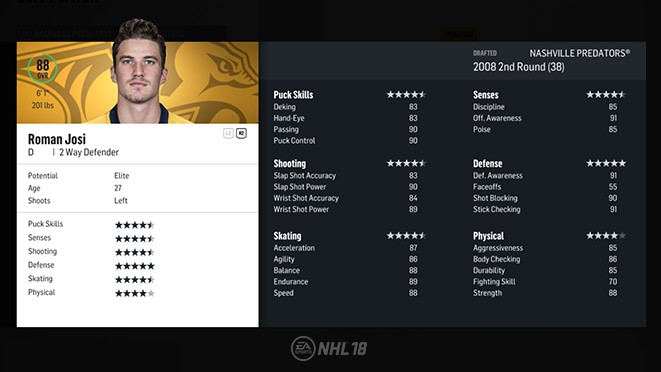 9. Roman Josi – 88 overall
The smooth-skating Nashville Predators blue liner delivers a powerful offensive punch from the blue line. Roman Josi's Passing (90), Puck Control (90) and Speed (90) allow him to weave his way up the ice while hitting teammates to create an opportunity on the breakout.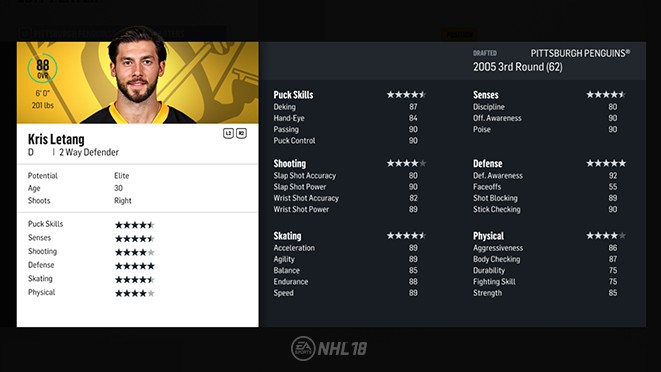 8. Kris Letang – 88 overall
The Pittsburgh Penguins' best defenseman can do it all. While Kris Letang is more known for his top-notch Puck Skills, Skating and Offensive Awareness (90), he is an excellent defender who knows where to position himself and can land a powerful hit onto an attacking player.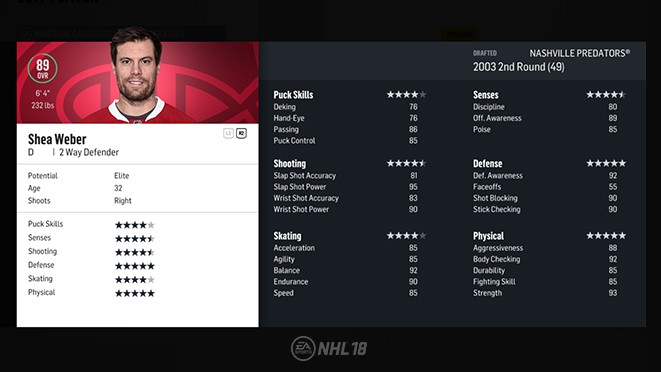 7. Shea Weber – 89 overall
You don't want to block a Shea Weber slap shot. With 95 Slap Shot Power, Weber's bullets from the point make him a dangerous player whenever he's on the ice. His ability to shut the opposition down with his raw Strength (93) and Body Checking (92) abilities make him one of the toughest players to play against in hockey.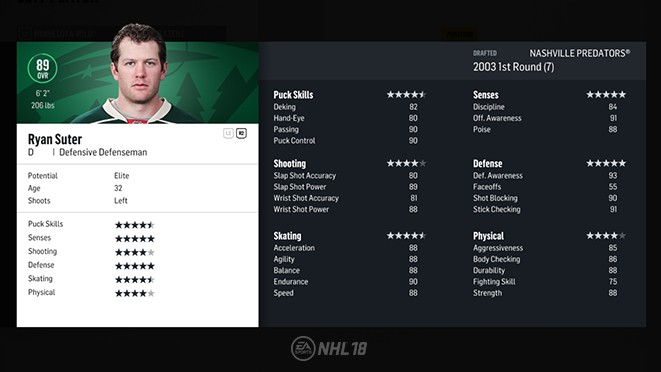 6. Ryan Suter – 89 overall
Night in and night out, you can always count on Ryan Suter to play 25+ minutes a night of top-end defense. His Defensive Awareness (93), Stick Checking (91) and Shot Blocking (90) are an integral part of his game, thwarting the opposition at every opportunity.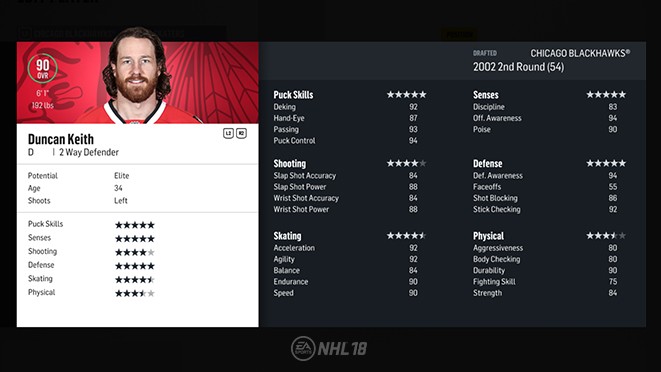 5. Duncan Keith – 90 overall
The Chicago Blackhawks continue to be led from Duncan Keith on the backend. From Keith's 5-star Puck Skills to his 5-star Defensive abilities, the defenseman continues to bring a strong two-way game. Keith also uses his Acceleration (92) and Agility (92) to either shutdown speedy attackers or blow past forecheckers to set up a rush.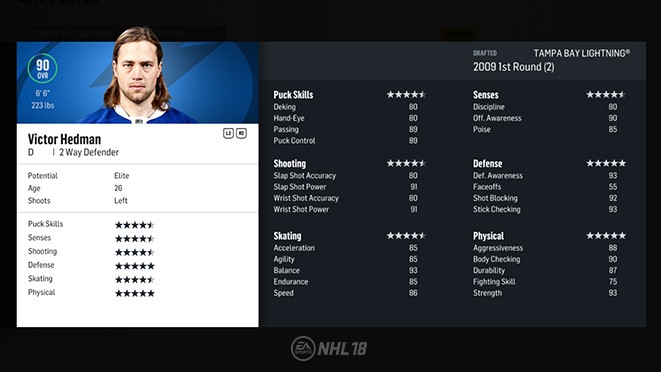 4. Victor Hedman – 90 overall
The 6'6" Swedish defensemen continues to prove he's one of the NHL's best blue liners. Victor Hedman's excellent at shutting down his opposition with his Shot Blocking (93), Stick Checking (93) and Body Checking (90) skills. When he has the puck, Hedman can make crisp passes or unleash a massive shot from the point for a goal.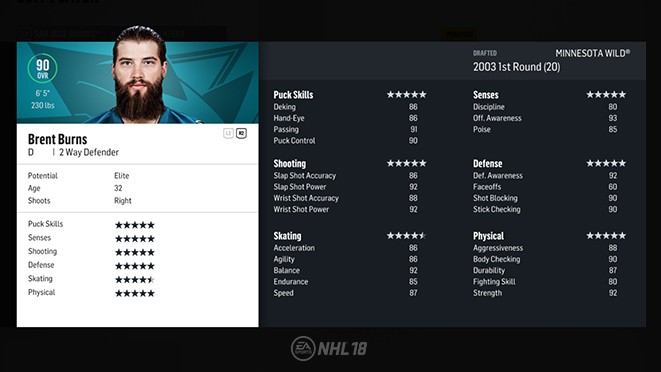 3. Brent Burns – 90 overall
The 2017 Norris Trophy winner had a season for the ages last year. Brent Burns scored 27 goals and led the league in shots. His ability to deliver a powerful Slap Shot (92) or a massive Body Check (90) is a key part to the San Jose Sharks' success.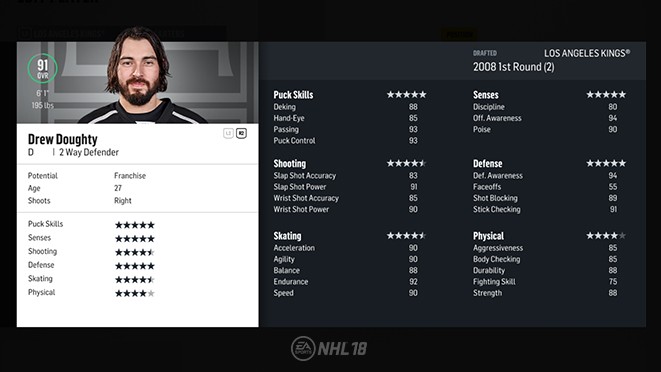 2. Drew Doughty – 91 overall
Drew Doughty's two-way play is hard to beat. Drew Doughty's Offensive Awareness (94) allows him to control the pace of play offensively while is Defensive Awareness (94) gives him the ability to position himself properly to shut his opponents down with ease.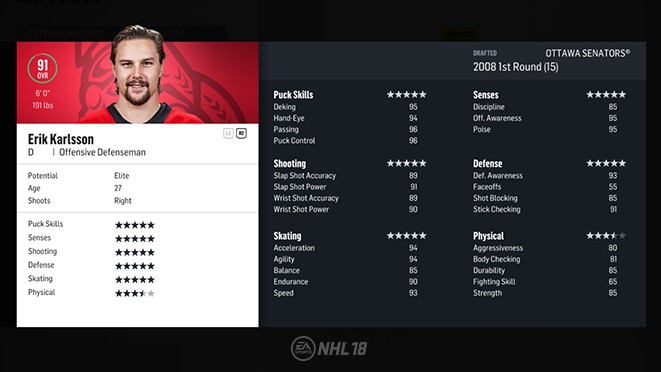 1. Erik Karlsson – 91 overall
Erik Karlsson earns the #1 spot as NHL® 18's best defenseman. While the Ottawa Senators captain isn't the most physical defender, everything else about Karlsson's game is world-class. He has 5-star Puck Skills, Shooting, Skating, Sense and Defense abilities that allow him to dominate the game and drive play and offense for any team. Karlsson is a game breaker on the back end and one of the best offensive defensemen to ever play in the NHL.
---
EA SPORTS NHL® 18 delivers the creativity of today's young NHL with new Creative Attack controls and the first-ever Defensive Skill Stick. Play the fast-paced, arcade-inspired 3-on-3 EA SPORTS™ NHL® THREES mode, or reshape the league entirely with the new Expansion Draft and your own custom 32nd NHL team. Do it all with the most co-op and competitive multiplayer options ever delivered in an EA SPORTS NHL game.
NHL® 18 is available worldwide on September 15th.