Posted August 28th at 4:00pm.
Our NHL® 18 Player Ratings reveal continues with the top centers in the NHL. We looked at a center's Puck Skills, Shooting, Skating, Senses, Defense and Physical abilities when deciding their overall rating.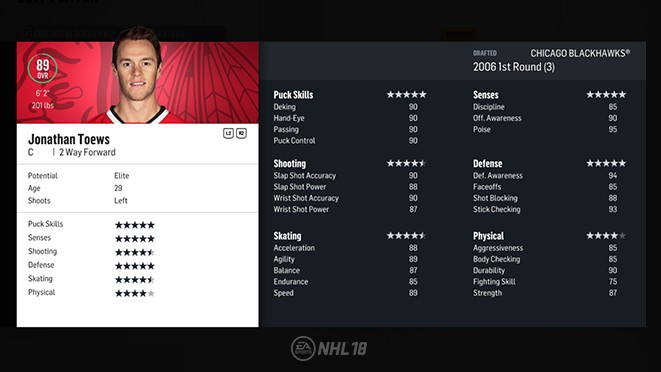 10. Jonathan Toews – 89 overall
One of the most clutch players in hockey, Jonathan Toews' Poise (95) is a key part to the Chicago Blackhawks success. His 5-star Puck Skills, Senses and Defense make him a versatile two-way forward who you'll want on the ice to either shutdown the opponents or score a clutch goal late in the game.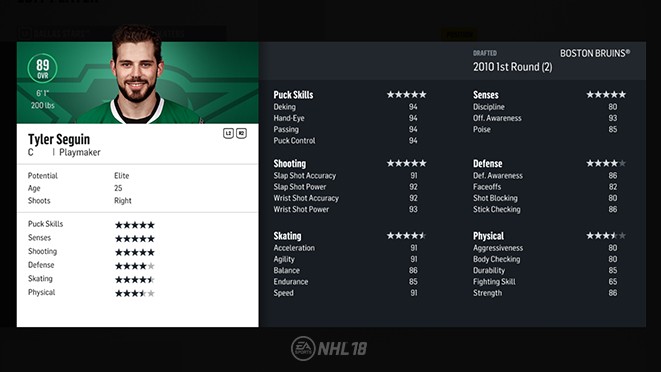 9. Tyler Seguin – 89 overall
Ever since coming into the league, Tyler Seguin has displayed some of the best Puck Skills in hockey. His 94 Deking, Hand-Eye, Passing and Puck Control allow him to consistently set his teammates up for scoring opportunities. However, if you respect the Dallas Stars center's passing ability too much he will burn you with his 5-star shot.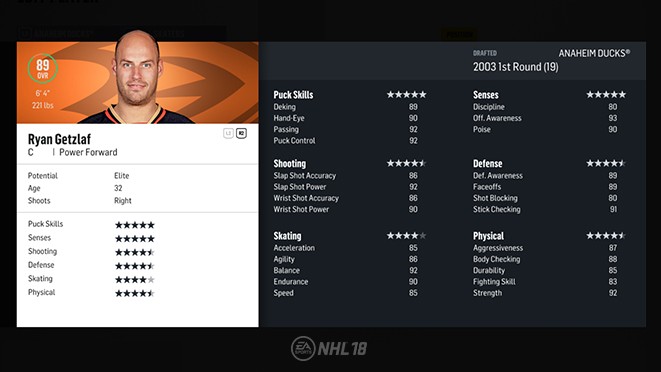 8. Ryan Getzlaf – 89 overall
While Ryan Getzlaf may not be the fastest skater, his Strength (92), Balance (92) and Puck Control (92) make him extremely hard to knock off the puck. The 6'4" Anaheim Ducks captain uses his size to his advantage to set up his teammates in the offensive zone or to drive to the net to create an opportunity for himself.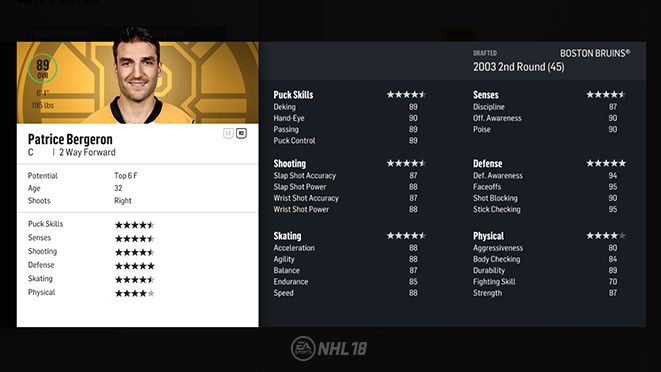 7. Patrice Bergeron – 89 overall
Patrice Bergeron can do it all. Bergeron's Faceoffs (95) allow him to instantly gain control of the puck to generate offense for his team. His Defense skills are some of the best in hockey, and his ability to shutdown his opponents while generating offense makes the Boston Bruins forward the best two-way center in hockey.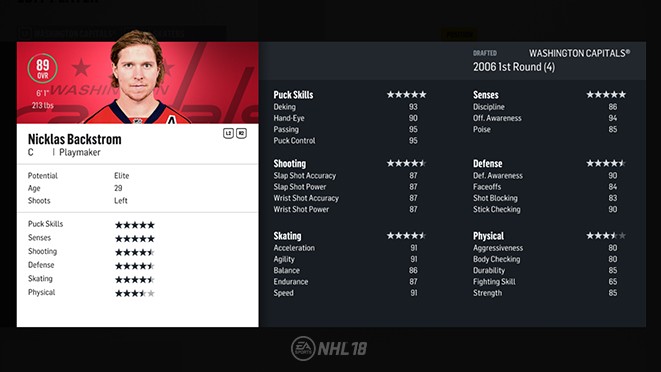 6. Nicklas Backstrom – 89 overall
Nicklas Backstrom is one of best passing playmakers in the league. Backstrom's Passing (95) and Offensive Awareness (94) allow him to hit his teammates with passes few other players could do. The Washington Capitals center plays at an elite level in all areas of the ice and is the perfect quarterback on a powerplay.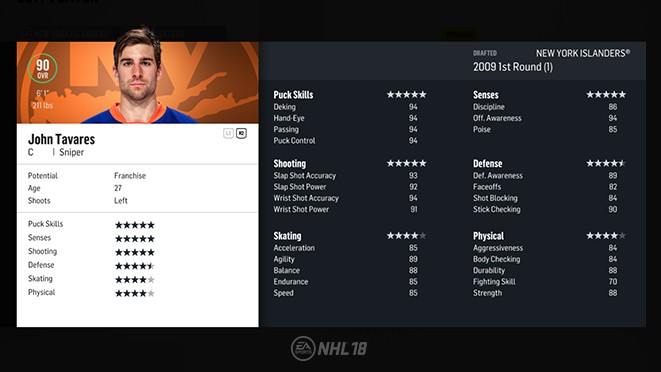 5. John Tavares – 90 overall
The New York Islanders captain is an extremely talented center who does every part of the game at a top end level. Tavares' Puck Skills are some of the best in the league and his ability to finish plays with his accurate Wrist Shot (94) is a key to his success.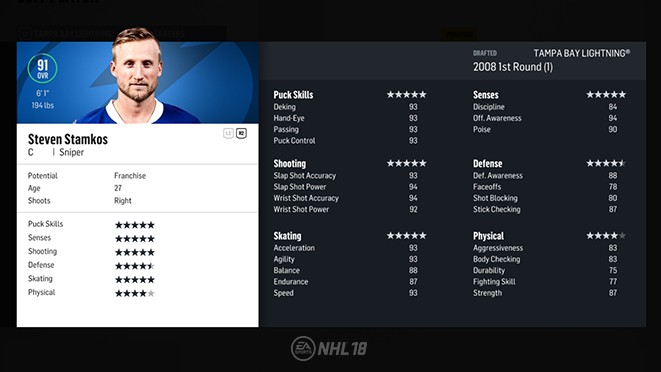 4. Steven Stamkos – 91 overall
When Steven Stamkos is healthy, he's one of the best pure goal scorers in the league. His Speed (93) allows him to generate offense off the rush where he can unleash a powerful, accurate shot past the opposing netminder. The Tampa Bay Lightning center can also use his 5-star Puck Skills to set up scoring chances for himself or a teammate.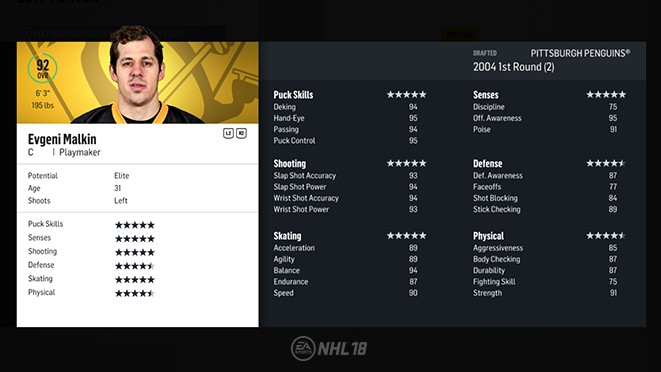 3. Evgeni Malkin – 92 overall
One of the NHL's most elite offensive talents, Evgeni Malkin's 5-star Puck Skills, Shooting, Skating and Senses makes him a threat to score any time he hits the ice. Malkin's Balance (94), Deking (94) and Puck Control (95) allow him to weave his way through defenders for highlight reel plays every game for the Pittsburgh Penguins.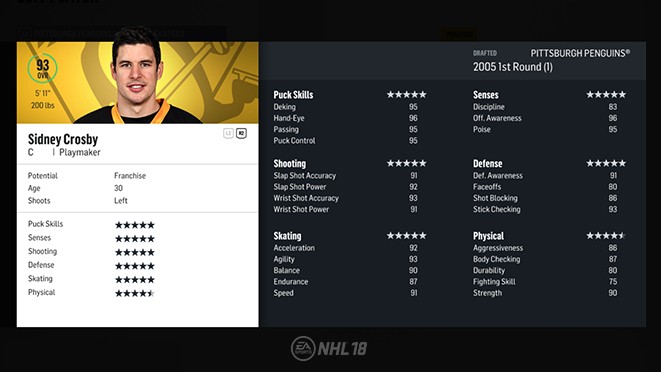 2. Sidney Crosby – 93 overall
Back-to-back Stanley Cups and back-to-back Conn Smythe trophies as playoff MVP speak to just how dominant Sidney Crosby is. The Pittsburgh Penguins captain uses his Strength (90) and Puck Control (95) to protect the puck from opponents that allow him to set up a teammate backdoor for a scoring chance or snipe a shot past a goaltender.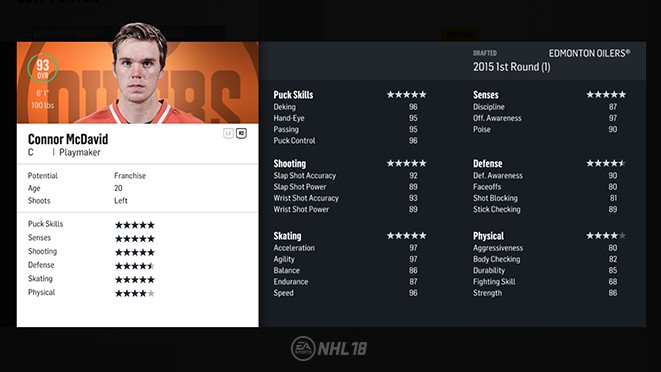 1. Connor McDavid – 93 overall
In his first full season, Connor McDavid tore the league apart with his world-class Speed (96), Puck Control (96), Deking (96) and Offensive Awareness (97). The 2016-17 NHL MVP was the only player to reach 100 points last season and carried the Edmonton Oilers to their first post-season appearance in over a decade. McDavid is a game breaker that you'll want to have on your team.
---
EA SPORTS NHL® 18 delivers the creativity of today's young NHL with new Creative Attack controls and the first-ever Defensive Skill Stick. Play the fast-paced, arcade-inspired 3-on-3 EA SPORTS™ NHL® THREES mode, or reshape the league entirely with the new Expansion Draft and your own custom 32nd NHL team. Do it all with the most co-op and competitive multiplayer options ever delivered in an EA SPORTS NHL game.
NHL® 18 is available worldwide on September 15th.