Posted August 2nd at 4:00pm.
NHL® THREES all-new 3-on-3 hockey experience with bigger hits, faster action and more open-ice to create big plays, beautiful dangles and more goals. Inspired by fun, pick-up-and-play arcade sports games, you can play NHL® THREES any way you want to, online or offline, co-op or competitive.
An all-new NHL® THREES commentator and brand new NHL® THREES arenas deliver more color, more special FX and completely unique on-ice designs that keep your games fresh and as exciting as the gameplay.
In NHL® THREES, you decide how to win the game. Flip a coin to determine the rules and the winner chooses how many periods to play or what goal limit determines the winner. Gotta win by two? It's all up to you. Capitalize on MoneyPucks™ with varying point values to change the dynamic of the game and secure a big win.
After the puck drops, experience fast-paced, exciting NHL® THREES action from whistle to whistle. No offsides and no icing means anything goes and the fun doesn't slow down. If you dive and trip a player or take a hooking penalty, you'll send your opponent straight to center-ice for a penalty shot and the chance to earn a crucial goal.
Read below to find out everything you need to know about NHL® THREES, from details on MoneyPucks to the action-packed NHL® THREES Campaign Mode.
MoneyPuck™
In NHL® THREES, you can enable MoneyPucks that can make the stakes higher on every goal. MoneyPucks can either give you bonus goals or take goals away from your opponent, causing a huge swing in the game. There are two types of MoneyPucks:
FIRE PUCKS
Heat up the action and score a Fire Puck to earn extra goals. Fire Pucks will appear as Orange in the MoneyPuck™ queue. Additionally, the LED boards will be orange along with the puck shadow. There are two Fire Pucks:
ICE PUCKS
Slow down your opponent by scoring with an Ice Puck. Ice Pucks reward you with a goal and takes away goals from your opponent based on the value of the Ice Puck. Ice Pucks will appear as Blue in the MoneyPuck™ queue, have a blue puck shadow and the LED boards will also be blue. There are three Ice Pucks:
-1 goal
-2 goals
-3 goals
THREES NOW AND THREES ONLINE

NHL® THREES features THREES NOW (Offline Versus and Offline Team Play) and THREES ONLINE (Online Versus and Online Team Play). These modes allow you to jump into the fast, fun 3-on-3 hockey. You can play THREES ONLINE by yourself or team up with your friends and play THREES cooperatively or competitively with the most combinations of mixing local and online co-op play than any previous EA SPORTS NHL game. Use unlocks you get from THREES CIRCUIT to bolster your lineups more.
Circuit Campaign Mode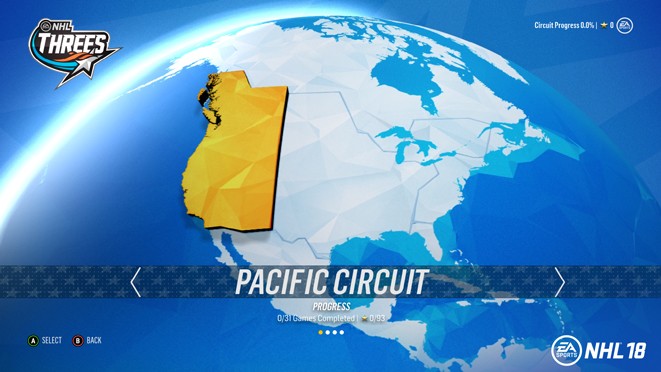 NHL® THREES features a complete campaign mode where you compete against different teams and leagues in a circuit-style journey. Progress through the campaign and unlock objective-based rewards along the way - including new teammates, jerseys, and logos! You can play the circuit by yourself or invite your friends to beat it with you.
There are four circuits to complete in THREES Circuit:
Pacific Circuit
Central Circuit
Metropolitan Circuit
Atlantic Circuit
There are many surprises from the moment the puck drops in your first game to the end of all four circuits. You won't want to miss a second of the action in the THREES Circuit.
Mascots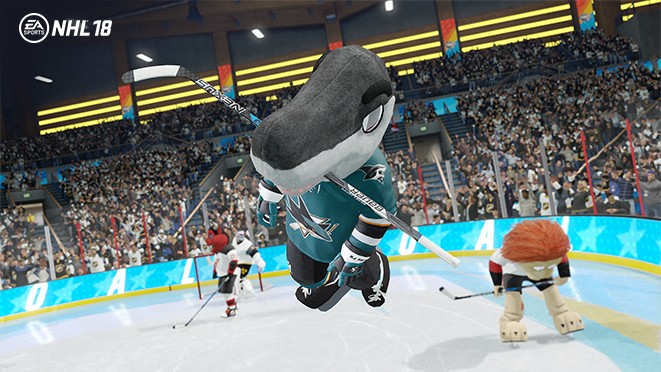 In NHL® THREES, you can hit the ice as your team's favorite mascot. Experience the thrill of NHL 3-on-3 action with beautiful plays, fast-paced action and more goals with all 27 NHL® Mascots in THREES Now or THREES Online.
All mascots have their own unique celebrations that represent their personality and allow you to celebrate with style and flare of the mascot whenever you score a goal. Playing with NHL® Mascots in NHL® THREES is the ultimate party experience that you won't want to miss.
Check out David Pritchett's interview with NHL YouTuber BoJoeKo about how NHL® THREES came to life:
---
EA SPORTS NHL® 18 delivers the creativity of today's young NHL with new Creative Attack controls and the first-ever Defensive Skill Stick. Play the fast-paced, arcade-inspired 3-on-3 EA SPORTS™ NHL® THREES mode, or reshape the league entirely with the new Expansion Draft and your own custom 32nd NHL team. Do it all with the most co-op and competitive multiplayer options ever delivered in an EA SPORTS NHL game.
NHL® 18 is available worldwide on September 15th.