NHL 18 December Content Update is Now Available - NHL 18 - PS4, Xbox One - EA SPORTS Official Site
Posted December 6th at 5:00pm.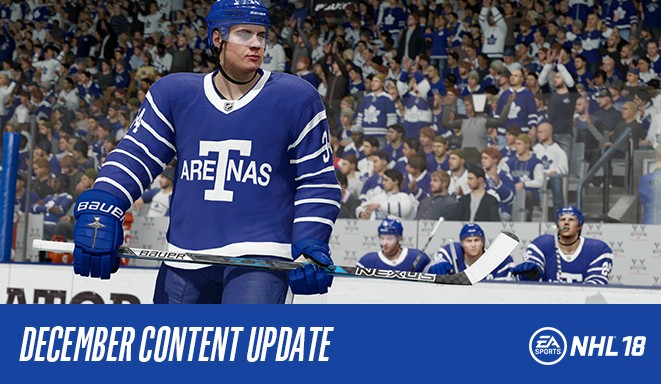 The latest NHL® 18 content update is now available for download worldwide on PlayStation 4 and Xbox One.

From a Xbox One X 4K compatibility to a new Spengler Cup Tournament mode, find out all of the improvements made to NHL 18 below!
Content Update Highlights

4K Game Play:
Xbox One X enhanced 4K compatibility
HUT
Added a new Daily Free pack containing a mix of items which could include contracts, coins, collectibles, club items, or players. This content will be untradable.
Added a fix for matchmaking in Competitive Seasons
Game Modes: New tournament modes and various patches are now available for download:
Added Spengler Cup Tournament
Added a fix where editing an unsigned prospect will cause that player to become a UFA once you start a franchise mode.
Improved unsigned prospect growth.
Added a fix where Created players that are put on NHL teams are also duplicated as Free Agents in Franchise Mode.
Gameplay: The following gameplay bugs have now been patched:
Fixed an issue where you couldn't poke check the puck off the goaltender when they were skating with the puck.
Updates to line change logic to fix situations where the closest AI skater to the puck would go for a line change rather than pressuring the puck.
Fixed an issue in Threes where after your opponent misses a penalty shot, the AI teammate started with the puck instead of the user.
Fixed a penalty shot logic issue where a player tripped on a breakaway after taking a clean shot was still awarded a penalty shot.
Fixed an issue where the flip puck deke in 94 controls wasn't always firing properly.
Fixed an issue where sometimes after performing a body check using B/O on Hybrid controls the skater will lose puck pickup functionality.
Corrected the faceoff formation player assignment in the defensive neutral zone formation when using aggressive face off strategy.
Fixed a desync that would sometimes occur when starting a fight.
Fixed the issue where skating backwards and doing the puck flip would send the puck high in the air
Fixed some issues where players weren't attempting one timers as expected.
Fixed an issue where players were able to enter Defensive Skill Stick state during face offs, disrupting the expected outcomes of the face offs.
Various gameplay and broadcast camera fixes causing issues in game play.
Art
The following content has been added and updated in EA SPORTS NHL 18:
NHL:

Added Toronto Maple Leafs Toronto Arenas Uniforms

Canadian Hockey League (CHL):

Added Red Deer Rebels alternate Uniform
Added Regina Pats alternate Uniform

Equipment:

Added Brian's Optik Goalie Pads

NHL Arenas:

Added new St. Louis Blues Scoreboard

Fixes:

All Canadian Hockey League Teams now wear CCM Ultra Tacks gloves
---
NHL® 18 is available now - Buy your copy today!
EA SPORTS NHL® 18 delivers the creativity of today's young NHL stars with new Creative Attack controls and the first-ever Defensive Skill Stick. Play the fast-paced, arcade-inspired 3-on-3 EA SPORTS™ NHL® THREES mode, or reshape the league entirely with the new Expansion Draft and your own custom 32nd NHL team. Do it all with the most co-op and competitive multiplayer options ever delivered in an EA SPORTS NHL game.