Posted August 2nd at 4:00pm.
The NHL®18 Beta is now open to all players on Xbox One and PlayStation 4 until August 8, 2017. This will be your only chance to experience NHL®18 before it hits stores September 15th, 2017.*
*REGISTRATION DOES NOT GUARANTEE ACCESS TO THE BETA. REQUIRES PERSISTENT INTERNET CONNETION, EA ACCOUNT, ACCEPTANCE OF (I) BETA AGREEMENT, AND (II) PRIVACY & COOKIE POLICY, AND A XBOX LIVE GOLD OR PLAYSTATION PLUS MEMBERSHIP (BOTH SOLD SEPARATELY). MUST BE 18+. GAMEPLAY PROGRESS, ACHIEVEMENTS, CHARACTERS, CHARACTER DATA, AND/OR ANY OTHER VALUE OR STATUS INDICATORS ACHIEVED IN THE BETA WILL NOT TRANSFER TO NHL 18 MAIN GAME. BETA IS PRE-RELEASE SOFTWARE, MAY CONTAIN ERRORS/DEFECTS AND IS PROVIDED "AS IS" WITHOUT ANY EXPRESS OF IMPLIED WARRANTY.
Modes In The NHL® 18 Beta
EA SPORTS HOCKEY LEAGUE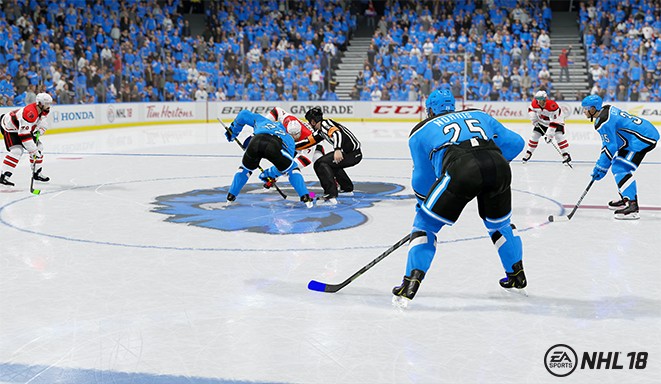 Lace up your skates and jump into 3-on-3 and experience the speed, skill and creativity of the today's NHL. Bringing authentic NHL 3-on-3 overtime to EA SPORTS Hockey League, you can now choose to play 3-on-3 full matches, opening up more ice for you and your teammates to get creative, pull off big plays, and showcase brand new skill moves. With more space to attack - and to make mistakes - 3-on-3 EASHL is higher stakes with more competition and skills.
Whether you're playing in the new 3-on-3 format or the traditional 6-on-6 matches, you'll earn experience to unlock items for your skater and/or club to customize your player, team or home rink.
NHL THREES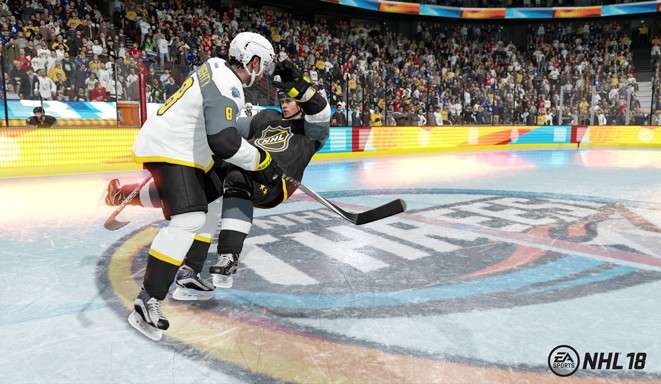 Jump in and experience EA SPORTS™ NHL® THREES, an all-new 3-on-3 hockey experience with bigger hits, faster action, bigger plays, beautiful dangles and more goals. Inspired by fun, pick-up-and-play arcade sports games, NHL® THREES is all action with no offsides, no icing and every penalty sends you straight to center-ice for a penalty shot and the chance to earn a crucial goal.
You'll have to wait until NHL® 18 launches to play the THREES Campaign, but you won't want to miss playing NHL® THREES versus any way you want to in the NHL® 18 Beta, online or offline, co-op or competitive.
ONLINE VERSUS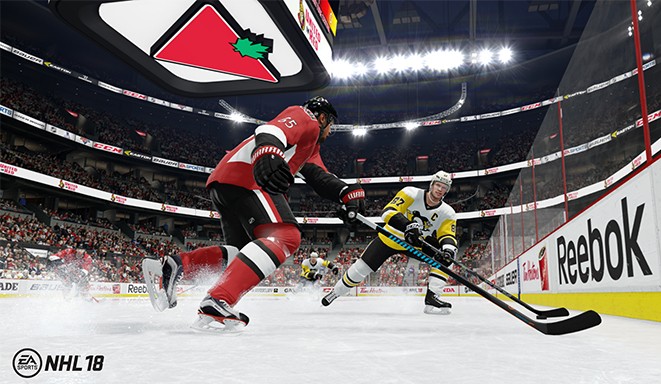 Play NHL 18 online and feel the the speed, creativity and action of today's young NHL superstars with new Creative Attack controls and an all-new Defensive Skill Stick. New Creative Teammate A.I. now leverages all the same creative deking and passing plays that you do, creating smarter plays up and down the ice. The A.I. will also use the new Defensive Skill Stick, making them more effective teammates in your own zone.
---
EA SPORTS NHL 18 delivers the creativity of today's young NHL with new Creative Attack controls and the first-ever Defensive Skill Stick. Play the fast-paced, arcade-inspired 3-on-3 EA SPORTS™ NHL® THREES mode, or reshape the league entirely with the new Expansion Draft and your own custom 32nd NHL team. Do it all with the most co-op and competitive multiplayer options ever delivered in an EA SPORTS NHL game.
NHL® 18 is available worldwide on September 15th.