NHL® 17 AHL Calder Cup Playoff Sim
Posted April 21st at 8:00pm.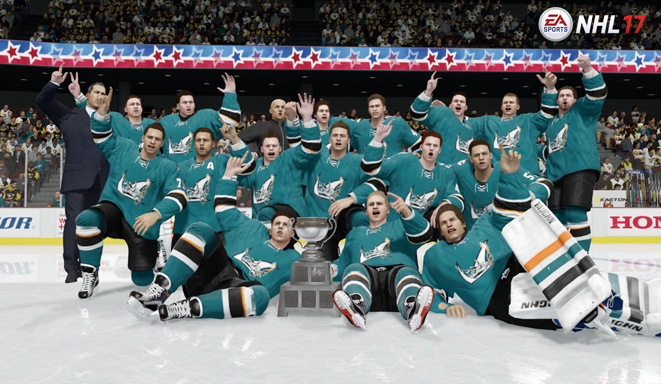 The battle is about to begin to see who gets crowned the champion of the AHL playoffs. See who takes home the Calder Cup in the official EA SPORTS NHL® 17 Calder Cup sim.
Check out our full NHL® 17 – 2017 AHL Calder Cup Playoffs Simulation below:
THE Calder Cup FINAL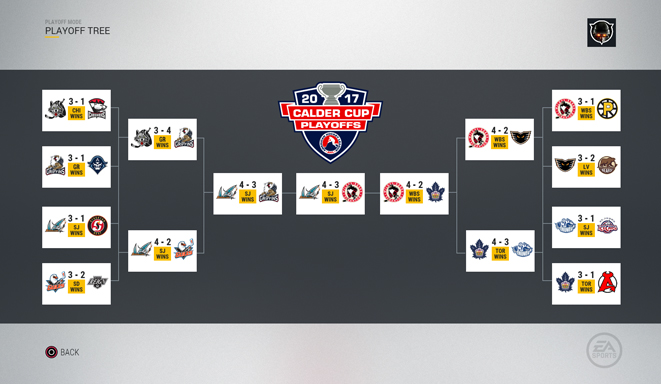 After a grueling season, it all came down to the top two teams in the AHL: The San Jose Barracuda against the Wilkes-Barre/Scranton Penguins. It was a battle for the ages as the two teams traded games and chances all the way until Game 7 where Tim Heed scored with 7:28 remaining in the third period to give the Barracuda a 3-2 lead. Barclay Goodrow would tack on an empty netter to make it 4-2 and the Barracuda were crowned the 2017 AHL Calder Cup champions.
TOP PLAYOFF STORIES
Tim Heed took home the Jack A. Butterfield Trophy as playoff MVP after recording 5 goals and 14 assists through the Barracuda playoff run.
Dominik Simon dazzled in the playoffs, recording 17 points in 23 games for the Penguins. While his team fell just short of winning it all, Simon was one of the AHL's top forwards throughout the Calder Cup.
WESTERN CONFERENCE
Evgeny Svechnikov and Tyler Bertuzzi combined for 27 points for the Grand Rapids Griffins. The two led the offensive charge for the Griffins and were a key factor in them being just one win away from reaching the Calder Cup final.
EASTERN CONFERENCE
The Toronto Marlies made a strong push for the Calder Cup again, but fell just short to the Penguins in the Eastern Conference Finals. Brendan Leipsic and Seth Griffith led the charge for the Toronto Marlies, combining for 17 goals and 39 points.