Posted August 18th at 1:00pm.
Our NHL 17 Player Ratings reveal kicks off with the top netminders in the NHL.
We looked at a goalie's Reflexes, Puck Control, and Athletic ability when deciding their overall rating.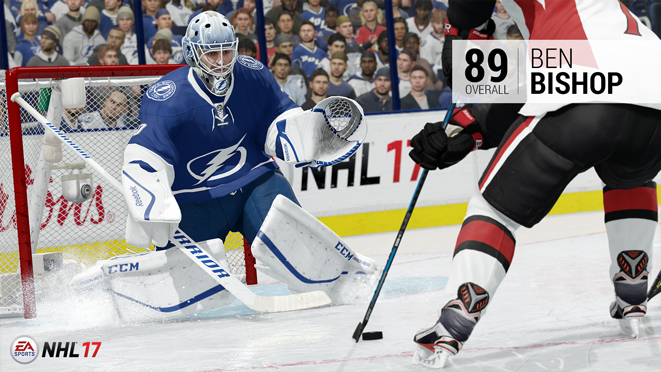 10. Ben Bishop – 89 overall
Coming in at 6'7, Ben Bishop doesn't leave a lot of empty net for shooters to target, he also has very good puck Vision (90) and Rebound Control (90). You should also reconsider dumping the puck into his zone, as his Passing (86) ability is one of the best in the league for goaltenders.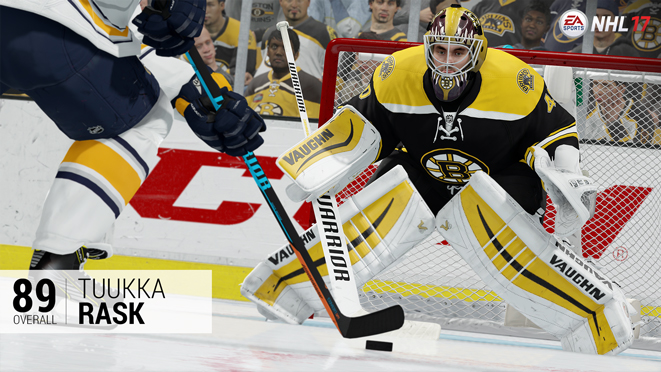 9. Tuukka Rask – 89 overall
Since taking over the starting job for the Boston Bruins, Tuukka Rask has consistently been near the top of our goalie rankings. He has elite Agility (90) and Speed (90) to go along with his 5-star Reflexes.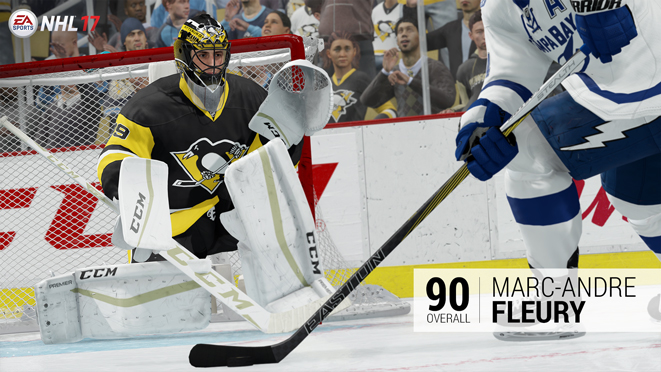 8. Marc-Andre Fleury – 90 overall
Before going down with injury last year, the former first overall pick was putting together one of the best seasons with a stat line of 35 wins, 2.29 GAA and .921 SV%. Like Rask, Fleury is one of the most athletic goalies in the league and boasts a (90) Agility and (90) Speed rating.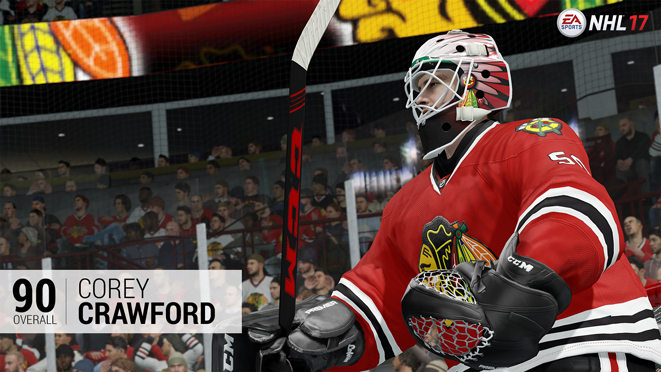 7. Corey Crawford – 90 overall
The two time Stanley Cup Champion plays at his best in the most critical situations, earning himself a (90) Poise rating.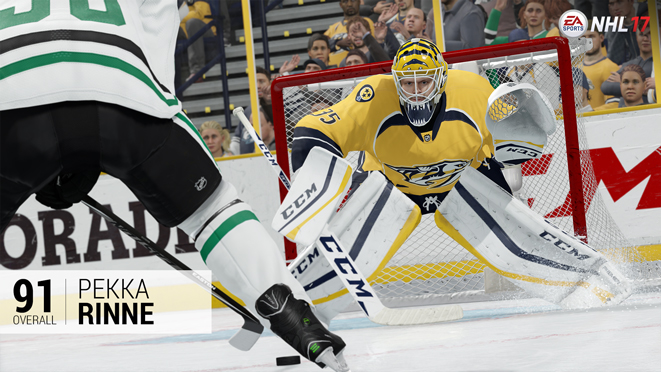 6. Pekka Rinne – 91 overall
One of the biggest goalies in the league, Rinne uses his size and 5-star athletic ability to take away scoring areas for shooters.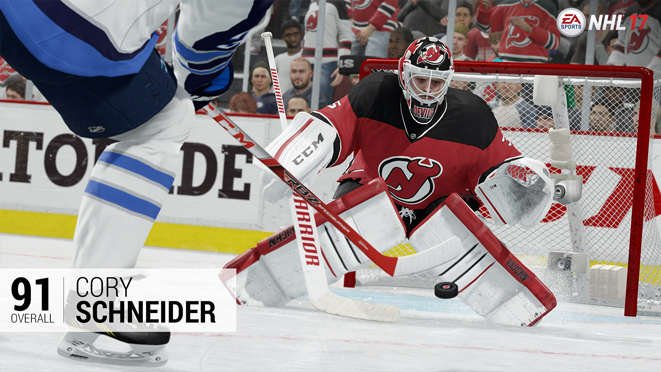 5. Cory Schneider– 91 overall
One of the most underrated players in the entire league, Schneider relies on his excellent technique, positioning and Angles (92) to make a save.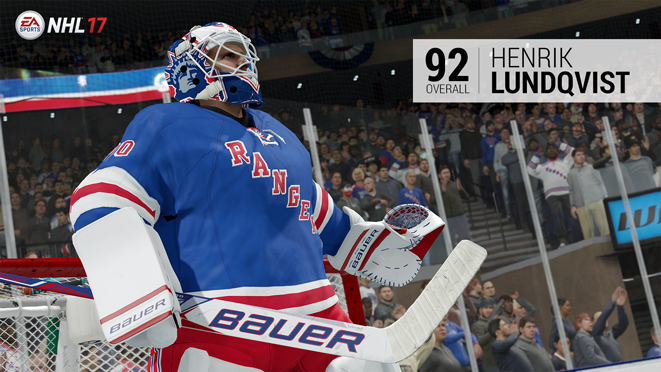 4. Henrik Lundqvist – 92 overall
At 34 years old, King Henrik is at the tail end of his career which has seen him be one of the best goaltenders of the last ten years. With a (91) Stick Low and Five Hole rating, Lundqvist plays deep in his crease and challenges shooters to beat him up high.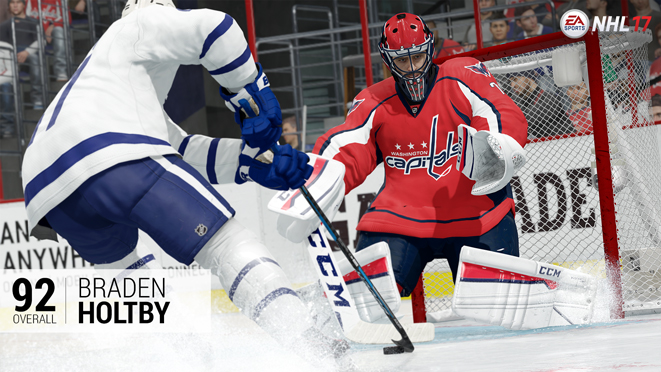 3. Braden Holtby – 92 overall
The 2016 Vezina Trophy winner has proven himself as one of the NHL's very best goaltenders with back-to-back 40+ win seasons. He is very difficult to beat along the ice, as he carries a (91) Five Hole, (91) Stick Low, and (90) Glove Low rating.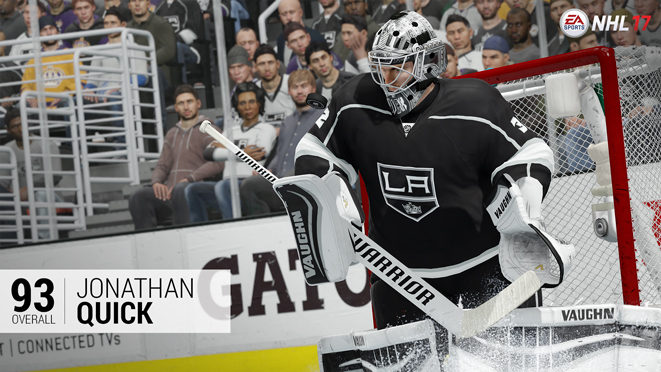 2. Jonathan Quick – 93 overall
The LA Kings goaltender is extremely Aggressive (94) between the pipes as he will challenge shooters at the top of his crease to cut off shooting angles. If he ever gets caught out of position, he can leverage his world class Speed (92) and Agility (92) to get back into the play and make a highlight-reel save.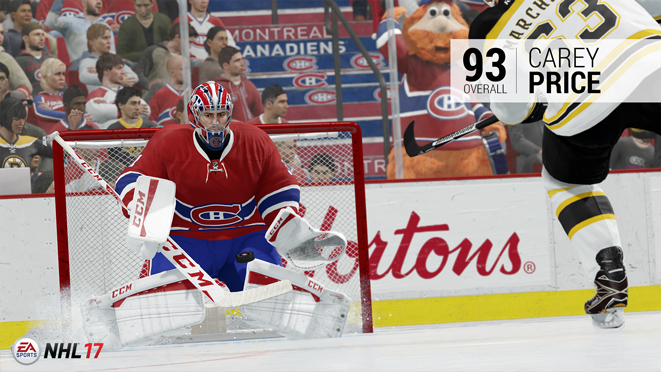 1. Carey Price – 93 overall
Price is the type of goaltender who can singlehandedly carry his team through the regular season and playoffs. His technique is nearly flawless and he is rarely out of position. His (93) Angles and (93) Vision rating are top in the league, and like Ben Bishop he is one of the best puck handling goalies, boasting a (86) Passing rating.