Posted August 22nd at 5:00pm.
Here are the top rated centers in NHL®17.
There are six categories when determining rating attributes: Puck Skills, Senses, Shooting, Defense, Skating, and Physicality.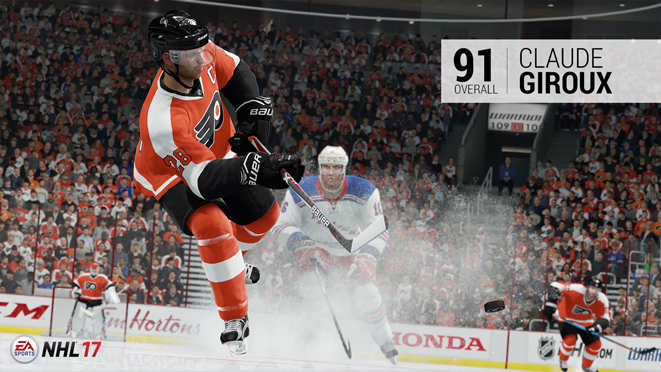 10. Claude Giroux – 91 overall
One of the most creative offensive players in the league, Giroux uses his 5-star stating ability to separate himself from defenders and is capable of stickhandling himself out of tight situations with a (93) Deke & (94) Puck Control rating.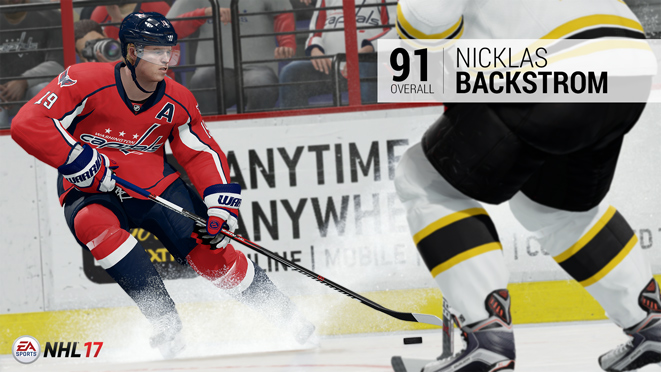 9. Nicklas Backstrom – 91 overall
Over the past ten season, Nicklas Backstrom has proven himself to be one of the best pure playmakers of his generation. His (94) Passing and (94) Puck Control make him one of the best setup men in NHL®17.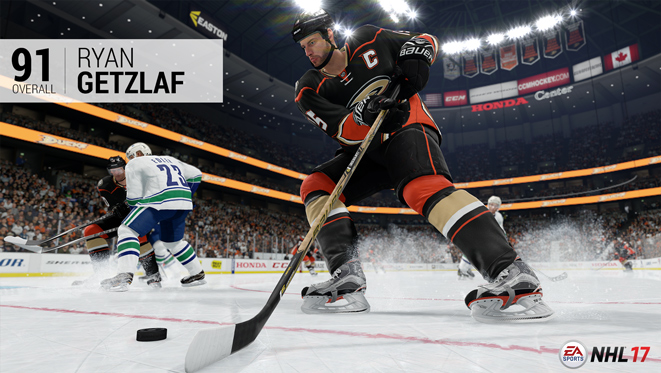 8. Ryan Getzlaf – 91 overall
The hulking Anaheim Ducks captain uses his 5-star physical abilities and puck skills to shield the puck from his opponents until a scoring opportunity presents itself. Getzlaf is always thinking pass first, but is still capable of going bar down with a (91) Slap Shot Power & (90) Wrist Shot Power rating.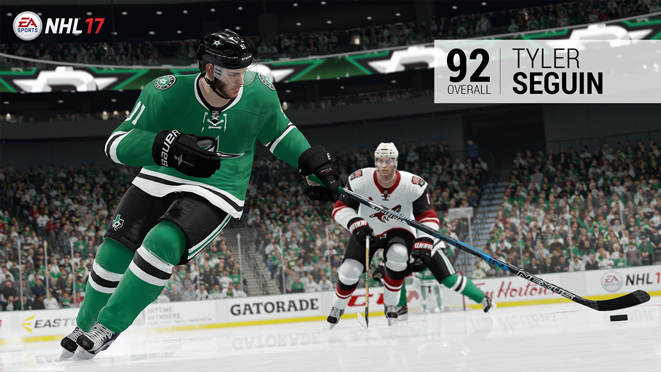 7. Tyler Seguin - 92 overall
A prolific point producer throughout his entire hockey career, Tyler Seguin will be looking to reach the 40 goal make for the first time next season. As long as he can stay healthy, it will be tough to bet against him as he is one of the best finishers in the league with a (93) Wrist Shot Power & (92) Wrist Shot Accuracy rating.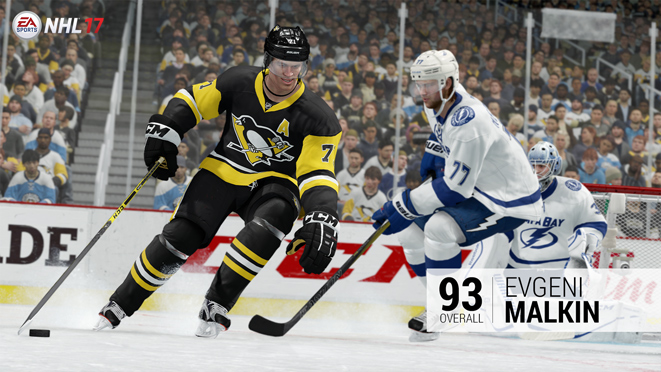 6. Evgeni Malkin – 93 overall
Malkin's rare combination of size, speed and skill has helped him produce at over a point-per-game pace the past five seasons. The only knock against him is that he can't stay healthy for an entire season, luckily for Penguins fans, they can just turn off injuries in NHL®17 to watch Geno climb to the top of the scoring leaders.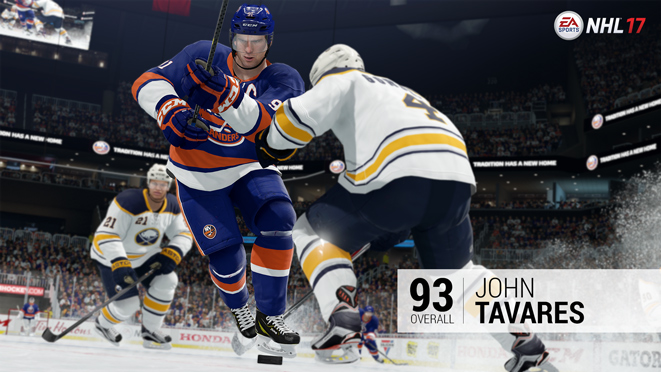 5. John Tavares – 93 overall
He won't rank near the top of the league in skating ability, but his 5-star puck skills, shooting and senses more than make up for his lack of speed. All Tavares needs is a bit of open space and a little bit of time, and there's a good chance the puck will end up in the back of the net.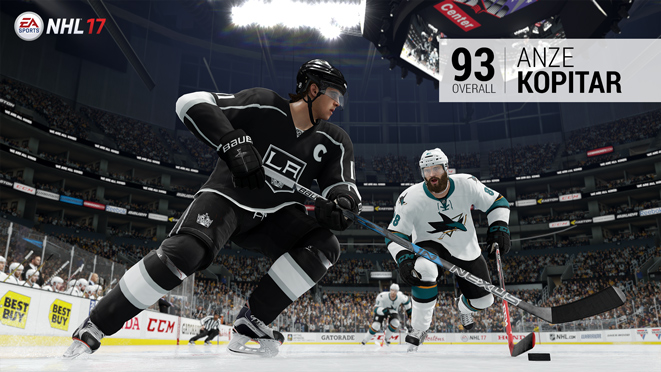 4. Anze Kopitar – 93 overall
After leading the LA Kings in team scoring for the past nine seasons, Anze Kopitar became the first LA Kings forward to win the Selke Trophy as the league's top defensive forward.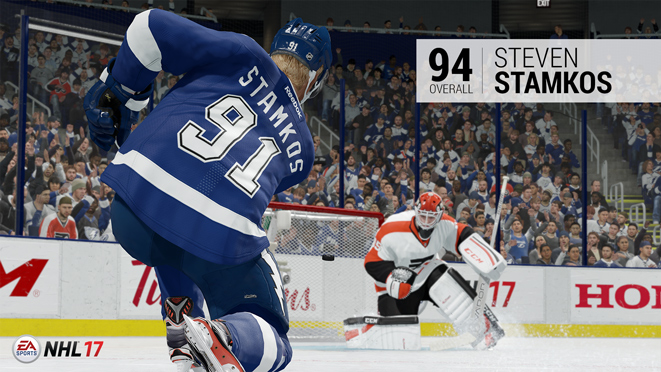 3. Steven Stamkos – 94 overall
One of the top offensive players in NHL®17, the two-time Maurice 'Rocket' Richard Trophy winner possesses 5-star Puck Skills, Skating, Senses and Shooting.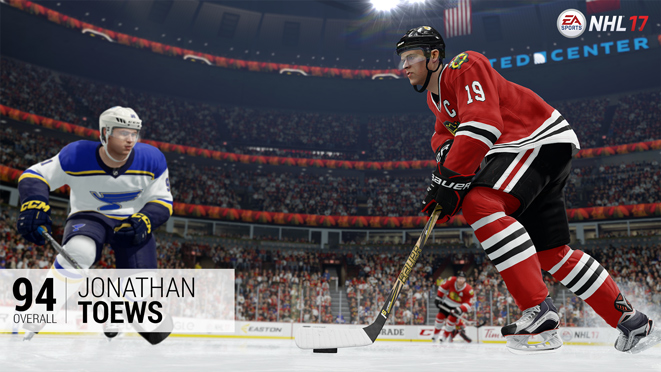 2. Jonathan Toews – 94 overall
Although Toews hasn't been a point-per-game player since the 2012-13 season, he brings other elements to a team that don't necessarily show up on the scoresheet. The two-way center is a strong skater who is tough to knock off the puck, has excellent defensive awareness and stick checking to go along with an excellent shot.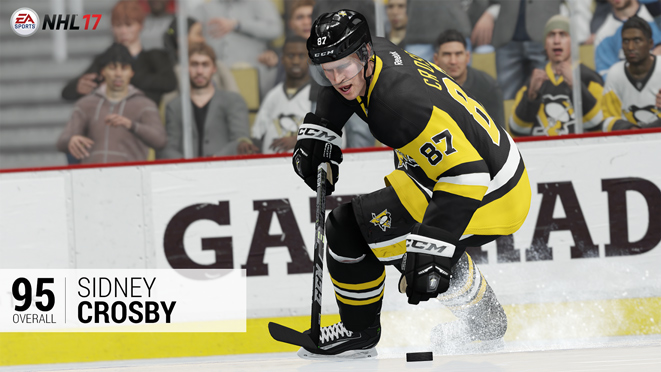 1. Sidney Crosby – 95 overall
Once again Sidney Crosby finds himself ranked as our top rated center, and it's tough to make a case against him. Coming off another impressive regular season, he elevated his game in the playoffs leading the Penguins to another Stanley Cup. He can beat you with his world class shot, passing, speed, physicality and hockey sense – he's simply the best hockey player on the planet.