NHL 16 Title Update
Posted November 6th at 9:45am.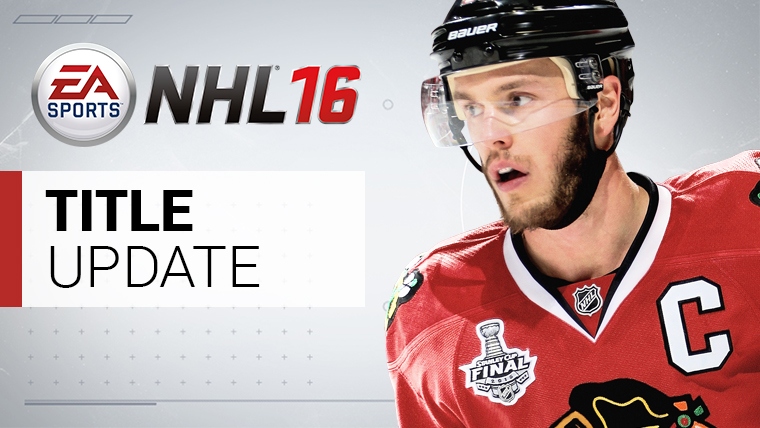 The latest NHL 16 title update is now available for download worldwide on PlayStation 4 and Xbox One.
This update will include a new way to experience EASHL, jersey updates, new presentation elements that keep up-to-date with the real world of hockey, and general gameplay/game mode improvements.

Click here to see the full list of improvements made to NHL 16.

Please note that our team is still looking at the EASHL home captain lag issue that has affected some players during online game sessions. Although we do not believe this is a server-side issue, we are continuing to investigate all areas to figure a fix. We will post all further news and/or updates on this specific issue in our EA SPORTS forums.
EASHL Club Challenges
Select your opponent and go head-to-head against another EA SPORTS Hockey League team using the new EASHL Club Challenge. Meet in the Club Challenge dressing room to search and challenge another team that is also in their Club Challenge dressing room. Completed games will only count towards your Pro's Player Badges progression and personal stats.
Presentation
Colorado Avalanche 3rd Jersey
Anaheim Ducks 3rd Jersey
New York Islanders 3rd Jersey
Nashville Predators Gold Alternate Jersey
Frolunda Indians Home and Away Jerseys
Providence Bruins 3rd Jersey
Hersey Bears 3rd Jersey
Moncton Wildcats 3rd Jersey
Wilkes-Barre Penguins 3rd Jersey
Texas Stars Home and Away Jerseys
Updates to various center ice designs for authenticity
Updated various goal horns and goal song timing for authenticity
Updated line change visuals to accommodate players with color vision deficiencies
Added 15 female heads to "create player" selection
Added new Vaughn, Brian's and CCM goalie equipment
Gameplay
Pokechecks will now only connect with strength on the way out, not on the sticks return back to the player.

Fixed an issue where the AI was able to get a full-powered pass right away after a User calls for a pass.
Fixed issues where sometimes a Player would pass the puck away accidentally right after calling for a pass from the AI.
Multiple improvements to goalie butterfly slides, including when players are using Precision movement or sliding out of VH and Hug Post.
Addressed issue where some players would be stuck in goalie control after making a pass as a goalie.
Player controlled goalies will now face the puck earlier as it comes towards them.
Goalies now receive the puck more cleanly with their stick from a standing position.
Pucks can no longer be chopped if the stick goes through the goalie first so that they behave the same as pokechecks.
Fixed issues where AI players wouldn't avoid their own net properly with the puck.
Fixed issue where players would sometimes be stuck on the bench while an AI player played for them after situations where they served a penalty.
Added more conditions in goalie interference logic to increase accuracy to the calls for both allowed and disallowed goals.
Fixed button call-out for accepting fights when using Hybrid controls.
Added ability for Precision Skating to trigger at slightly higher speeds for the puck carrier when holding LB/L1.
Fixed issues with the True Broadcast camera pan direction in Shootouts.
Weak-side AI defender won't look to hit the puck carrier when they are outside the slot.
AI will look for hits during in-zone defense even if they don't have a great angle. This will allow AI players to bump a player off the puck even when the puck carrier has their back to them.
Visual On-Ice Trainer will now show up for both teams if there are local users on the both the home and away teams.
Game Modes
Be a Pro
Increased likelihood of being drafted if the user starts in the CHL.
Allow players to switch between Classic and Authentic styles after entering the mode.
Multiple improvements to Coaching Feedback, Instructions, and Grades.
Be a GM

Decreased the amount of Team and Player meetings that occur during a season.
Decreased the number of points an average defensemen gets during a sim.
Added a setting to Disable Team and Player Meetings
Decreased the impact of team chemistry on the sim engine.
Online
Lowering EASHL AI goalie attributes in the situation where a player controlled goalie drops from a game.
In Online Versus and Hockey Ultimate Team, players are now given control over the goalie during penalty shots and shootout situations. This is now the defaulted option for Ranked games, however, players are can choose AI controlled goalies in Unranked games only.
Across all online modes, the default period length has changed from 5 minutes to 4 minutes.
New gameplay tuners that are available for download will now be visible in the NHL 16 main menu.